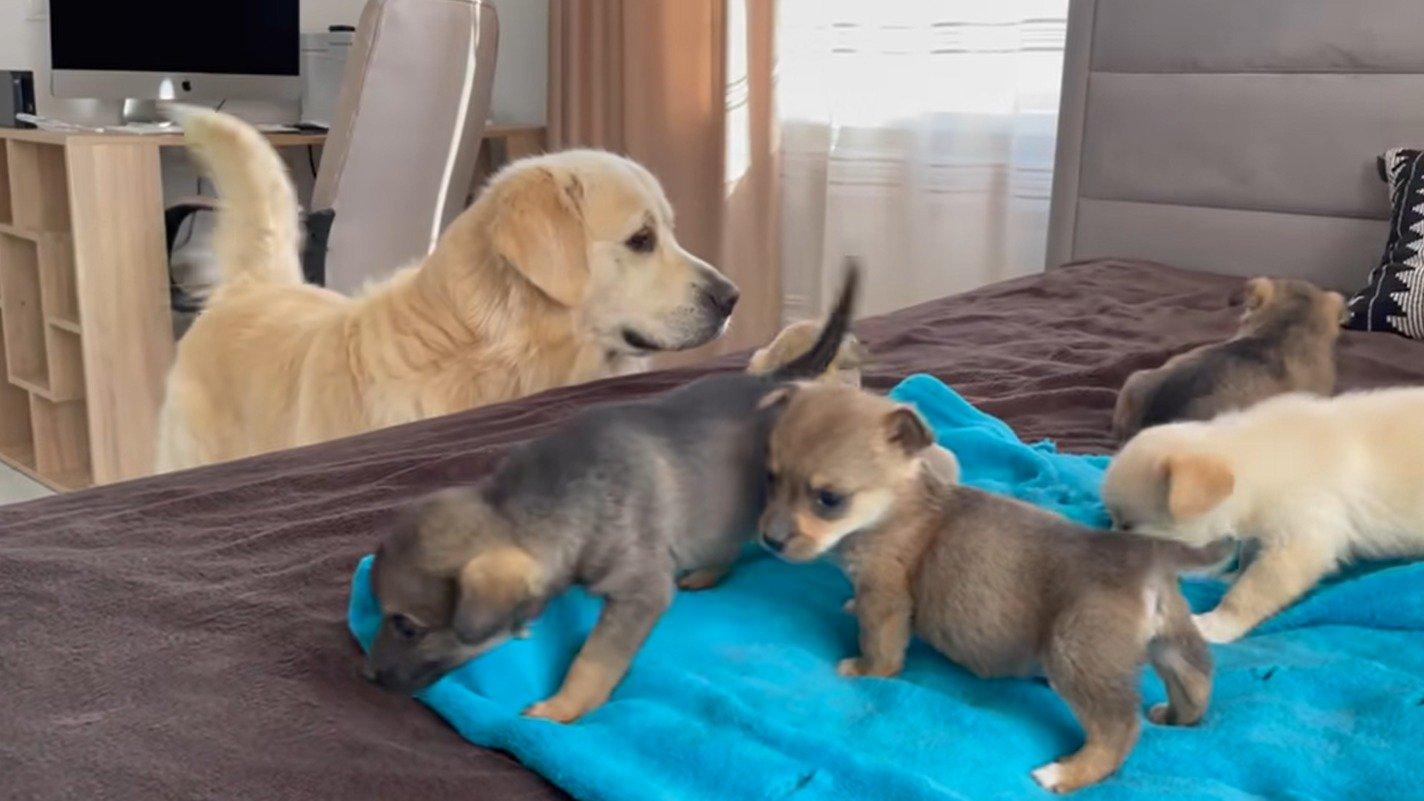 This Golden Retriever Has The Most Adorable Reactions To Puppies, Kittens, And Bunnies
Each video has no less than 11 million views, telling you how much people adore Bailey's interactions. From running away from a new kitten to caring for newborn kittens, the Golden Retriever really evolved full circle.
Article continues below advertisement
Meeting Newborn Puppies
Last year, Bailey met newborn puppies for the first time after her owner brought them home temporarily. It's clear she mirrors their compassion as the account handler explained why they fostered the quintuplets upon finding them wandering on the highway.
Bailey immediately takes a liking to the puppies and plays with them upon meeting them for the first time. She also stands guard around the bedside to protect them from falling and hurting themselves. The video now has over 44 million views.
Meeting Baby Kitten
Cats and dogs typically clash, and Bailey confirmed this when her owner introduced her to a newborn kitten, Simon. She actively avoids the feline, feeling threatened that it'll take her place in the owner's life.
However, as a new family member, it was important for Bailey and Simon to bond, so the owner kept trying to make them interact. The duo got off to a bad start in 2020, but we're sure they'll be over it now.
Article continues below advertisement
Bailey Meets Bunnies
During the lockdown in 2020, Bailey's maternal instincts kicked in when her owners brought home four bunny rabbits. Perhaps they mistook her for their mother, thanks to her soft furs. The furry creatures found comfort in the Golden Retriever's bosoms.
The 22-days-old bunnies wouldn't leave Bailey's side even with a bird joining them on the mattress. They consistently went back for cuddles making even the blue and white bird so jealous it moved in for its cuddles.
Protecting Newborn Kittens
Bailey had a do-over with four kittens showing last month, and even though the owners didn't specify, we suspect they're Simon's kittens. It explains her protectiveness over them and their comfort around her.
The kittens lay on a furry pad while Bailey teased them while they watched her with doe eyes. Simon wasn't in the shot, so it's possible the owners no longer have him and the kittens came from a different litter.