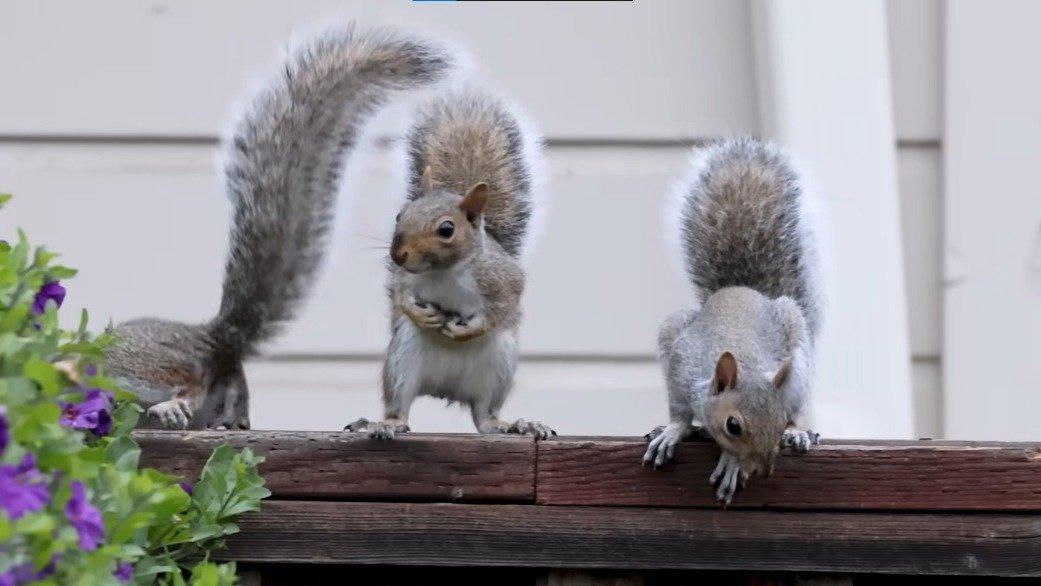 See Squirrels Compete For Nuts In Crazy Backyard Competition
Former NASA engineer and entertaining science vlogger Mark Rober decided to host his tenacious squirrel guests in a competition. He named the competition the "Backyard Squirrelympics 3.0 - The Summer Games." The new competition came after his squirrels successfully navigated his challenging obstacle course in 2020 and 2021. Mark figured they were up for trickier challenges after their previous performances.
Keep reading for more details about the Squirrelympics 3.0 summer game.
Article continues below advertisement
Details Of The 'Backyard Squirrelympics 3.0'
Mark shared the details of the "Backyard Squirrelympics 3.0" competition on his YouTube channel. The video currently has 13 million views on YouTube. The competition involved Mark's squirrels competing for walnuts in his backyard. As in previous years, Mark delightfully described the antics of the squirrels, who go by the names Rick, Marty, Augustine, and Phat Gus. In addition, a stubborn rat named Phat Tail also competed with the squirrels.
Mark Shares The Contestants' History
The course consisted of seven events, including a spinning balance beam, a long leap, a high jump, and pneumatic trap doors. In addition, Mark explored the history of each squirrel using some artistic license.
He described how hubcap Hill, a harsher part of the community, was where Phat Gus spent his formative years. As Mark noted, two other competitors, Rick and Marty, were well-known from the prior competition. However, he also provided some additional details by mentioning that Rick and Marty were raised in a lovely Japanese maple down the street in Walnut Estates.
Article continues below advertisement
The Competition's Winner
The contest ended with Phat Gus and Marty at the high jump. However, Augustine and Rick were disqualified at that phase of the competition. Since Marty made the jump and Phat Gus did not, Marty automatically emerged as the winner of the "Backyard Squirrelympics 3.0" competition.
Viewers Reactions
The game's viewers took to the comment section to react to the results. One viewer commented that mark created "a whole scandal" because he wanted his favorite squirrel to win. However, the viewer also commended Mark, adding that they loved his videos.
Many more viewers gushed over the vlogger and how much they loved his content. "I love these! This one is perfect," commented one viewer. Another viewer complimented the video's production quality and creativity. He suggested that Mark should begin a reality TV show about the squirrels' lives.
With the competition getting this much attention, Mark may be considering "Backyard Squirrelympics 4.0" soon. It will surely be one to look forward to.