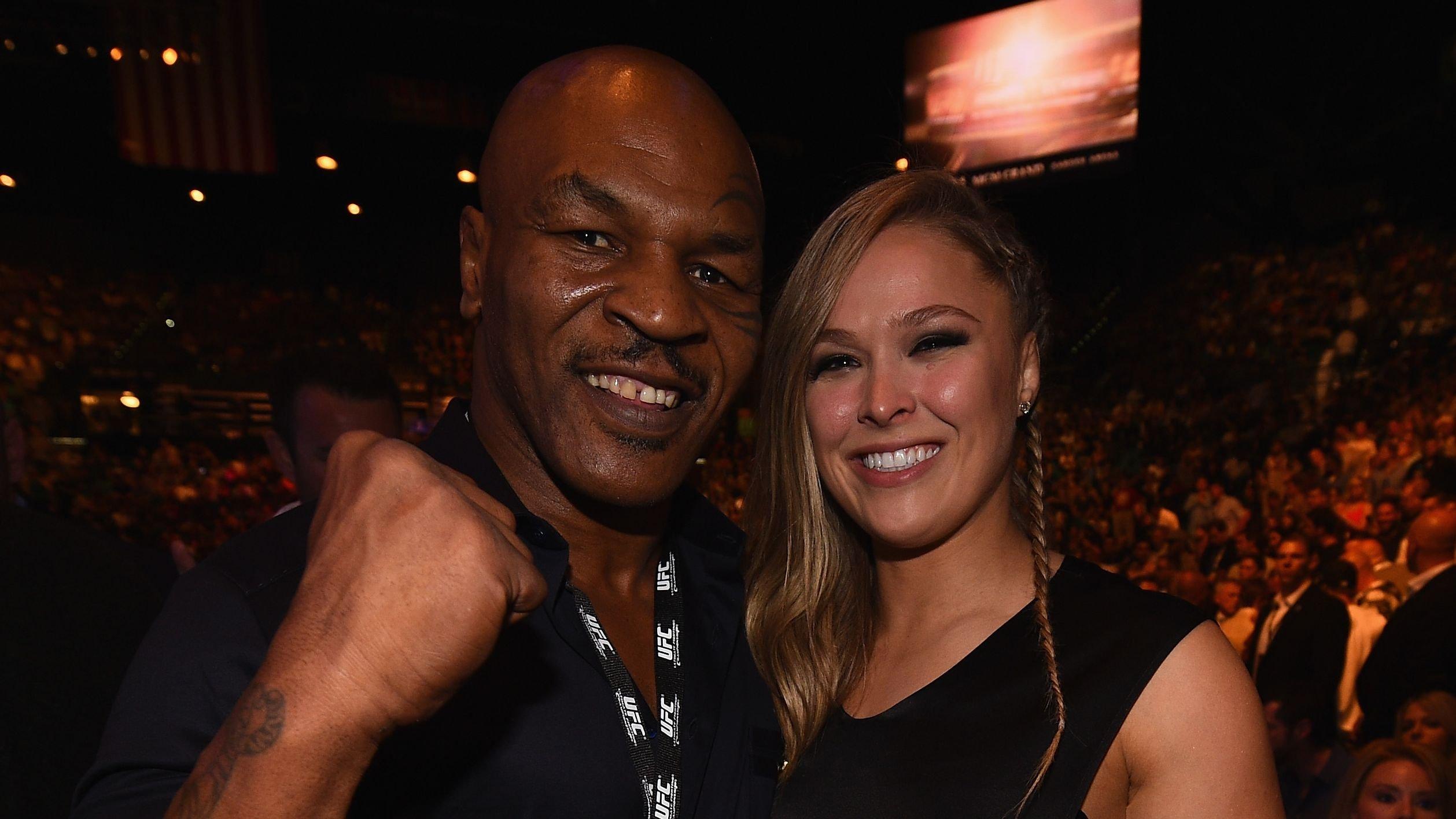 Ronda Rousey's Mother Pushed Her To Take 'Boxing Tips' From Legend Mike Tyson
If you're interested in the MMA and boxing world, you don't need to be introduced to Ronda Rousey or Mike Tyson.
Rousey and Tyson are industry household names, and both have made strides in their respective sports.
They've secured victories, faced defeats, and contributed massively to move the sport forward. Undoubtedly, there is not one fan who does not know them
Article continues below advertisement
Ronda Rousey's Mother Encouraged Her To Get Tips From Mike Tyson
Considering the boxing legend entered his game earlier than Rousey, owing to him being older, he had more expertise in fighting than Rousey.
In 2015, Iron Mike was present at one of Ronda Rousey's practice sessions. He was impressed with Rousey's skills.
Ronda, she's a lady. Polite, kind, sweet, and adorable. But her whole barometer is, she's a killer. She has that killer aura, meaning anything is capable of happening. Whoa! That's exciting before the fight even starts. I think of myself when I watch her."
-
But it seems like her mother wanted her to push herself forward (like any mother will!) When Mike Tyson met her mother, she urged Rousey to get some pro-tips from him.
"You could get some boxing tips from him."
-
Former Professional Wrestler Compared Ronda Rousey To Mike Tyson
Retired wrestler Diamond Dallas Page (DDP) spoke about Rousey's attitude in the ring. He believes that how Rousey conducts herself and approaches each moment is extremely similar to how Mike Tyson conducted himself.
"When that girl is walking through the curtain, she's a beast, and she was a beast in UFC. She's a Mike Tyson, when she was in her groove and owning it, nobody could beat her. When she got to that spot when she did get beat, then it was time for her to come and do our stuff … She had the run as the toughest woman on the planet, and she's going to keep that title forever."
-
Article continues below advertisement
Ronda Rousey And Mike Tyson Have Dabbled With Pro-Wrestling
Even though they come from different contact-sport backgrounds, Ronda Rousey and Mike Tyson have both tasted the fame of WWE.
While Ronda Rousey is actively working with WWE and is the current SmackDown Women's Champion, Tyson's run with WWE was back in 1998 and then again in 2012.
In 1998, Tyson was under the limelight for biting Holyfield's ear. WWE capitalized on that fame and brought him for special appearances during the run-up to WrestleMania XIV.
He was the special enforcer for the Stone Cold and Shawn Michaels match and sided with Michaels before the WWE Championship match. However, he turned his back on Michaels at the event, and helped Austin become the WWE Champion for the first time.
In fact, Tyson's appearances are credited as the reason for WWE beating WCW's ratings and pushing Monday Night Wars forward.
What Is Ronda Rousey Doing In WWE?
Currently, Rousey is the SmackDown Women's Champion.
She issued an open challenge for the title, which was answered by returning WWE Superstar Emma. While Rousey retained the title, she had to bend the rules to keep the championship and poked Emma in the eye.
As of now, Ronda Rousey is not a part of the Crown Jewel 2022 match card scheduled for November 5th, 2022.