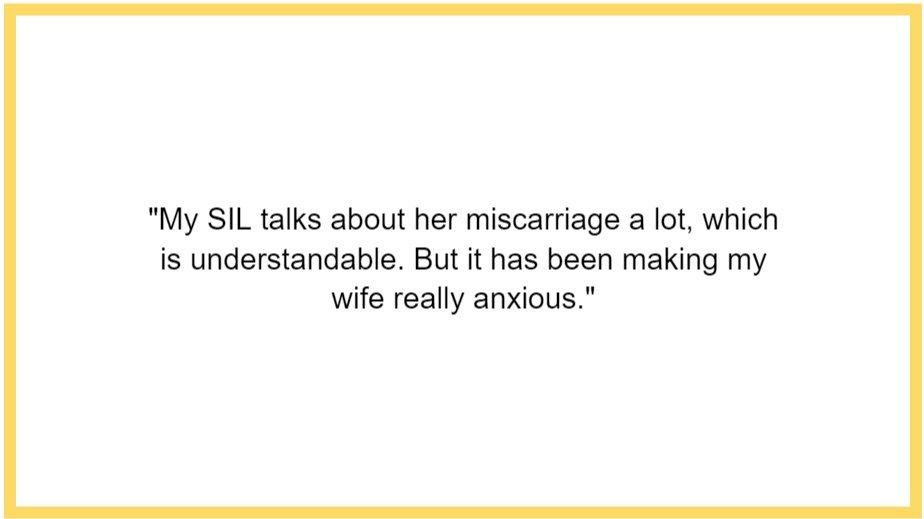 Expectant Father Tells Sister-In-Law To Shut Up About Her Miscarriage - Is He Wrong?
Deeply personal experiences like miscarriages and feminine health woes never truly heal, but when does it become uncomfortable for others around the individual? A subreddit post on the infamous "Am I The A**hole" thread sparked some conversation as Redditors debated the actions of a fellow Reddit user.
The couple in their late thirties are experiencing their first pregnancy together after years of trying (since their twenties). It's supposed to be a happy moment, but the sister-in-law, who has three children with the poster's brother, keeps bringing up her miscarriage, thus causing discomfort.
Article continues below advertisement
'Am I The A-Hole?'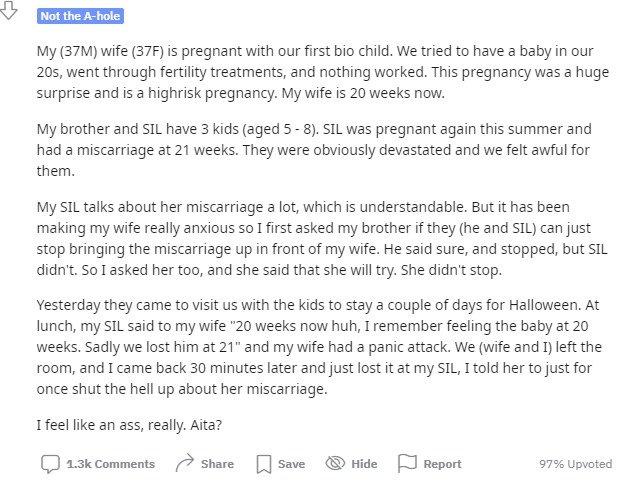 Dealing With An Insensitive Sister-In-Law
The Redditor asked his brother to plead with the sister-in-law to stop discussing her miscarriage in front of his 20 weeks pregnant wife. It feels like the sister-in-law wants the Redditor's wife to lose her child so that they can be miserable together.
20 weeks now huh, I remember feeling the baby at 20 weeks. Sadly we lost him at 21.
-
During a family lunch, the sister-in-law reminded the pregnant woman that she lost her baby at 21 weeks leading to a panic attack for the latter. This didn't sit well with the Redditor, who lost it against his sister-in-law.
He then asked if he was wrong to go off on her as he did.
Commenters supported his actions, saying her did it to protect his wife and not out of unfeelingness but care. He admitted that yelling at the sister-in-law was insensitive, but the other Redditors encouraged him to stop feeling sorry for himself.
Article continues below advertisement
Redditors Vote 'Not The A-Hole'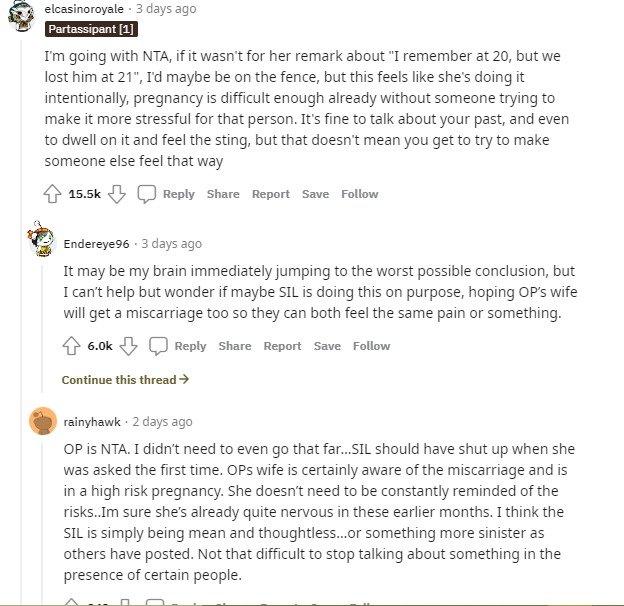 It's Best To Avoid Triggers In Tense Situations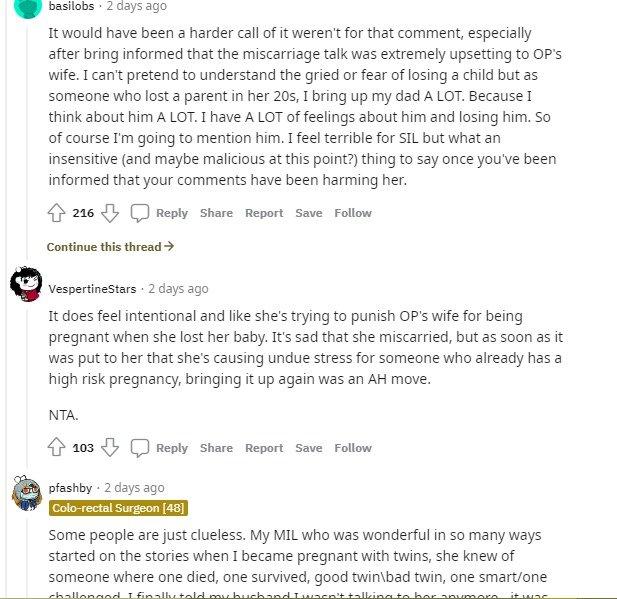 Many commenters highlighted the sister-in-law's deliberate reminiscing and emphasis on the time she lost hers. One person said it's okay to feel sad, but it's never fair to intentionally make others feel your pain.
As someone who went through stillbirth, I think so too. I had a lot of irrational hatred toward pregnant women in the year-ish after my loss.
-
One commenter said it's time for the sister-in-law to look inward and truly understand her need to make the Redditor's wife uncomfortable. The poster's wife carrying a child at 37 is a high risk, so she doesn't need the pressure of someone reminding her that she can lose that child anytime - she knows.
It's best if the couple avoids the sister-in-law physically and otherwise until the Redditor's wife births her child.
It does feel intentional and like she's trying to punish OP's wife for being pregnant when she lost her baby.
-
One of the Redditors empathized with the sister-in-law saying grief never leaves and she probably isn't being insensitive on purpose. They also suggested avoidance until delivery.