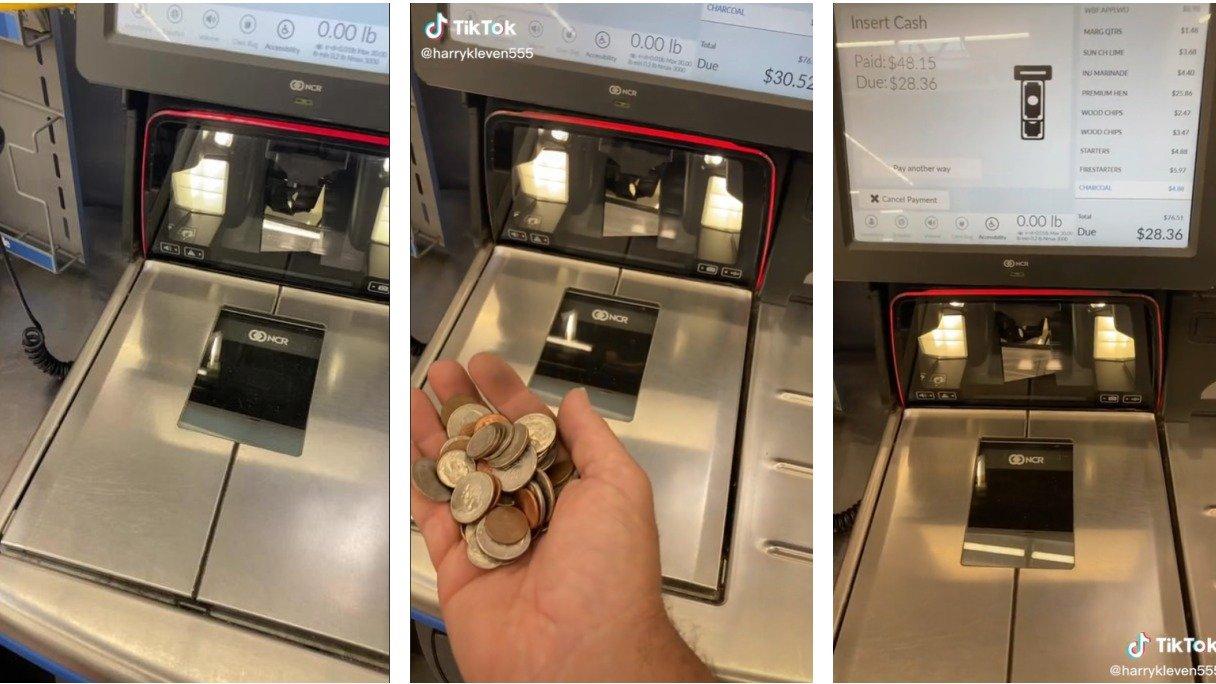 Watch This Walmart Customer's Ingenious Self-Checkout Hack That's Going Viral
Having excess coins in America means one thing - it's time to visit Coin Star for a dollar bill or more, but this TikToker found a free alternative in Walmart. The user, @harrykleven555, a.k.a. Harry, found a hack to pay for items in Walmart using as much change as he got without bothering to convert it to dollar bills.
This titbit impressed over 1.8 million people and has become a new favorite way to pay for items without converting at Coin Star for a token fee.
Article continues below advertisement
Paying With Change
Harry poured in $76 worth of coins at his Walmart self-checkout while the inspector "paid to watch people checkout gave him dirty looks." Occasionally, someone finds a way to beat the system and shares the trick with followers on social media.
While this helps many social media users worldwide, custodians of the system are never pleased with the bypass. The other day, someone shared a trick to help people shoplift in Walmart, leading to an increase in theft from megastores.
Everyone Wants To Try The Trick
However, this TikToker's tip is hardly illegal, so there's no reason people can't follow it. In fact, the comments buzzed with promises of other TikTokers waiting to try the new trick. Some people asked further questions like, "If you cancel the payment do you get paper back," (PS: We'd also love to know.)
One user suggested it becomes a thing to piss off cashiers saying, "Omg everyone should start paying in strictly change in self checkout 😂😂😂" and they earned over 11,000 likes of approval.
Article continues below advertisement
'It's Currency. It Spends.'
One TikToker thought the self-checkout machine was Coin Star because of its similar mechanism, while another pointed out the obvious saying change is currency, so it makes sense that you can pay with as many pieces as you have.
It's currency. It spends. Every penny adds up and those coin star machines charge too much.
-
Another TikTok user said it's a fair exchange for the self-checkout option, "Well since WE are our own cashiers, who is it bothering? Duh. I'm cleaning out ALL my change. It all spends."
Could This Be The Solution To Cash Shortage In America?
One standout comment suggested that Harry's trick may solve the country's currency shortage. If more people paid with Change, there'd be less need to exchange their coins for cash notes. It sure seems like a bright idea!
You Sir, Have Just Solved The Great Change Shortage of 2022... Everyone Should Do This.
-