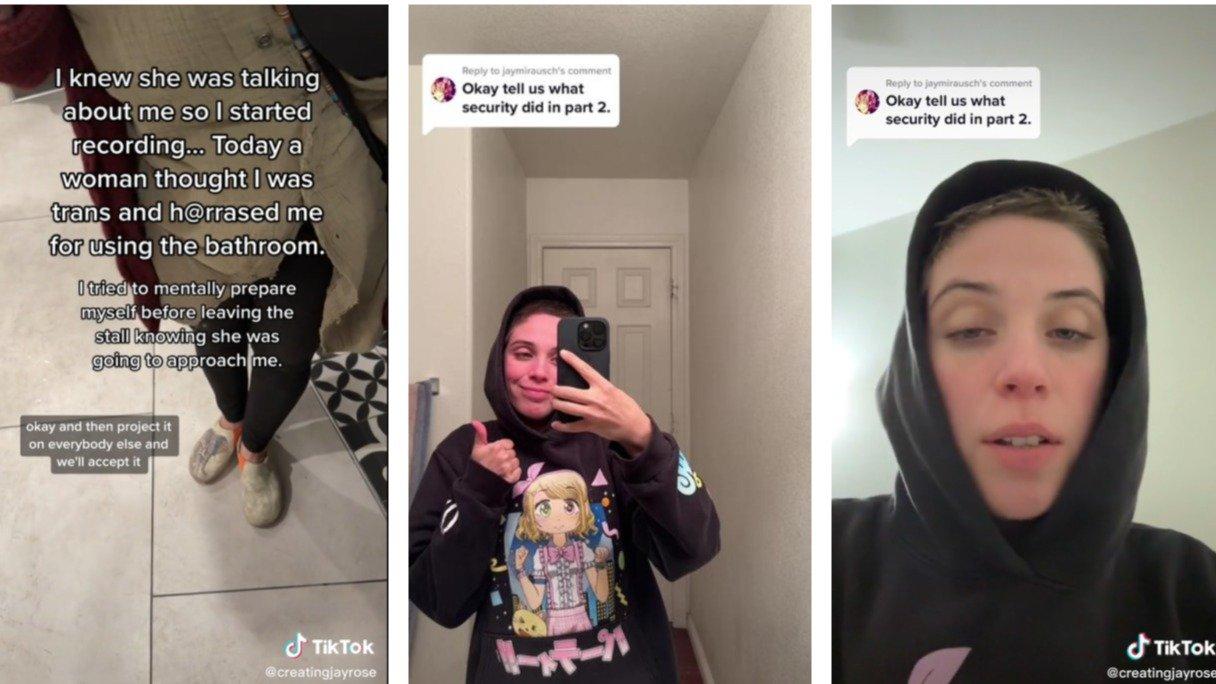 'Figure Out Your Identity': 'Karen' Verbally Attacks Woman In Public Bathroom After Thinking She's Trans
TikToker Jay, @creatingjayrose, posted clips of the moment she got harassed by a woman who thought she was trans. The woman believed Jay was transgender because of her buzzed short haircut and became agitated as she questioned the TikToker's identity. Jay narrated the embarrassing moment in several videos.
Article continues below advertisement
Harassed For Using The Bathroom
Jay's TikTok video began by showing a bathroom stall, and the voice of a woman talking about people's identities could be heard in the background. The video was posted with a write-up:
"I knew she was talking about me so I started recording... Today a woman thought I was trans and harassed me for using the bathroom."
The write-up also stated how Jay had mentally prepared herself for the lady's approach before she exited the bathroom stall. As predicted, when the TikToker stepped out of the bathroom stall, the lady immediately approached her and said: "Stay right there, yeah, figure out your identity in your bedroom. I am pissed right now."
The lady in that bathroom could be heard asking numerous questions which were deliberately ignored and this made her angry. In the end, the matter got to security.
What Happened After Security Intervened
The lady who harassed TikToker user Jay refused to let the matter of her identity slide until security interfered. In the video, Jay could be heard reporting the embarrassing situation to someone off-camera while walking toward the person who was presumably the security guard.
While the women reported all that has been going on in the bathroom, a man in the background was heard saying Jay was his girlfriend. Jay clarified under a comment that the lady ranting in the bathroom deliberately entered the bathroom to harass her.
Article continues below advertisement
More Details About The Harassment
According to the TikToker, she had to quickly use the bathroom because of the painful cramps she had been experiencing. She and her boyfriend had stopped at a local casino after getting work done on their car so they could use the bathroom, unknown to her that she would get harassed.
Jay explained that her identity had never been questioned ever since she cut her hair. However, the TikToker noted that she knew the lady who had been ranting about trans people was referring to her. She also stated that no one in the bathroom had tried to help her out.
TikTok Users React
After Jay's Video went viral, viewers wanted to know what security did about the situation, and she provided details in a third clip. The TikTok user said she filed a complaint against the lady and she got kicked out of the premises for the day. Jay added that she didn't get any apology from the lady and she did not see her after they were separated.