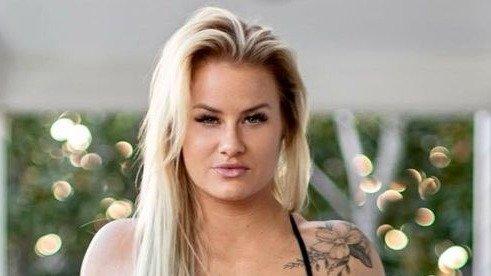 Dani Elle Speegle Shows Off Her Halloween Spirit In A Bikini
Dani Elle Speegle is flaunting her figure and ushering in the Halloween spirit while in swimwear. The CrossFit sensation and Instagram star recently delighted her fans with bikini content that showcased her pool digs, and pumpkin action was thrown in as well. Dani was clearly in the mood to usher in the festive fall season - her post, made five days ago, gave a giant nod to October 31. It also showed the star looking fierce as she flaunted her ripped body in a tiny bikini.
Article continues below advertisement
It's Halloween And Bikini Season
Posting for her 1.1 million followers, the Titan Games face sizzled while kicking back on a green floatie and bobbing around her pool. Adding in mystery by not immediately being visible, the athlete moved slowly into the camera's frame - she covered her entire face with a painted pumpkin, also showing off her jaw-dropping abs and toned legs in a stringy two-piece.
Going for a striped bikini look and also holding a beverage, Steele flashed her tattoos. She did include a little glam via a pedicure. Playing Tina Turner's music to accompany her video, she wrote: "Pumpkin head feat. @nocco.usa - flavor: blood orange (obviously)🎃🩸 🍊."
Article continues below advertisement
Influencer Game Strong
Dani was, of course, getting her influencer game on, as having north of 1 million IG followers likely nets her very healthy top-up cash. Per experts at Vox:
"Influencers with up to 1 million followers can get $10,000 [per post], depending on the platform, and 1 million followers and up, you're getting into territory where they can charge $100,000. Some can even get $250,000 for a post! Especially if the content is on Youtube and the influencer is in the gaming industry."
Using Her Platform For Good
The 29-year-old has made rather touching headlines lately as she once again wore her pumpkin headgear for an outdoor workout. This time, though, she gave a nod to a good cause.
Showing A Good Heart
In a caption to accompany an impressive resistance session, Speegle wrote:
"Gonna sit in the corner and lick my wounds with my @dymatize shake 😂😂 not all my videos can be winners 😂☠️⠀⠀⠀⠀⠀⠀⠀⠀⠀Also just found out that October is Blindness awareness month and just DAMN. To all the athletes out there absolutely slaying the gym and not allowing blindness to be a disability for you - HELL YES 👏🏼 #blindnessawareness#pumpkinhead."
For more, give Dani Elle's Instagram a follow.