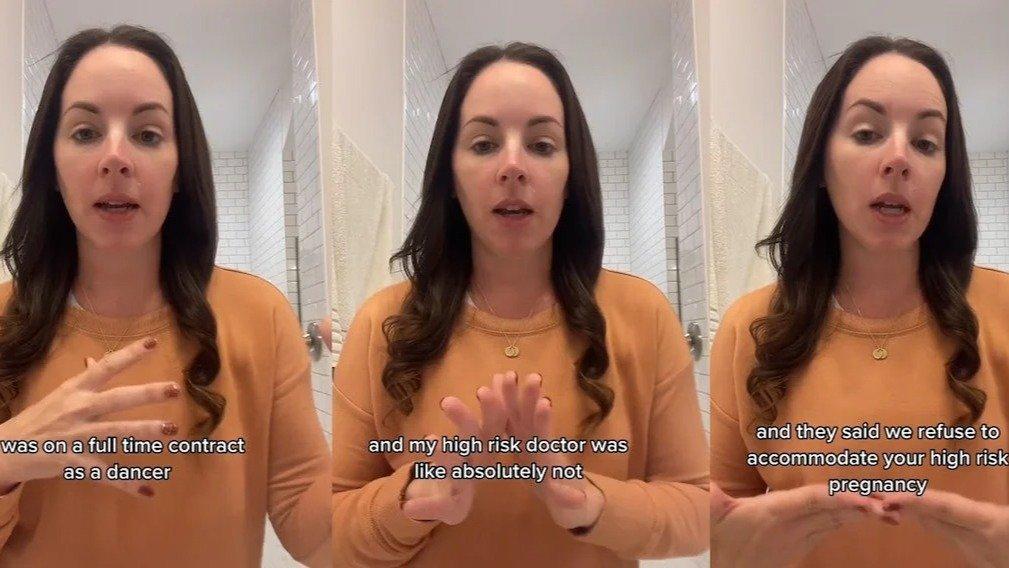 TikTokers In Disbelief After Woman Shared How She Almost Got Fired For Having A High-Risk Pregnancy
Company policies remain a major reason long-term employees lose their jobs, and it struck again in the case of @hoyttwinadventures, a TikTok user. Her story about almost getting fired for having a high-risk pregnancy went viral on social media, thus starting a discussion on acceptable policies.
Several US laws make it illegal to discriminate against a person based on sex and pregnancy, so from the get-go, that policy is against the law. However, the real-life application is often complex and different from the black-and-white of the law.
Article continues below advertisement
Management Can't Deal With High-Risk Pregnancies
The TikToker started by narrating her background, saying she was a full-time theme park dancer in Orlando, Florida, before falling pregnant with twins, typically high-risk pregnancies.
Her company first moved her to light duty because she couldn't fit into her costume, meaning she had to carry props on a flight of stairs instead of dancing.
Upon informing her doctor, he advised her against accepting the "light duty" post because of the strain on her pregnancy. The management didn't have it, so they fired her.
So it felt like I was getting fired for being pregnant with twins.
-
Getting Help From HR
In a second part reveal, Hoyt Twin Adventures added that she'd worked at the park for 11 years before that incident. It wasn't the first time she was pregnant at her job, although the previous pregnancy was a miscarriage.
So, considering her struggles with infertility and miscarriage, she spoke to the management's Human Relations, who helped move her to another company section. The new work requirement was an indoor position, answering phones from a desk and doing administrative tasks.
Article continues below advertisement
Speaking Up To Help Others
They kind of learned from that mistake and put forth the effort to fix it
-
The good news was that fighting back prompted the company to review its policies regarding pregnant women. Although the TikToker acknowledged her extraordinary case saying age and experience were advantages, Hoyt didn't take it for granted.
A younger or newer employee would most likely lose such a fight because they have nothing but moral sensibilities to stand on.
Commenters Want Companies To Review Old Policies
Many commenters praised the HR personnel for doing the right thing rather than sticking up for the company. A TikToker thanked Hoyt for praising the HR, saying they often get the flak for harsh policies.
Others suggested that companies train their managers on decency and reviewing outdated policies. They also commended her bravery in defending herself, saying,
"You speaking up changed the outcome for that 20 something new hire who's high risk pregnancy."