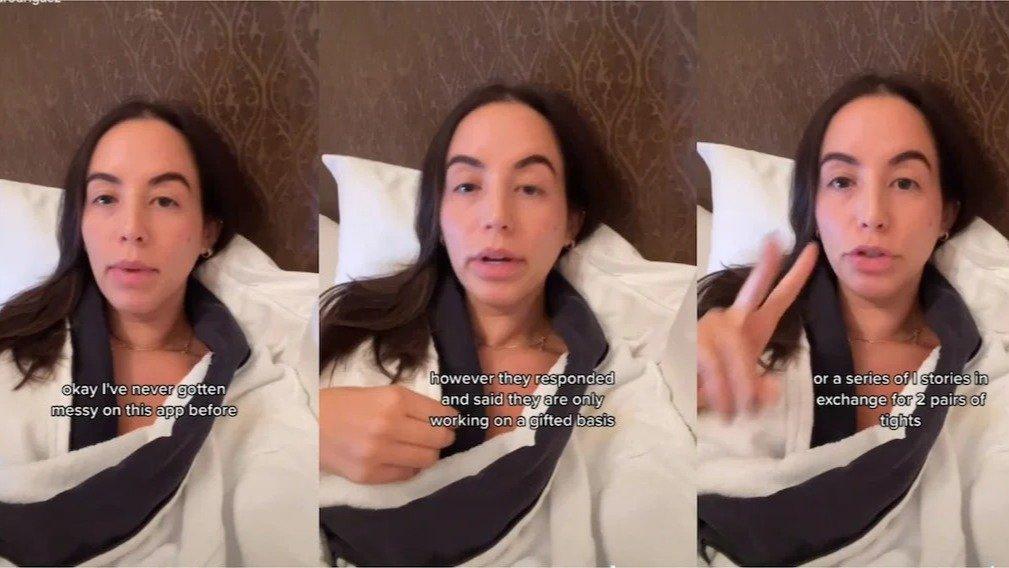 'The Audacity!': Influencer Sparks Debate After Complaining That She Was Asked To Provide Free Content By Tights Brand
Being an influencer has become a really profitable job; you can make good money thanks to your social media and receive a lot of perks. However, this might be changing, according to a viral TikTok by Renee Rodriguez (@reneerodriguez).
The TikTok, which now has over 40.3K likes, described how upset Rodriguez was after being contacted by a brand that wasn't willing to pay her but was asking for one TikTok video in exchange for two $50 tights.
Article continues below advertisement
'I Don't Work On A Gifted Basis'
The creator explained that she contacted them back, telling them she doesn't work on a gifted basis, mainly because she would have to pay taxes if she received a gift worth more than $100. She added, "I'm paying to work for free."
What About A PR List?
PR lists are very popular among influencers. It is a marketing strategy that helps brands promote their products more organically through people with many followers. In the video, Rodriguez said that she told them she was happy to be part of their PR list and share the products if she genuinely liked them.
Rodriguez then received an email explaining that they only work on a gifted basis, along with a 12-page brief with the guidelines on the content she would have to make if she changed her mind. You would think they were a small business, but she highlighted that they made over $101,000,000 earlier this year.
She was particularly upset about the creative brief and said, "They are prepared to pay platforms like Instagram and TikTok to run my content as a paid ad but they won't pay me the person who actually created the content."
Article continues below advertisement
'I'm Gonna Say The Brand Name'
Rodriguez preferred not to call out any names. Still, since she gave some clues about the brand, like the fact that they made very durable and strong tights along the net worth, people in the comments started to make their assumptions.
Sheertex was the brand that resonated in most people's minds after seeing this video, and the TikToker even liked a comment that named them. Yet, a creator shared, "The number of well-known brands who do this routinely is staggering. It is so offensive and has to stop."
The Only Source Of Income
Though Renee acknowledged that she doesn't rely on her social media as her only way of income, thousands of influencers use it as their main job. Many creators commented on similar experiences, saying they are tired of their work not being recognized by brands.
One user said, "A big brand tried to offer me pancake mix….. in exchange for a post, 3 stories and digital usage rights", while another was grateful that Rodriguez shared her issue to help new content creators avoid brands taking advantage of them.
A couple of days later, Rodriguez made an update about the situation. She made another TikTok explaining that the CEO of Sheertex, Katherine Homuth, reached out, apologized for the treatment, and commented on the original video.