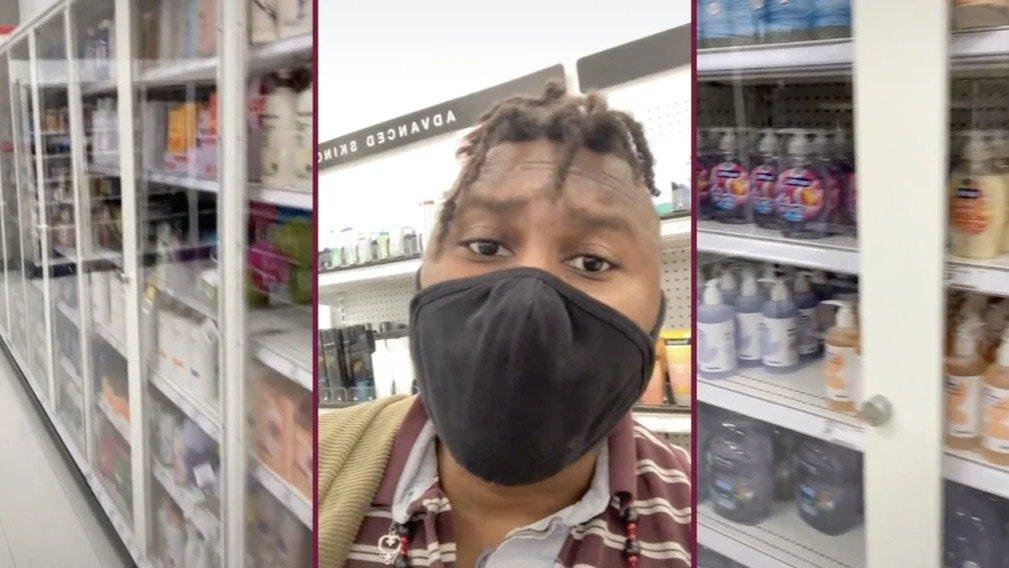 Customer Slams Target For Locking Up Hygiene Products
Locking up essential items is "economic violence," says a shopper who called out Target for their insensitive way of securing their products. The retail store is being slammed because they store some of their items in locked glass cases. While this might help prevent shoplifting, it can also be a big hassle for shoppers.
A customer of the popular department store shared his bad experience on TikTok and sparked a discussion among his followers. Frustrated Black Leftist (@sanctumrelic) uploaded his rant on the platform, explaining why he thinks Target's policy discriminates against poor people.
Scroll down to see the video.
Article continues below advertisement
Shopper Says Target Discriminates Against Poor People
In the viral video, the shopper recorded himself walking on the aisle while shopping. "This is not security it's merely just evil," he starts. He turns the camera to the glass cases, where hygiene products like soap, toothpaste, and shampoo are stored and locked. "This is not appropriate to do to anyone..."
Airing his frustration, he says he believes that stores that lock their items are participating in "economic violence." This is not the first time he has seen a store do this. In fact, some stores even do the same thing with diapers, he says.
He proposes a solution to the store's unsympathetic policies. "If people can't afford to buy things like to keep themselves clean, or to keep their babies clean, or medication," he says. "Instead of creating economic barriers for them or like locking shit up, maybe we need to pay people living wages."
Stores Also Want To Protect Their Products From Shoplifters
According to Forbes, this has been happening to stores all over the nation. There was a 70% rise in organized retail crime in 2021, which led to retailers wanting to protect their assets.
"They don't want a terrible experience for customers, but it's out of this sense that they need to do something and they need to do something now," explains Chris Gibson of InVue.
Article continues below advertisement
Walmart Was Accused Of Racial Discrimination
Walmart recently changed its policy after being accused of racial discrimination. In the past, shoppers have complained that the store locks their multicultural hair and beauty products in glass cabinets.
"They are saying that people, who are a different culture, need their stuff to be locked up," a customer told CBS.
The company has made changes since and maintained that they don't "tolerate discrimination of any kind."
Public Opinion Agrees That This Policy Needs To Be Shelved
"Not only is it wrong but now your shopping trip is 2 hours long waiting for the one person with the key," wrote one follower.
"There's no way that they make more money by locking this stuff up. It's a huge barrier to purchase. I just walk right past these items," another one commented.
"Exactly! And it's especially repulsive because they do this only in specific areas. I don't want it anywhere, but that speaks volumes," said another frustrated shopper.