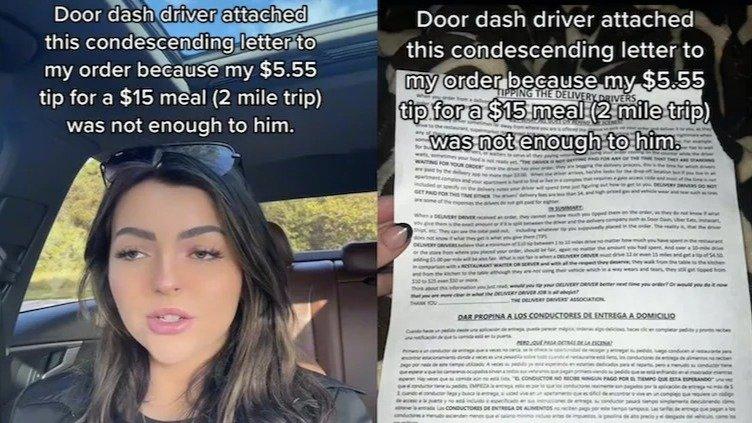 DoorDash Customer Is Flabbergasted After Receiving A Letter From Driver Complaining About Her 37% Tip
A TikTok shared by Katrina Dougherty (@katrinasoldit) has recently caught a lot of attention due to the controversy it has started. The poster shared the odd letter she received after getting a delivery from a DoorDash driver that wasn't happy with their tip.
Dougherty said she ordered a meal from a restaurant two miles from her house in an hour without traffic; her order was $15, but she tipped $5.5. Then, she proceeded to show the letter the driver left with her food, stating that all drivers expect at least a $10 tip no matter the distance.
Article continues below advertisement
'I Was Grateful If I Got A $3 Tip'
Katrina explained that she used to work for DoorDash a few years ago and never expected a $10 tip, and she was grateful when she received a $3 tip. Most people in the comments who had worked for the company agreed with her and even stated that they shouldn't have accepted the job if they didn't want that tip.
She Asked For Other People's Opinions
The poster thought the extensive letter, which was also explained in Spanish, was hilarious and decided not to report it to DoorDash; still, she wanted to know if she was in the wrong for thinking that her tip was okay.
Someone in the comments pointed out that the tip was about 37%, which was more than fair, and others said that she should have altered or removed her tip. Even other drivers agreed with her point of view, as one said, "I am a dasher and the driver is being ridiculous!"
Article continues below advertisement
She Didn't Rate The Driver
Katrina was asked if she left a one-star rating, but she responded that she didn't even bother to rate them. Other users also told her that she should let DoorDash know that one of their workers is giving this type of complaint to the customers because it is highly probable that they leave the letter in most of the deliveries.
"The word of the year is audacity," said one of the users as part of the standard response, yet someone added, "Sounds like he's entitled. I mean I can't go to my boss and say hey this is more paperwork than usual for this case I should receive additional", to make their point.
The Delivery Driver's Association
Many drivers are constantly upset about how much they receive in tips. The letter stated something about The Delivery Driver's Association, a supposed organization that would protect drivers' rights; however, there is no confirmation of the existence of this entity.
The issue with tips would explain why many DoorDash orders aren't delivered correctly or at all, since drivers have complained after some customers put high tips to get their orders quickly and then changed or even removed them, referring to this practice as "tip-baiting."