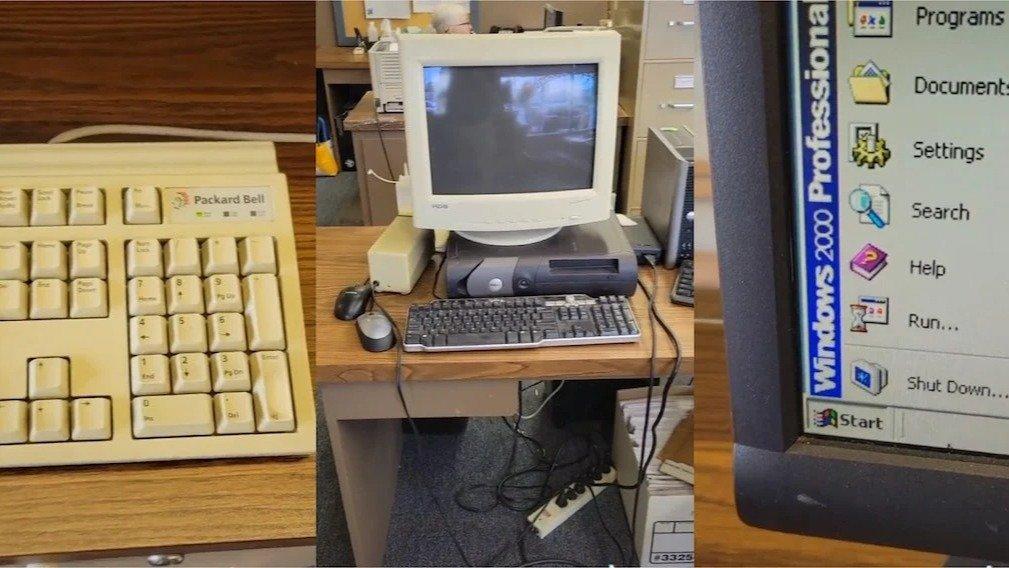 Tech Support Roasts Customer Who Is Still Using Windows 2000
Technology has evolved so much recently that it shocked a TikTok user to see a customer still using the archaic Windows 2000! The person, @lotsaplots, went viral for posting a clip of a new customer using old technology in their office.
The company had a control room with 1999/2000 computer sets from CPUs to Dell desktop computers and a Hewitt Packard keyboard. It's shocking because most companies have switched to LCDs and laptops.
Article continues below advertisement
A Blast From The Past
The TikToker, an Information & Technology expert, got a call to work on the servers in the company only to discover they were living in the past. Subsequently, he encountered some problems working on it because it was aged, but the company didn't care since he promoted himself as an expert.
Lots-A-Plots then made a video sharing his experience as he sarcastically commented on the latest technology used in the company.
Other Users Share Their Experiences
The comment section is buzzing with opinions as many users share their experiences. One commenter said she's still using a desktop computer running on a 1998 system, while another explained the diverse views of geeks and technicians.
They said, "As a nostalgic computer geek, this is so awesome. As a tech, this is such a nightmare 😂" while another added that it was a State Agency thing not to use anything earlier than Vista.
One hilarious commenter quipped, "There are many people on this app younger than that equipment 😭"
Article continues below advertisement
No Microsoft Support For Obsolete Windows
The TikTok user agreed with a commenter suggesting two decades update, although he drew the line at a decade and a half. Some people supported Windows 2000, saying it was Microsoft's peak, but the creator sat on the fence, declaring his neutrality.
Unsurprisingly, the company hired Lots-A-plots because Microsoft ended the support for Windows 2000 Server & Professional, SP2, and XP in 2010. The company also announced the end of support for Vista and RTM versions while stopping future security updates on those servers.
Recent Survey Says Many Businesses Refuse To Upgrade Their Systems
According to a Forbes survey, many businesses still use Windows XP, precisely 32%, despite not being secured by Microsoft Windows. Another 79% use Windows 7, although the company once more stopped support in 2020.
To work within the Windows 10 adoption mandate, 78% of companies switched their systems, giving them access to service. Upon more questioning and research, Forbes discovered they did that out of compulsion and not will.