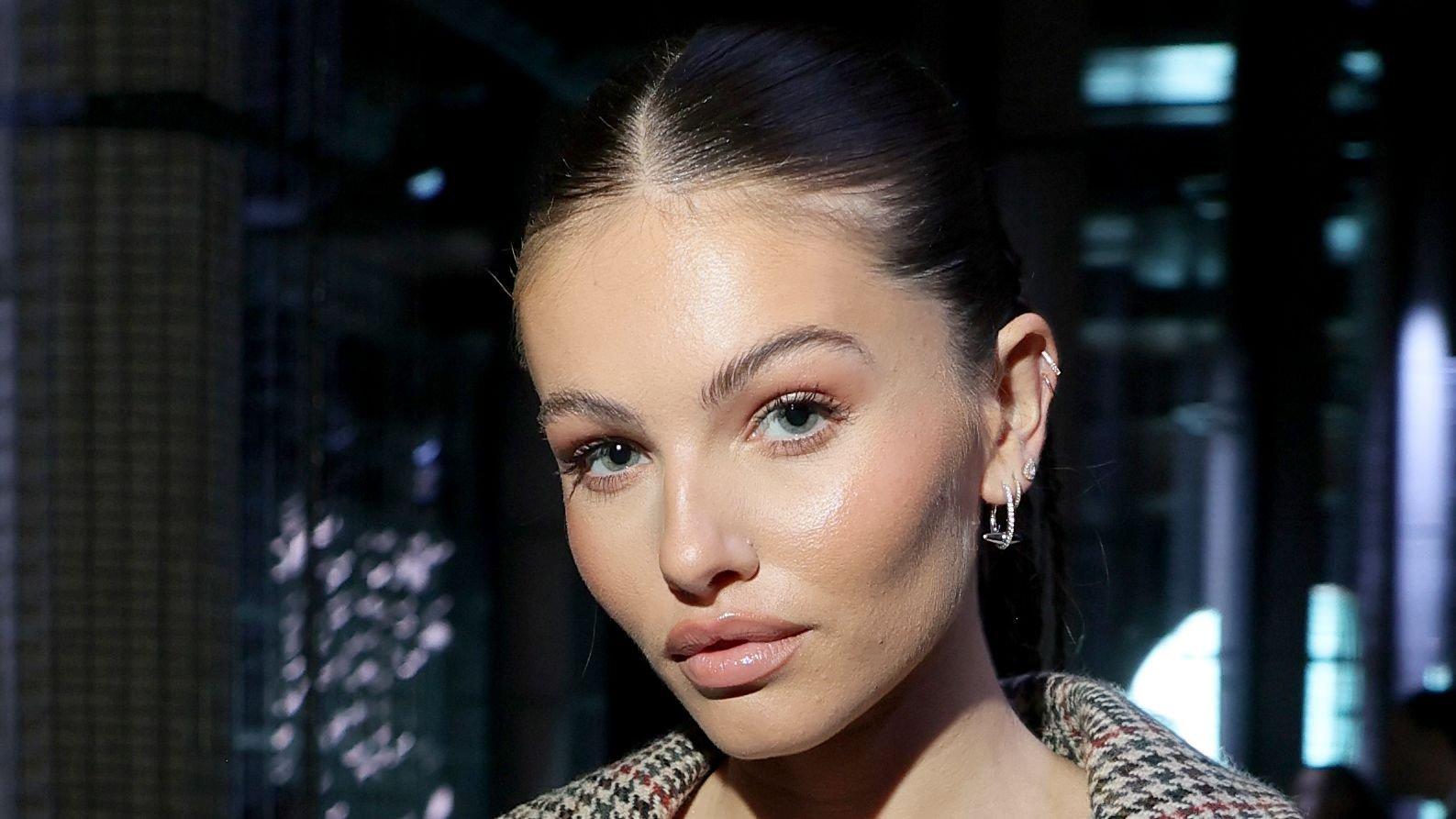 Thylane Blondeau Stuns In Micro Shorts For Miu Miu
21-year-old French model Thylane Blondeau celebrated her sixth Miu Miu fashion show attendance at Paris Fashion Week last week. Although she didn't walk the runway like the rest of her peers, Blondeau appreciated the opportunity to experience other models do their thing and shared as much via Instagram.
She attended the show wearing a carefully curated Miu Miu head-to-toe outfit while adding her personal touch to the Summer-Spring 2023 collection.
Article continues below advertisement
Blondeau Shows Off Her Legs In Tiny Shorts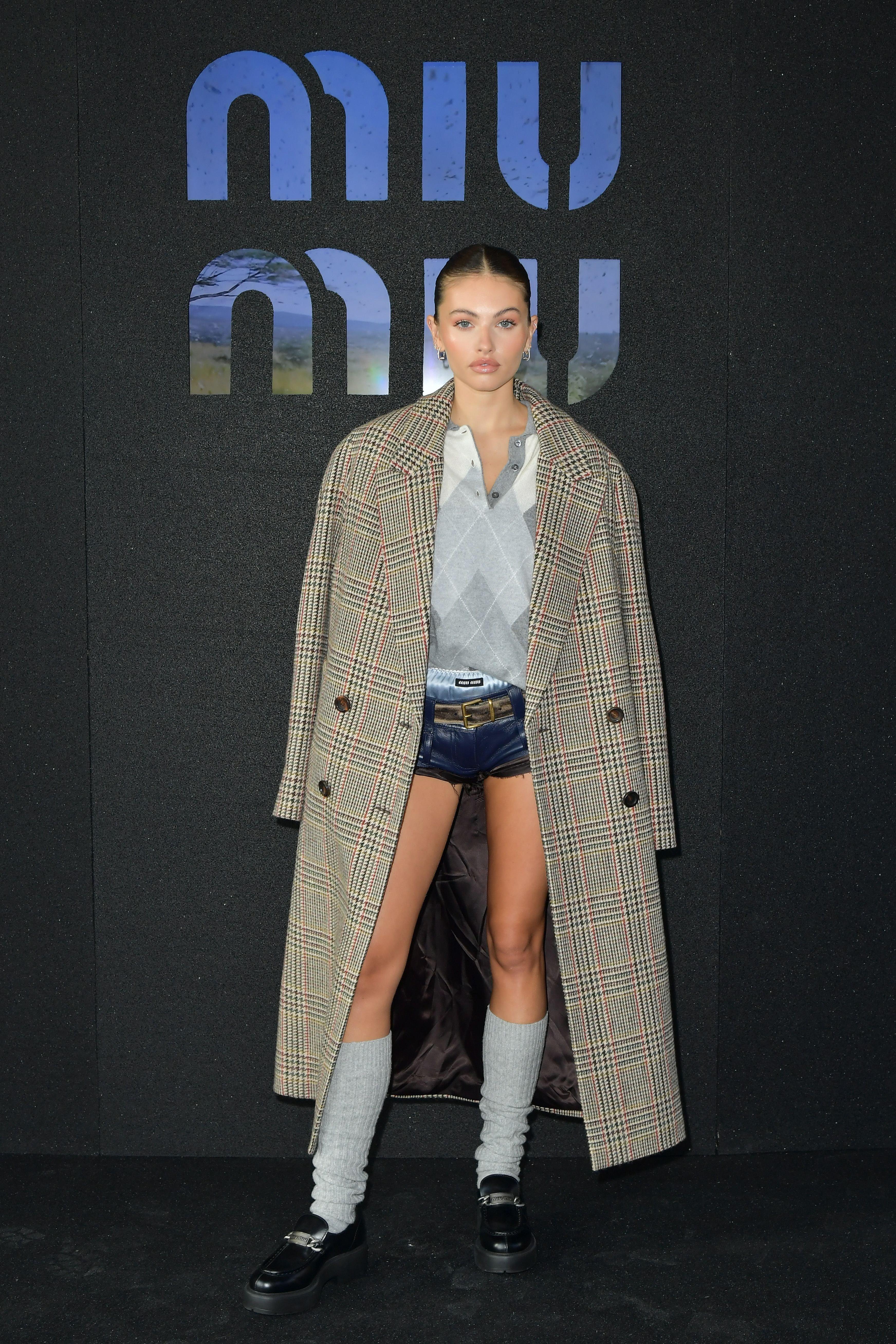 Blondeau wore an oversized grey jumper tucked into her underwear, peeking above tiny black leather shorts and a brown leather belt. She wore matching grey knee-length leg-warming socks with chunky black loafers on her toned, long legs.
The personal twist came in the form of a long plaid coat propped on her shoulders while Blondeau styled her hair in a sleek low ponytail. She then accentuated the style with nude-defined makeup and small hoop earrings.
The Miu Miu Spring/Summer 2023 Collection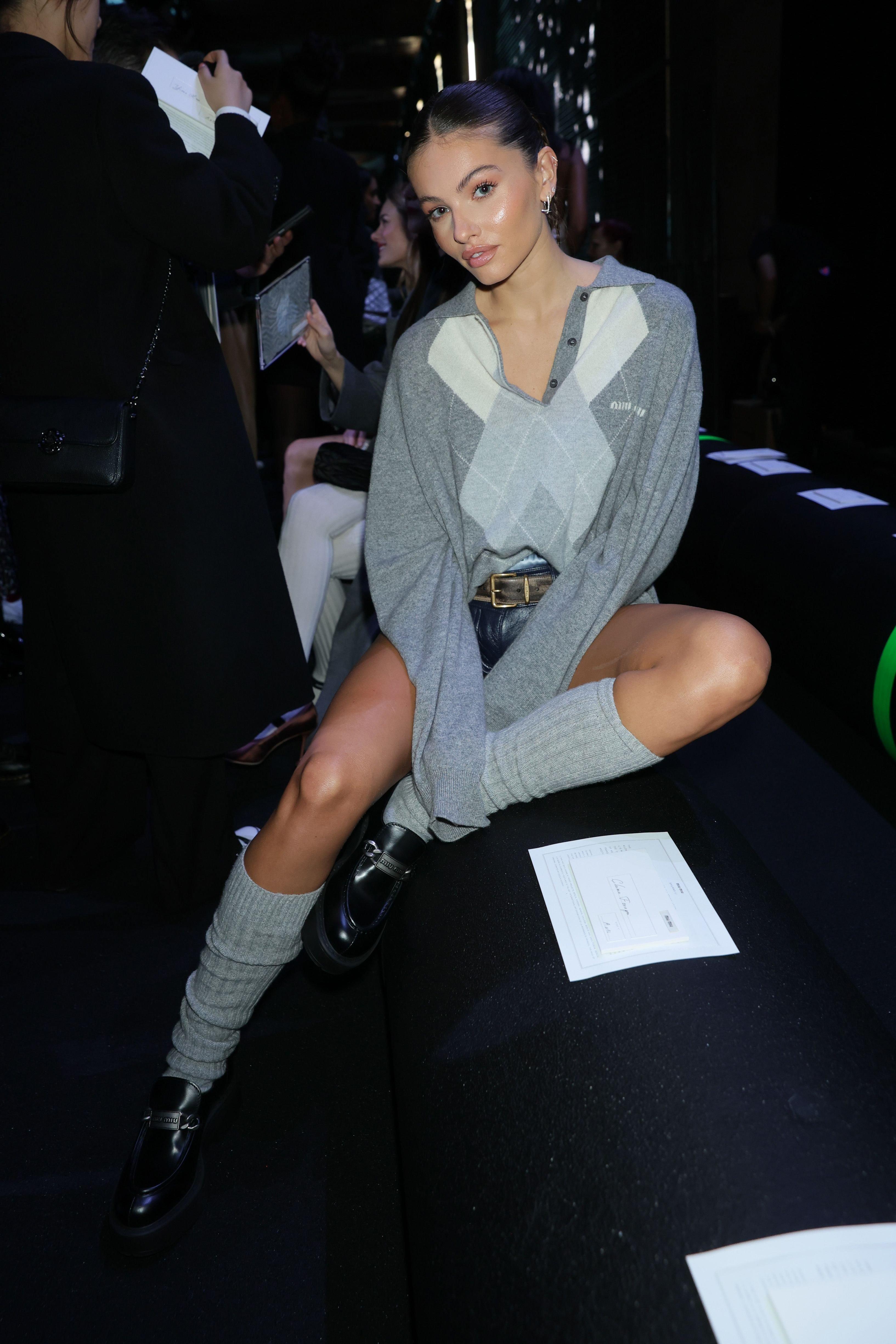 The collection is shown on a cast of all genders, a challenge to convention and an embracing of our new reality.
-
Tiny shorts, skimpy crop tops, and low-riding bottoms were the order of the day at the Miu Miu fashion show in Palais d'Iéna. Creative director Miuccia Prada created this collection filled with leather clothing as a "reaction to the world surrounding us" and a way to blend in.
Miu Miu chose Palais d'Iéna for its hypostyle and dark aesthetic since it blended well with the neutral tones in the collection.
Article continues below advertisement
Miu Miu Fall/Winter Fashion Show Look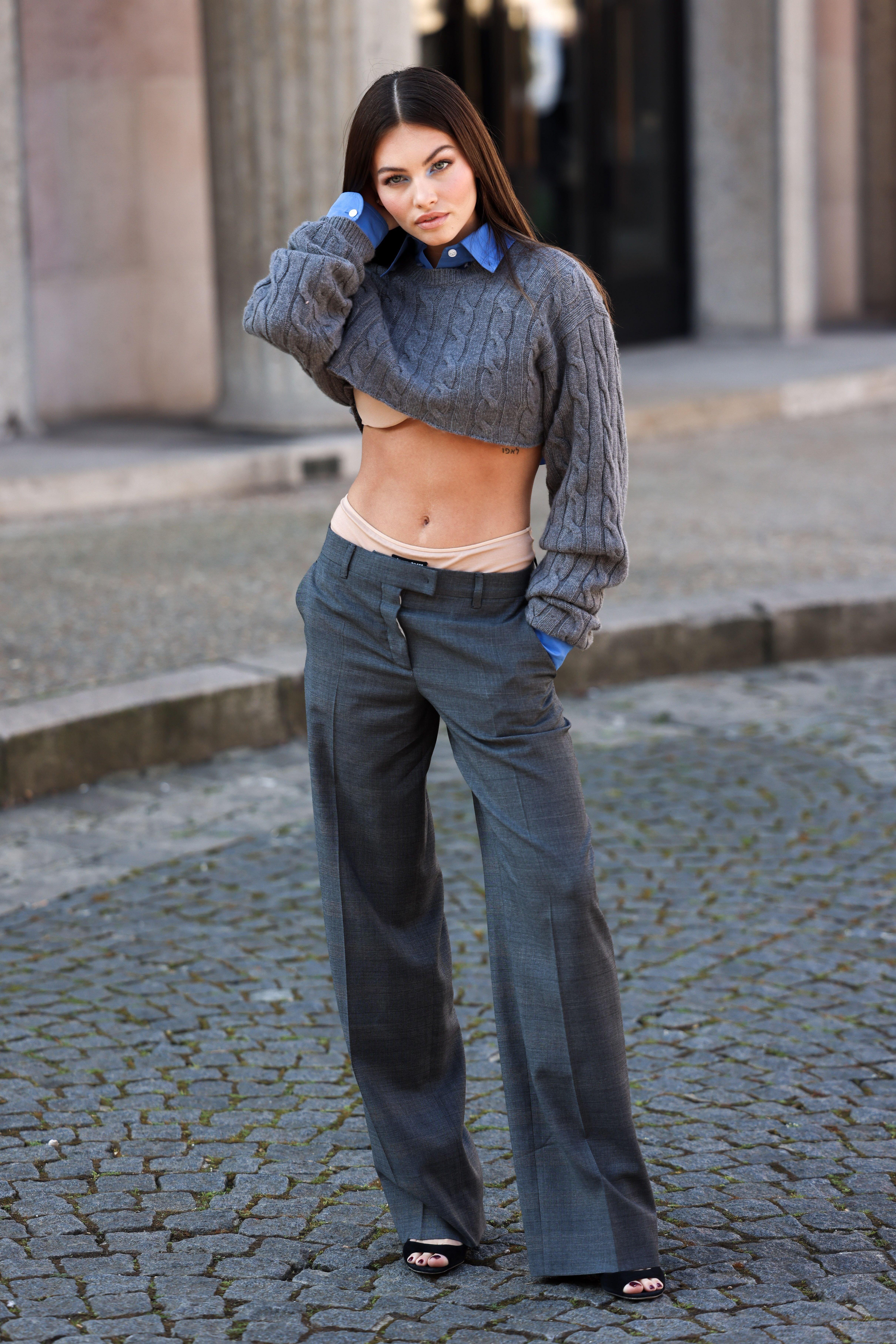 Blondeau wore another jumper for the Fall/Winter 22 Fashion Show earlier this year, although it was a cropped version. She paired it with a blue collared long-sleeve shirt and low-riding grey pants. The combo also teased her nude Miu Miu underwear and toned body features.
Unlike this season, Blondeau wore her brunette hair straight and down with a center part and used a bright blue eyeshadow for her makeup. She also paired the two-piece outfit with black low-heeled sandals.
Slaying At The Mônot Fashion Show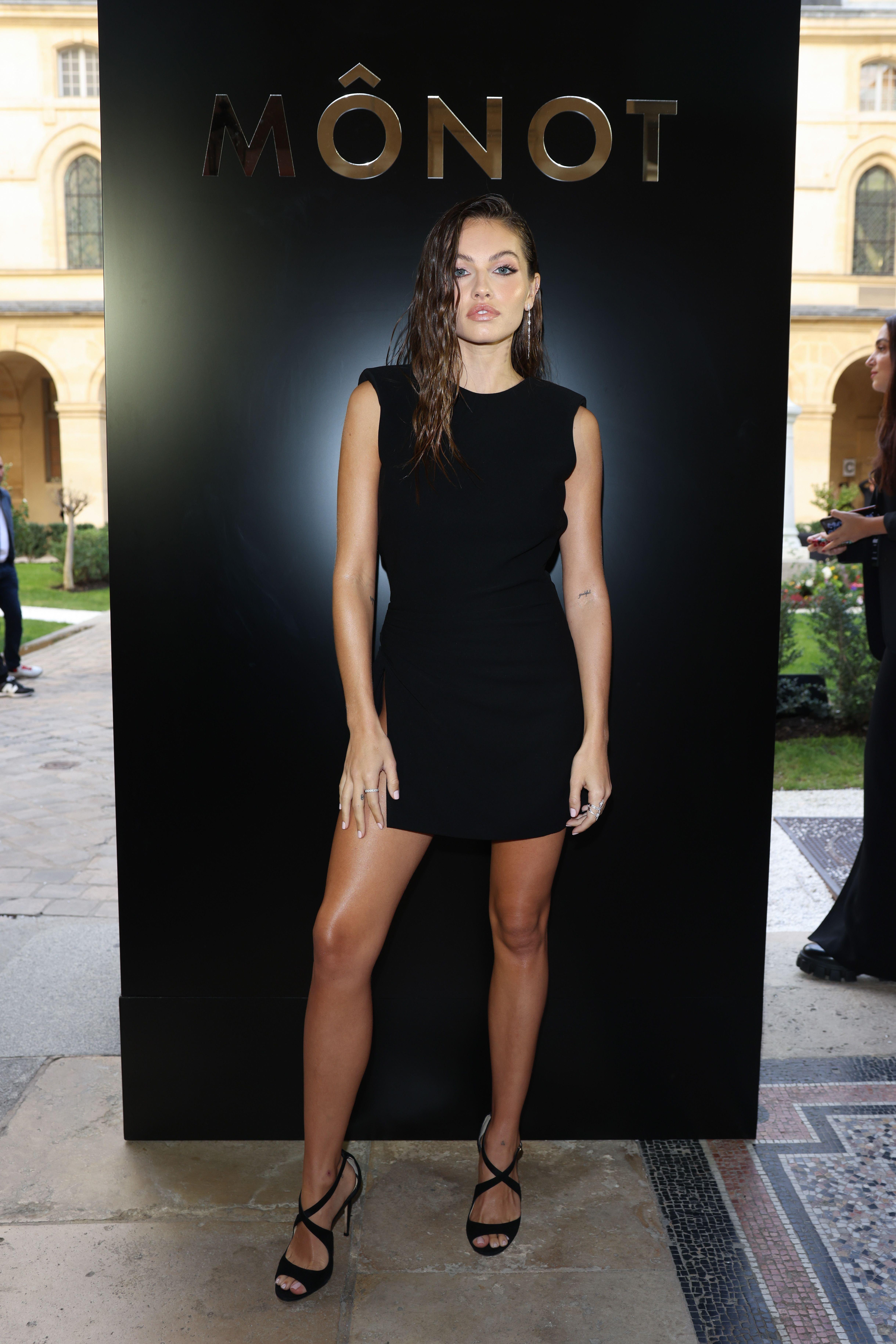 The model attended the Mônot fashion show this week in a classic Little Black Dress with a crisscross stiletto sandal. Although her mini dress was simple with a thigh-high slit, Blondeau's hair, makeup, and accessories made for all the drama.
She wore her hair in a sexy wet side part look, exposing her drop earrings and highlighting her makeup. While she stuck to her signature nude tones, the model deepened her eyeliner and chose a darker nude lipstick shade for more lip definition.