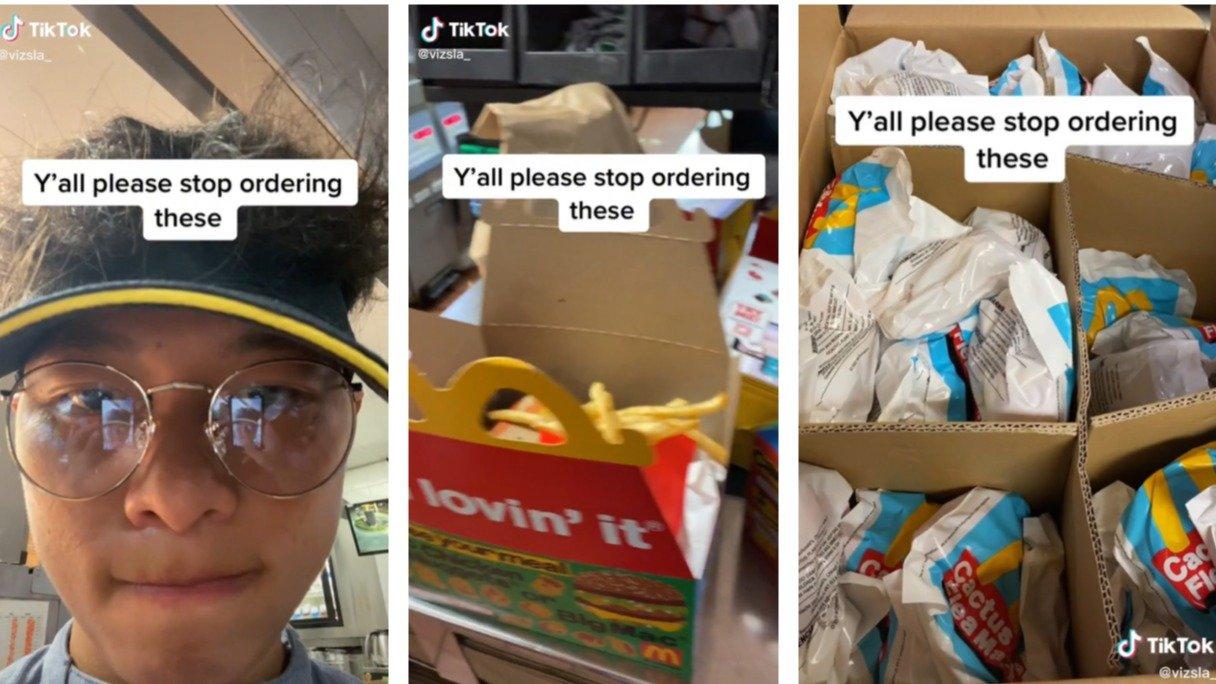 McDonald's Worker Pleads With 'Grown A**es' To Stop Ordering Adult Happy Meals After Spending 4 Hours Preparing Them
Fast food sellers often have specials for different age groups but that doesn't mean the buyers would abide by the rules. Children's meals for instance are often common orders amongst adults prompting these fast food sellers to curate an adult-friendly variation like the McDonald's Happy Meal.
However, a McDonald worker who spent four hours preparing the meal is now begging buyers to stop ordering it. (@Vizsla_) a.k.a. Aaron went viral on TikTok for his video showing the happy meal with a voiceover from Hidden Figures.
Article continues below advertisement
McDonald's Workers Are Tired
In the voiceover, Taraji P. Henson, who played Katherine Johnson, yelled at her racist co-workers saying,
And I work like a dog day and night living off of coffee from a pot nobody wants to touch!
-
Aaron's video pans from a close up of his face looking tired as he shows the multiple Happy Meal boxes he packed.
"Four Hours for Happy Meals for Y'all grown asses," he captioned in frustration. Then in his text bubble he wrote, "Y'all please stop ordering these."
Consumers Aren't Stopping Their Orders
The comments weren't friendly one bit as the other TikToker refused his request and said they'd never stop ordering the Happy Meal. Many of the replies looked like these;
"Oh No, You have to do your Job."
"And the best part, no one can't stop me"
In over 12,900-plus comments, there were hardly any supporting his post or sympathizing with his request. In fact, one user wrote,
"Fast Food Workers when they have to work 😭"
Article continues below advertisement
What's In An Adult Happy Meal Box?
The McDonald's Adult Happy Meal is one of the bestselling combos in the franchise. It contains a Big Mac or 10-piece McNuggets with Medium Fries, A Medium Drink, and a collectible figurine.
The figurines come in four variations, from a Birdie to a Cactus Buddy, Hamburglar, or Grimace. Some people believe employee complaints are a marketing ploy, as telling people to stop would only do the opposite - drive them to order more Adult Happy Meals.
McDonald's Bestseller Is Going Nowhere
Aaron's video now has 2.3 million views, so if this was indeed a marketing ploy, it's been successful. The Adult Happy Meal is a new development, but McDonald's sells about 220 Million O.G. Happy Meal yearly in the US only!
That's about 602,000 Happy meals combos in all outlets. Now the workers' frustrations make more sense. Unfortunately for them, that won't stop consumers from ordering the mouthwatering combo.