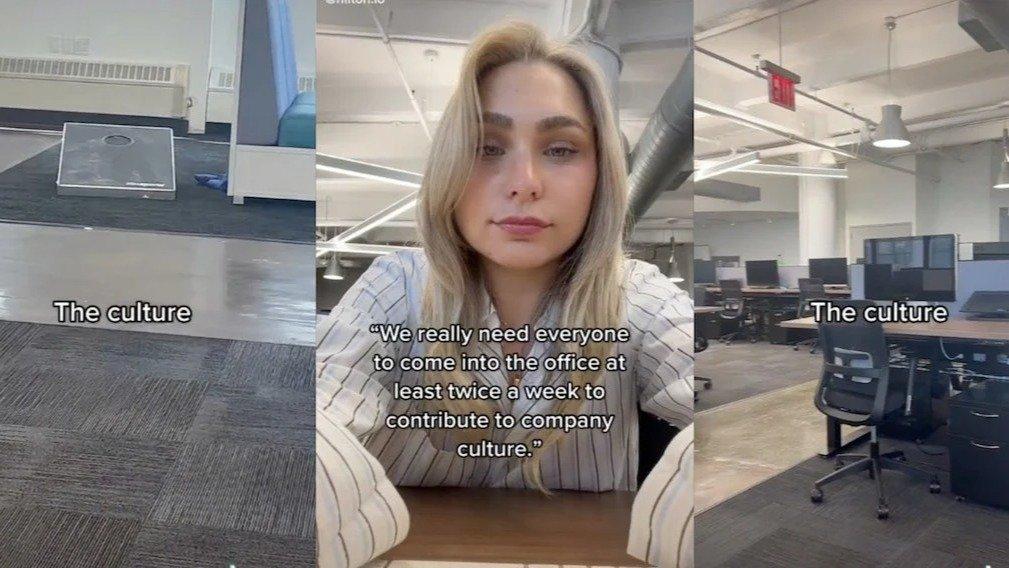 'So Whiney And Lazy!': TikToker Sparks Debate On Mandatory Office Days To Maintain 'Company Culture' But The Office Is Empty
During the COVID-19 pandemic, many businesses had to modify their operations to accommodate work-from-home alternatives due to government-imposed stay-at-home and social isolation directives. According to various studies, these changes ultimately worked out for the best.
Article continues below advertisement
Reports showed that remote employees became more productive and happier with their work-life balance. As a result of improved employee loyalty, fewer employees quit, and businesses generated more money per worker. In addition, companies save a lot of money on overhead expenses because of the reduction in turnover rates.
However, this was short-lived as the government began to ease restrictions, and business owners started to feel the pressure to get employees back into the office. The problem is that many employees don't want to go back due to the pandemic and the fear of contracting the virus. This fact was highlighted by Lo's ten-second TikTok clip, which shows that not many workers liked the idea of coming back to the office.
She wrote on the clip: "We really need everyone to come into the office at least twice a week to contribute to company culture," which was met with a lot of support in the comments.
Article continues below advertisement
Taking 'Company Culture' Seriously
In the clip, she appears to be sitting in an empty office. She is the only one seated at her desk and shows what the rest of the place looks like. There are rows of monitors and office chairs with no one sitting in them across the room while Lo records. It appears that Lo was alone and took "company culture" seriously.
While the video is clearly a joke, it still rings true for many businesses struggling to get employees back into the office. As a result, we'll likely see more companies resort to offering incentives, making attendance mandatory to keep their business afloat, or making sense of the rent they're paying for an office that's rarely used.
However, some companies are embracing the fully remote-based employee model. One such company is WordPress. WP strives to have a 100% work-from-home model, but it doesn't believe this type of workplace is suitable for every company. However, it has managed to make its operations profitable. Most recent estimates place WP's value at an astonishing $3 billion valuation. Not bad for a content management system that has such a large number of free users!
Flexible Jobs Are What People Want
In March 2022, CNBC reported that although "50% of companies want workers back in office 5 days a week," this could be detrimental. That's because 57% of employees are hoping for fully-remote positions, and an even more significant number of people would prefer a hybrid option. In addition, businesses are missing out on practical benefits associated with remote positions by insisting their workers return to the office. For example, there are no office expenses, like rent, furniture, or utilities. And companies don't have to provide laptops, internet service, or other office equipment for their employees.
But, in essence, the problem boils down to the most appealing employment opportunities people seek, and flexible jobs are the ones people want the most. The solution is for businesses to find ways to make their work-from-home and remote positions more appealing to prospective employees by offering competitive salaries and benefits and a good work-life balance. Because, at the end of the day, people want what's best for themselves and their families.
CNBC also reported remote and hybrid work opportunities are likely to attract seven times more applicants than in-person roles. This implies that statistically speaking; greater applicant pools will lead to better chances of luring top talent.
Article continues below advertisement
Comments React
In the comments section of Lo's post, TikTokers who were fed up with being forced to go back to work expressed their dissatisfaction.
One user lamented the absurdity of commuting to work to complete the same tasks on a work-issued laptop at home—only in a different setting. Another user said bosses want their employees to come to the office to justify paying for an office space. Another viewer shared their boss works at home while he demands his employees come to work. The irony!
However, many others expressed how she was lucky to have a job and to stop being ungrateful.
The New Normal
All these point to the fact that, as the world of work changes, so do employees' expectations. And it's up to businesses to adapt to stay relevant and attract the best talent. It seems that the "new normal" is anything but for many employees struggling to find a happy medium between their work and personal lives.