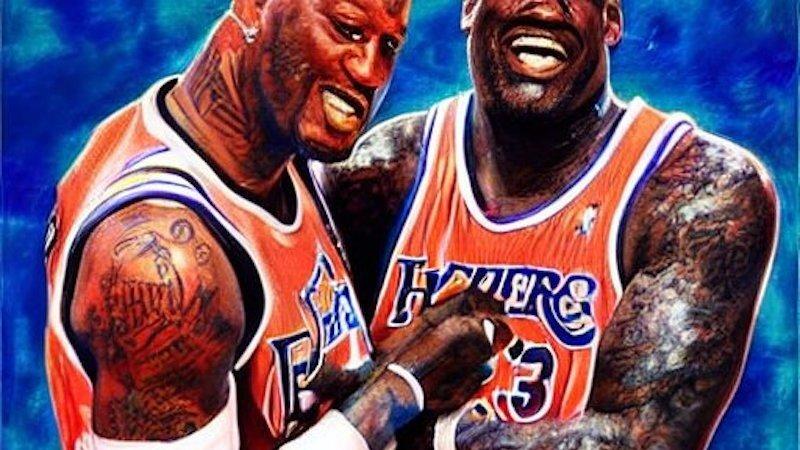 See Dennis Rodman's Shocking Opinion Of 7 Ft Legend Shaquille O'Neal Who Criticized Him For Not Showering And Partying Too Much
Dennis Rodman is widely considered one of the greatest rebounders and defensive players of all time among NBA fans.
But his larger-than-life persona, eccentricities, and never-ending controversies also made him one of the most famous athletes to ever live, especially when he was at the peak of his career.
Needless to say, Rodman often had trouble — or no interest whatsoever — in separating his life off the court from his NBA career, which didn't always sit well with his teammates.
Article continues below advertisement
Shaq Calls Dennis Rodman The Worst Teammate Ever
Worst teammate? Dennis Rodman, Shaq said on The Big Podcast with Shaq. He was a great player, but he made it hard. Like when you try to corral the guys together and the people above you letting this one guy do whatever he wants. So we had to be there an hour before the game. He'd come in 15 minutes before the game eating chicken and rice.
-
Rodman Didn't Shower After Games
The Los Angeles Lakers legend went on to call him out for his showering habits, revealing that he didn't shower after games:
While the coaches are talking, he would jump in the shower. Cold shower. Come and give you 15-20 rebounds. After the game, he don't take a shower and be in a club with girls that look like you," the Big Diesel added.
-
Article continues below advertisement
The Worm Still Has Some Love For Shaq
However, even though Shaq was quite harsh when talking about him, the former Detroit Pistons star still has plenty of respect for Shaq as a person and a player:
"He's a good guy, you know, Rodman told Graham Besinger. Shaquille became this poster boy for big guys. You know the big and tall poster boy. And you know he's a big kid in a big man's body and a good guy you know. I mean we had a dispute over the years but we get along pretty good.
-
Rodman Is The Ultimate Rock Star
Dennis Rodman lives his life on his own terms. He's always been like that, and that was one of the things that made him so great on the court, for better or worse.
The downfall of his career was as notorious as his partying and extravagant lifestyle, but it's not like he didn't build one of the most impressive resumés of all time.
Unapologetic and often times bizarre, but still one of the most dominant defenders in basketball history.