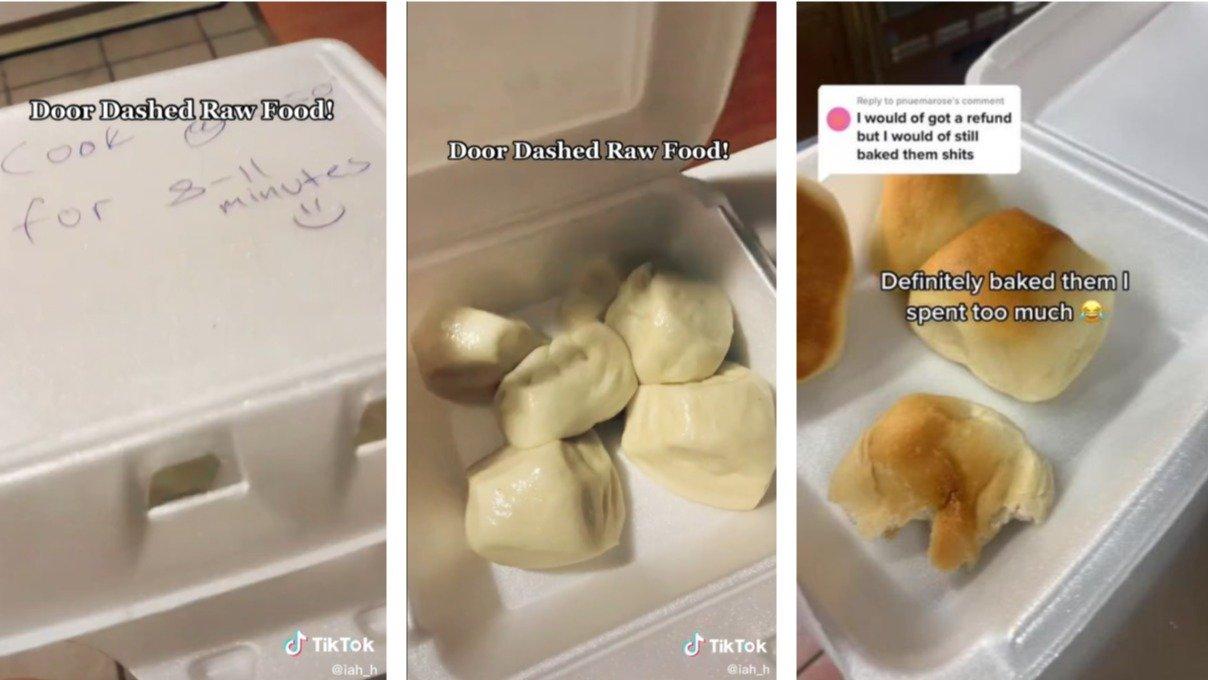 'My Jaw Just Hit The Floor': DoorDash Customer Is Furious After Receiving Raw Rolls With Cooking Instructions
Millions of people rely on food delivery services for their regular meals. Having your favorite meals sent right to your doorstep saves you the time of having to cook or drive out to order. But, if the restaurant you order from gives you food you must cook yourself, is the service still worth it?
Scroll down to read about her story.
Article continues below advertisement
Customer Receives Raw Rolls With Cooking Instructions From Logan's Roadhouse
In a viral TikTok, Mariah showed the uncooked rolls she received from Logan's Roadhouse. She was frustrated and confused because she was expecting her food to be cooked and ready to eat.
"Ok, I just had to record this," Mariah starts. "I ordered these rolls from Logan's Roadhouse, right? And it says 'Cook on 350 for 8-11 minutes'" She points the camera at the styrofoam box, which has a handwritten note on how to cook the rolls.
"They didn't even cook my f***ing rolls, y'all," Mariah continued. "They just put 'em in a f***ing box and sent them on their way. I guess it was too much for them to do their job, or maybe something was wrong," Mariah says as the video ends. "I really don't know."
Some People Explained The Restaurant Had A 'Take And Bake' Option
Many commenters sympathized with Mariah. It's infuriating to get the wrong food order, especially if you are pressed for time and hungry. However, some also pointed out that the restaurant had a 'ready-to-bake' option, as shown in their menu, and Mariah might have ordered the wrong choice.
"I used to work there people could order them uncooked so they stay fresh," someone commented.
Article continues below advertisement
Mariah Explains She Just Didn't Have The Time
In a follow-up video, Mariah explains that the only reason why she got mad was that she didn't have time and had to get ready for work. She also understands that there could have been an error in her order.
"I'm not this spoiled brat that can't throw some rolls in the oven myself," she says. "That wasn't the point."
She Doesn't Blame The DoorDash Driver
The series ended with Mariah baking the rolls herself. She was still disappointed and believed she spent too much on food that she had to cook on her own. Mariah also ensured everyone knew she didn't blame the DoorDash driver.
"I'm a dasher myself, so I know the struggle of being blamed 🥲," she said in another follow-up video.