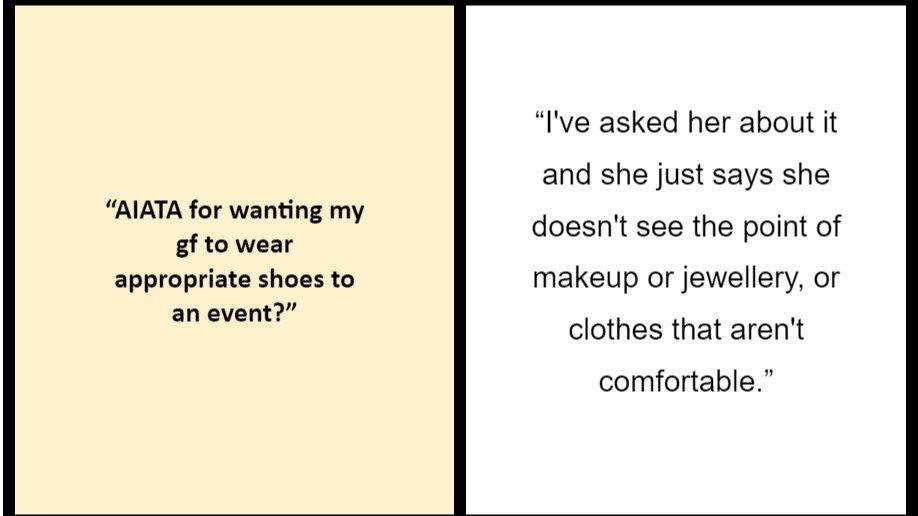 Redditor Wonders If He's A Jerk For Insisting That His Girlfriend Wears Feminine Shoes
Do you choose outfits based on the old saying, "Dress the way you want to be addressed," or do you have different principles? Some people would say there are outfits appropriate for certain situations, like formal wear for black-tie events.
However, we've seen celebrities and regular folk defy norms in place of creativity and comfort. This Reddit user wanted to know if he was asking for too much by saying his girlfriend must wear feminine shoes to his formal work event.
Keep reading to get the full picture.
Article continues below advertisement
Redditor Shows Irritation For Lover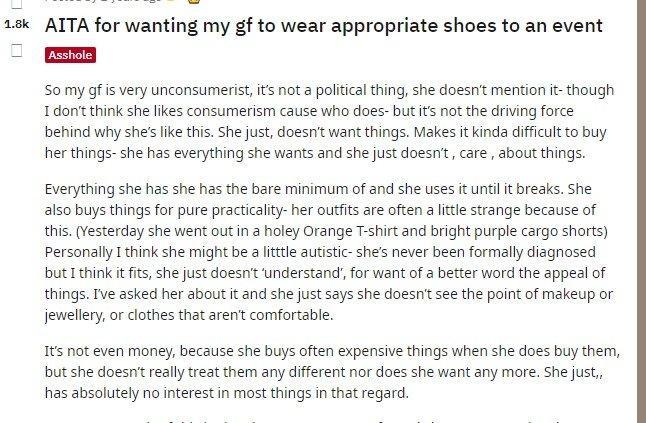 The Redditor started by explaining his girlfriend doesn't like buying new things and it makes it hard to gift her. However, in his bid to explain her personality, he diagnosed her with autism because she doesn't feel the need to preen and appear aesthetically beautiful.
Not everyone is materialistic and that doesn't mean they have autism. It seems extreme to diagnose one's partner with such an ailment because of their preference.
Do Personal Choices Have A Place In Formal Events?

The story gets juicy when the Redditor explains that his girlfriend's practicality endeared her to men's shoes. An upcoming work event made him panic because he didn't want her to wear men's shoes with a formal evening dress.
Formal events in the past and even some today insist on guests fulfilling certain dress code requirements before gaining entry. Although some people still switch things up by wearing sneakers on suits, for instance, it won't fly on every formal occasion.
Article continues below advertisement
Reaching A Compromise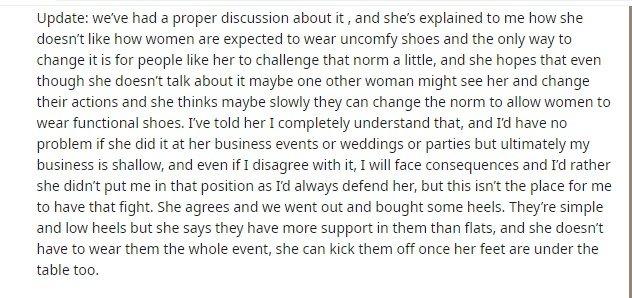 The Redditor said she refused women's flats too, so it wasn't about wearing heels, and he'd look bad if she didn't show up at the event. After discussing it as some commenters advised, he discovered she did it on purpose to challenge the norm and encourage women to not inconvenience themselves to fit into beauty standards.
They reached a compromise and she wore practical heels because his work event was shallow and such a direct challenge could've jeopardized his job.
Changing Fashion Climate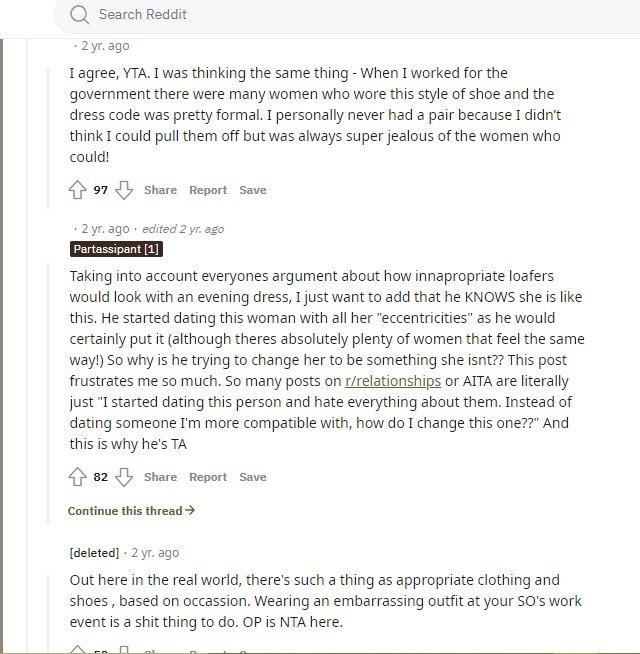 Comments shifted from support for the girlfriend, reminding the Redditor that he met her with her eccentricities before dating her to displeasure at her unwillingness to compromise. Although the question "Am I The A**hole" earned a 90% upvote, many of the comments addressed the necessity of sticking to norms and wearing appropriate clothing depending on the event.
With the change in fashion since the Original Poster asked this question, there's no reason the girlfriend can't wear men's shoes with a nice tuxedo today. It's nice to know the conversation has shifted and genderless fashion is more embraced in 2022.