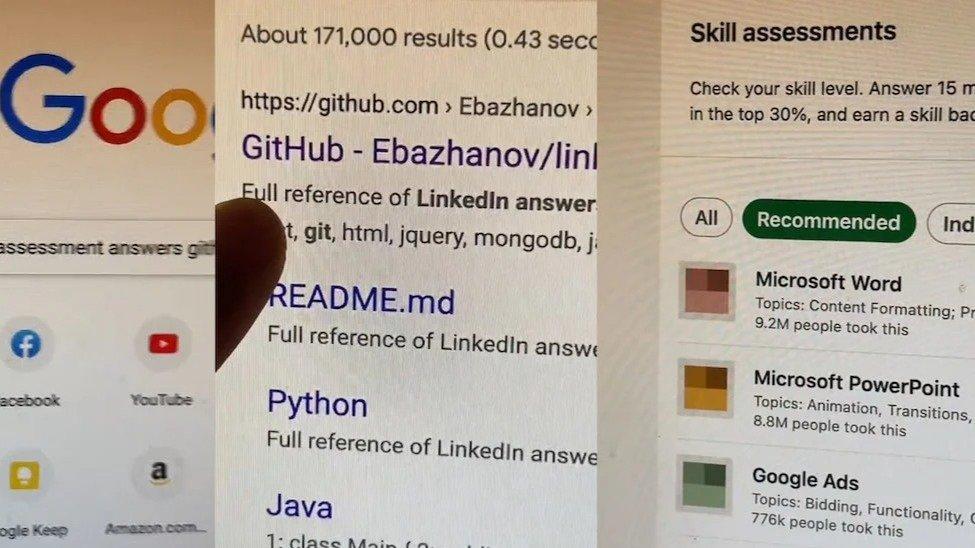 'That's A Cheat Code!': This 'Unethical Hack' For Passing LinkedIn Skill Assessments Is Going Viral
LinkedIn has proved to be an excellent way for job seekers to find gainful employment and boost their careers. The LinkedIn skill assessment is a feature that allows LinkedIn users to prove their expertise to recruiters by taking a skill assessment that evaluates them.
Article continues below advertisement
A Career Coach Shares LinkedIn Hack
The LinkedIn skill assessment feature allows users to demonstrate their prowess in their skill of choice by completing specific assessments on those skills. However, hacks for acing these assessments have been going viral recently. A career coach shared an "unethical" hack for scaling LinkedIn skill assessments.
In a viral video, TikToker Jerry Lee (@jerryjhlee) shared a resource for future employees to harness in their future job and career endeavors. "What are some unethical life hacks?" the video asked. Lee is the Chief Operating Officer of Wonsulting, a company whose mission is to help others through their career journey.
The LinkedIn Skill Assessment Hack
Lee often shares tips for professional growth via his TikTok account. The stitched video has garnered over 865,800 views. The video featured Lee giving detailed instructions on how to utilize the hack. "Google search 'LinkedIn skill assessment answers GitHub,'" he instructed, answering the video's question.
According to the video, after clicking the first link, users are to answer all of the skill assessments on the LinkedIn platform. Although he encouraged individuals to use the hack to get employment and further their careers, he warned individuals against overusing and relying excessively on it. "Use sparingly," Lee cautioned in the caption.
Article continues below advertisement
TikTok Users Express Aversion To Cheating
Although this Lee's hack may prove helpful to some, the prospect of cheating to ace an assessment is something many find wrong. Many TikTok users took to the comments section to share their thoughts on the idea of "cheating" to boost their careers. "That's not a life hack… That's a cheat code for career mode," one user said. "Wouldn't consider this unethical since most hiring practices have become borderline unethical," another said. "Ok but then eventually someone will expect you to know the stuff," a third user commented.
LinkedIn Skill Assessment
LinkedIn skill assessments are often used by employers and those hoping to strengthen their resumes. According to the site, each assessment typically comprises 15 multiple-choice questions, and each question tests at least one concept or subskill.
The questions are timed and must be completed at once. The assessment topics range from technical and business skills to even design skills. When passed, users are given a badge that they can choose to display on their profiles.