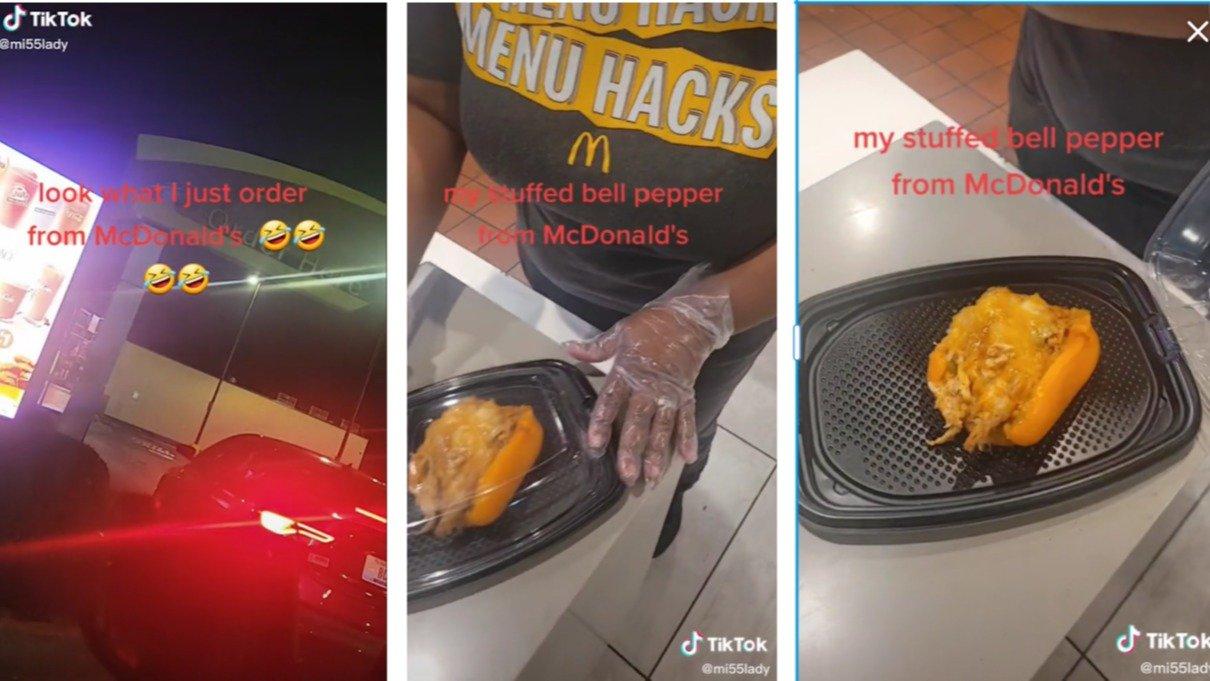 'Better Than Chick-fil-A': McDonald's Customer Orders A Stuffed Bell Pepper In Drive-Thru
A woman's video is going viral on TikTok after she filmed herself ordering -- and getting! -- a stuffed bell pepper at a McDonald's drive-thru. In a two-part series posted on September 25, a TikToker named Ashauntee B (user handle mi55lady) can be heard ordering the unconventional food item which doesn't exist on the menu. She is later seen walking into the restaurant to pick up the unusual treat, which gets extensive camera time.
Scroll to watch the videos!
Article continues below advertisement
Woman Asks For A Stuffed Bell Pepper At McDonald's
Ashauntee's first TikTok, which has since amassed 1.6 million views, starts with her telling followers, "I'm at McDonald's, and watch what I order," just as she pulls into the drive-thru. According to a hashtag on her post, the restaurant is located in Louisville, Kentucky, and, while the detail sparked some debate in the comments about differences in the menu from one location to another, let us say right off the bat that McDonald's doesn't sell nor has ever sold stuffed bell pepper at any of its locations.
Still, this didn't stop the woman from asking at the speaker box, "All right, can I get a stuffed bell pepper fresh, please?" After a long pause, she is told to "pull on forward," to which she mysteriously replies, "I'm about to come in."
Keep going for the video!
She Goes Into The Restaurant To Pick Up Her Order
As McDonald's customers are well aware, this is an odd thing to say for anyone ordering food at a drive-thru. Still, later in the one-minute video, Ashauntee is seen walking in through the front door and identifying herself as the person who ordered the "stuffed bell pepper fresh."
This is where the video cuts off, but viewers got ample proof that she got her order in a follow-up video that has been viewed over 208,000 times.
Article continues below advertisement
The Verdict: 'Better Than Chick-fil-A'
In the second video, which is half as long, the woman has a lively chat with the employees before one of them brings out her order on a breakfast platter. "I need my bell pepper. I need it fresh," she is heard saying moments before the tasty dish arrives, and clarifies several times that she wants it "fresh."
When her order comes out and is fetched by a McDonald's worker proudly prancing to the counter with the dish in hand, Ashauntee, audibly satisfied with what she got, declares: "I think they're probably better than Chick-fil-A."
Both videos are shot from her point of view, with the latter generously showcasing the unusual food item. In the comments, Ashauntee revealed the pepper was stuffed with chicken, rice, pepper, and cheese -- and honestly, it looked irresistible!
Scroll for TikTok's reactions!
She Did It For The Laughs
Before you make the trip to Louisville to get your own McDonald's stuffed bell pepper, it's worth mentioning that the savory dish is not part of the fast-food chain's limited-release items. As such, don't expect to be as lucky as Ashauntee, who explained in the comments that she got hers because "I'm friends with someone that cooks everything [sic] but McDonald's at McDonald's."
Although it was clear the videos were nothing more than a tasteful (tasty?) prank, many people were genuinely interested where they could order the same thing. "Is this only certain locations? I need tips!" said one person, while another added: "Wait I can get that at McDonald's?!"
Employees of the restaurant chain also chimed in and seemed just as confused. "I work for McDonald's how the h**l you get this?!" read one message.
Others got in on the joke and kept the ball rolling, with one TikToker pointing out: "Gotta specify FRESH because McDonald's just has stuffed bell peppers sit-in in a warmer all day."