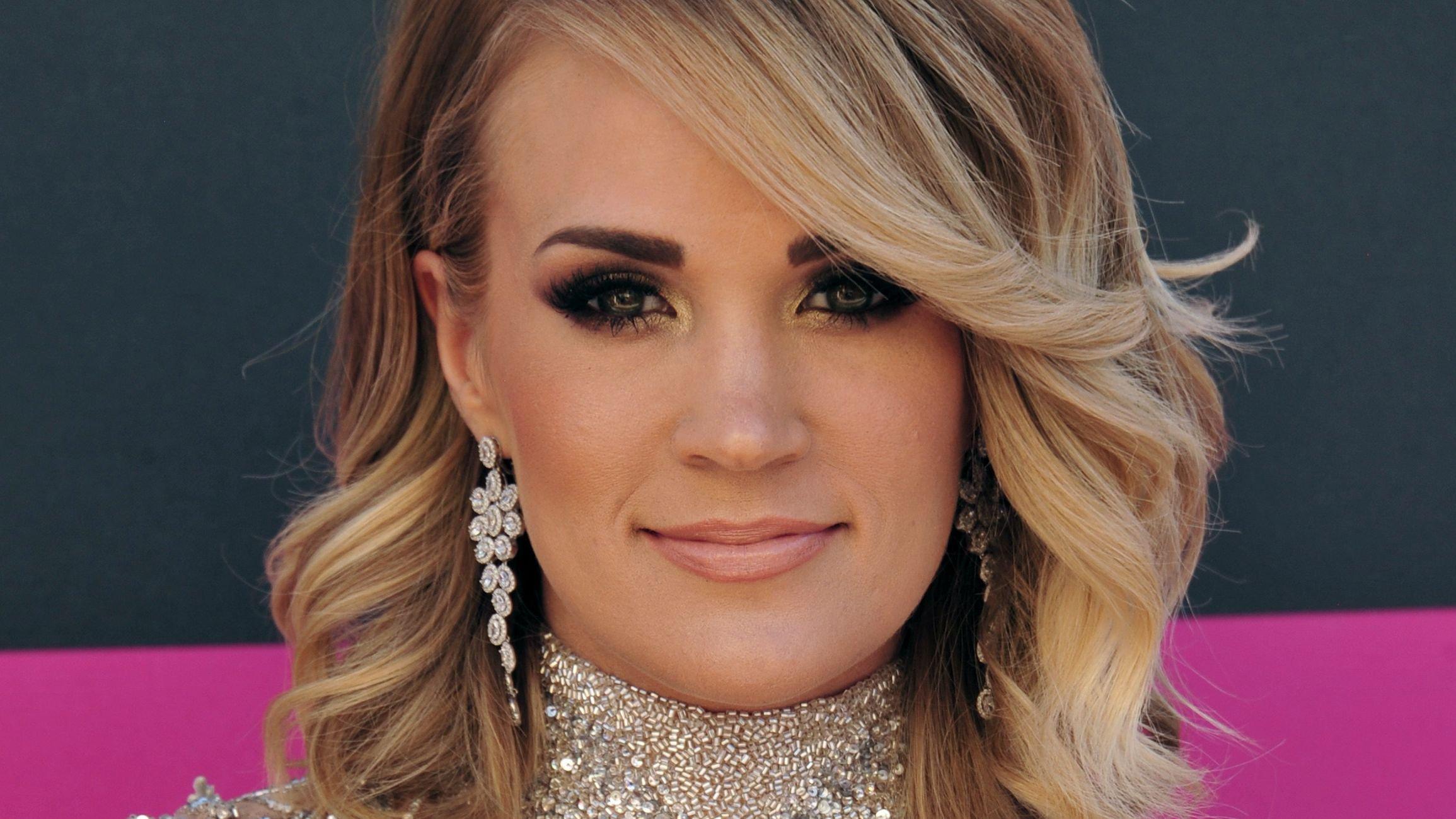 Carrie Underwood Flashes Her Toned Legs In Super Short Shorts
Carrie Underwood is showing off her fit figure on social media and fans just can't seem to get enough of her posts. The eight-time Grammy winner, who's been busily rehearsing for her upcoming Denim & Rhinestones Tour, shared a BTS photo of herself on Saturday wherein her toned legs were front and center and got an incredible response from her 11.8 million Instagram followers.
Article continues below advertisement
Living Up To The Name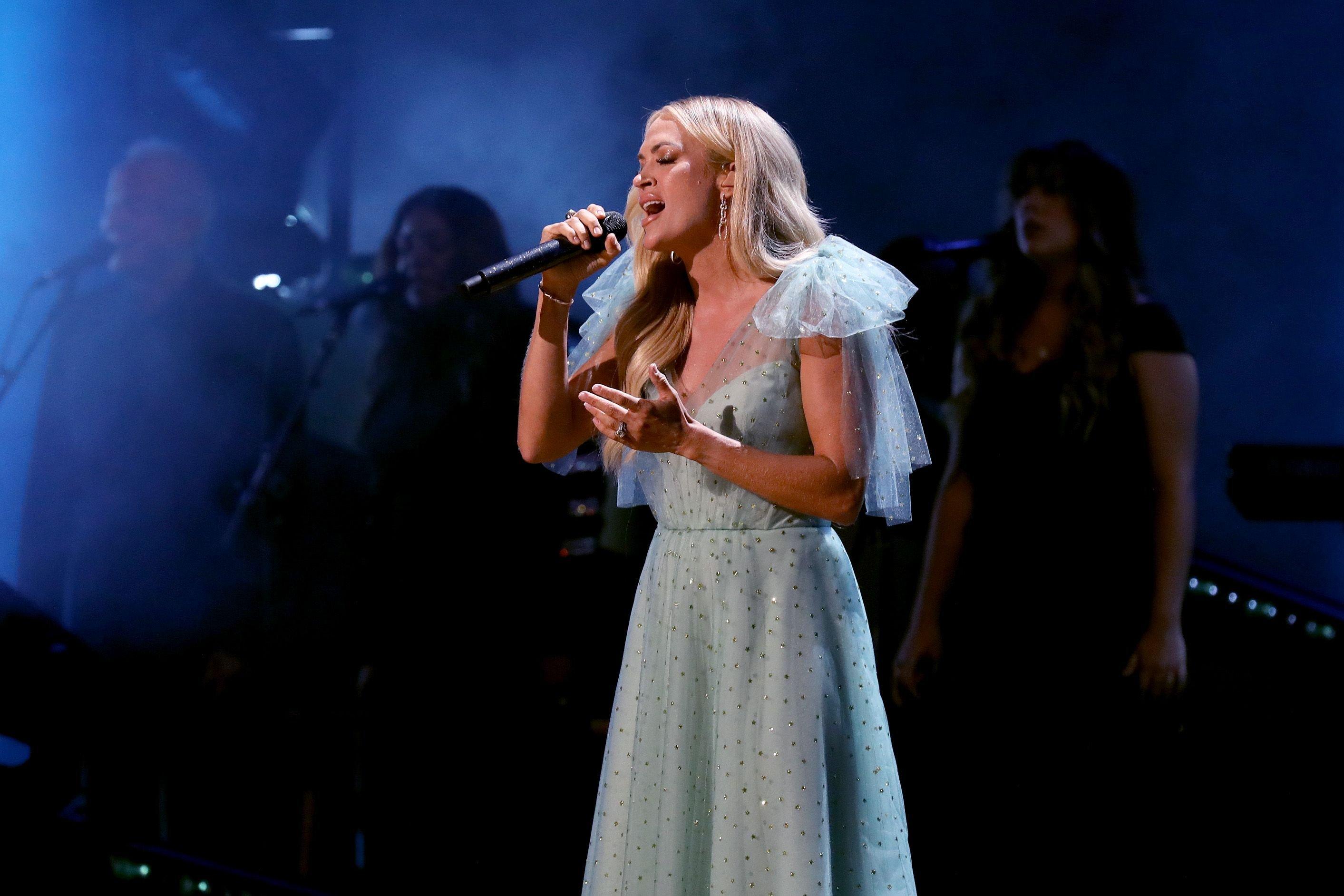 As has been usually the case since the Denim & Rhinestones release in June, Underwood savvily reflected the album's title in her choice of style. Showing off her sculpted pins in tiny shorts, she lived up to the album/tour name in black denim and sparkly boots. The country singer regularly aligns her attire with her music and she looks so fantastic in jeans and rhinestones that, frankly, we don't even care if it's a PR thing or not.
Keep going for the photo!
Feeling Excited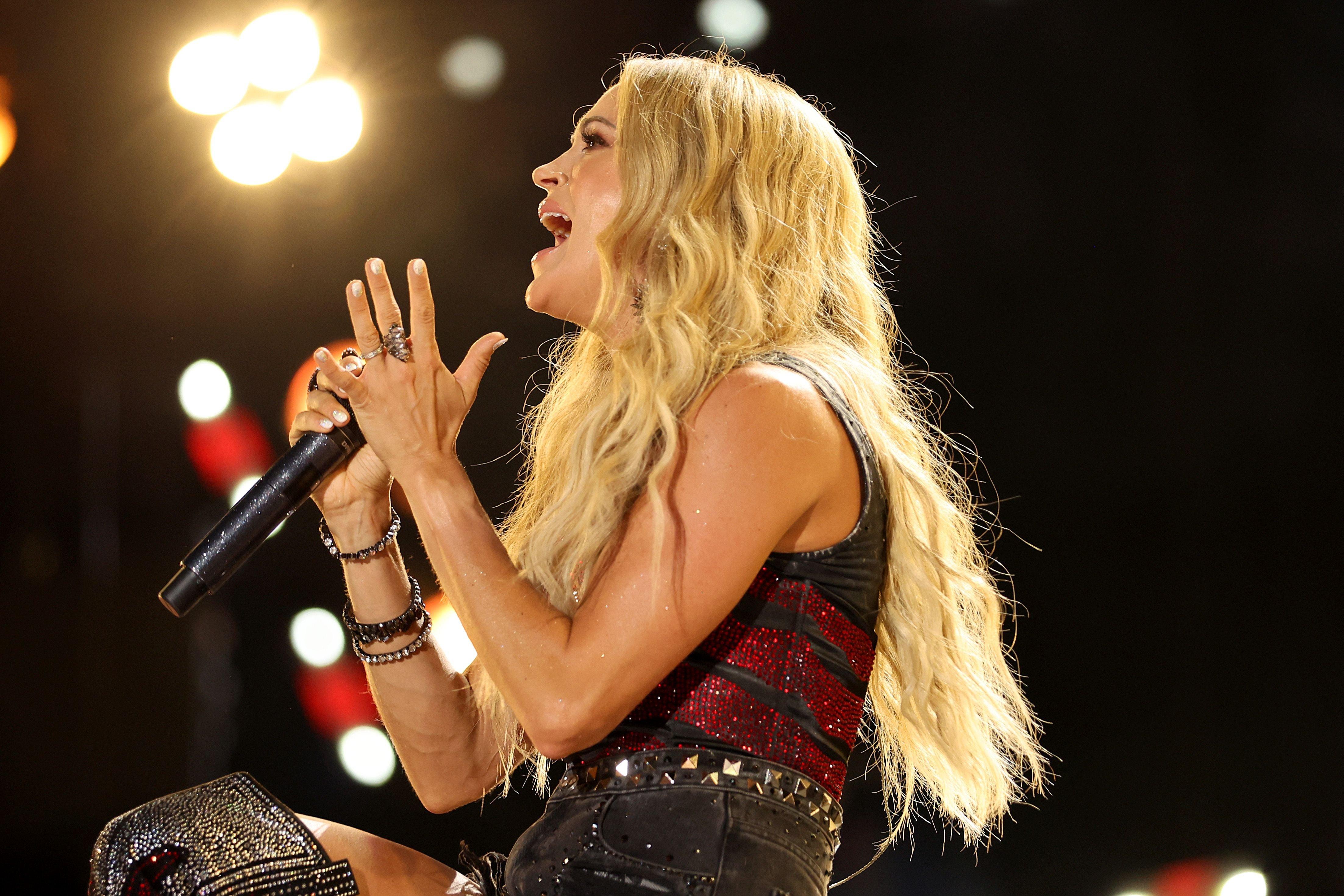 Pairing her dark shorts with a yellow-mustard tank top, Underwood let loose on stage and appeared to be singing her heart out in the image that showed some of her band in the background. She was gripping the microphone tightly and looked completely in the zone. She rocked ornate ankle boots that matched her outfit and sported yellow stars against a black backdrop. Red shoelaces added extra pizzazz, as did glittery stud bands around the ankles.
The country star made her caption all about her impending tour and got everyone excited to see her perform. "3 WEEKS AWAY!!! Any guesses on what song I'm rehearsing here?" she wrote.
Article continues below advertisement
Fans Are Invested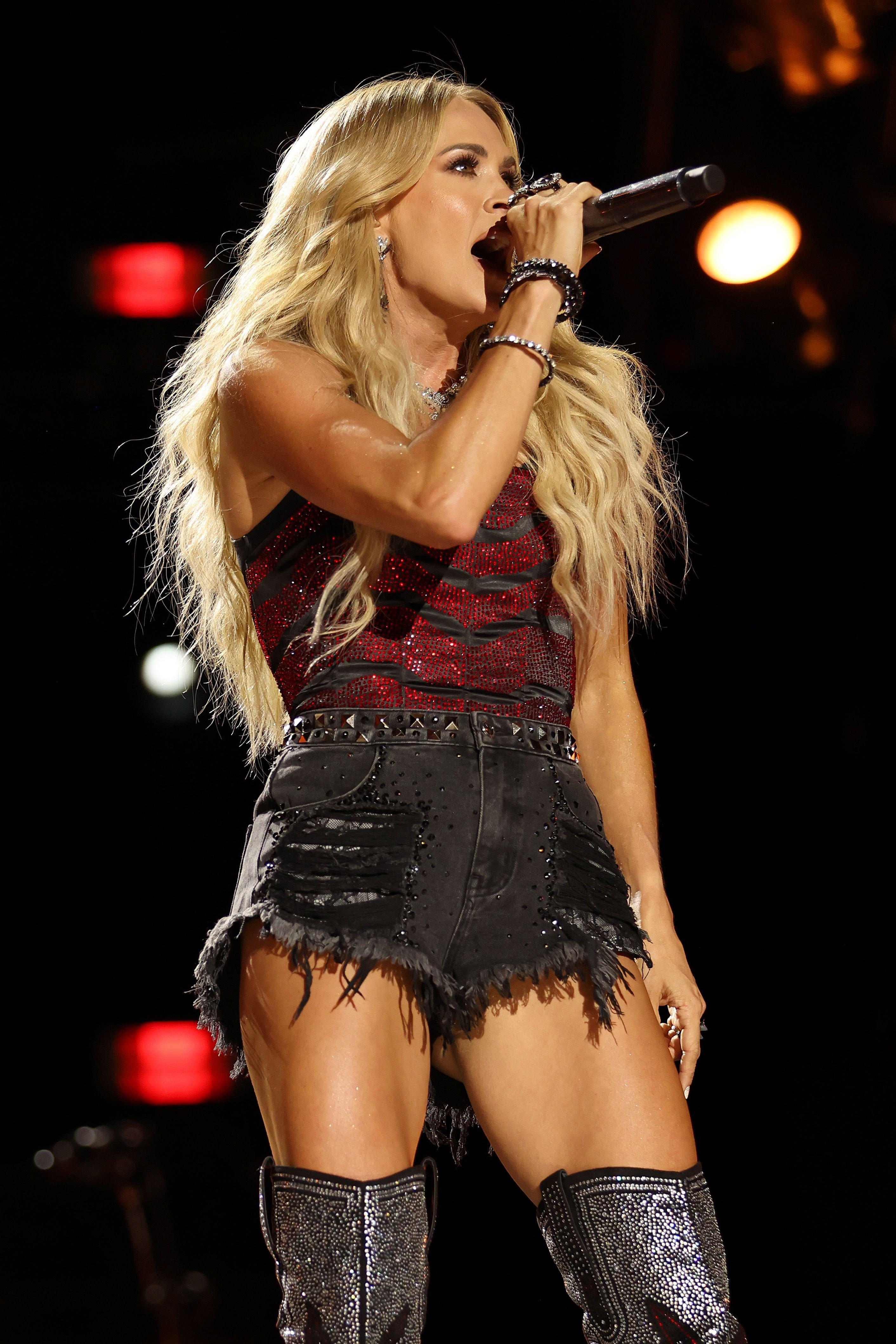 Plenty of fans stepped up to the challenge and were more than happy to venture a guess. "My guess is pink champagne 🍾 🥂. Love you Carrie!! ❤️❤️❤️" wrote one person, with "Ghost Story," "Burn," and "Velvet Heartbreak" also popping up frequently in the comments.
Others were content to simply gush over her amazing physique: "OMG those legs 🔥 where r this shoes [sic] from?" One user completely bypassed the question, writing, "Doesn't really matter because your boots are cute!"
At the same time, followers shared their excitement at the upcoming tour, which kicks off in Greenville, South Carolina, on October 15. "Can't wait to see you [on] opening night!! 🙌🏼" read one message.
Scroll for details about the tour!
Tour Dates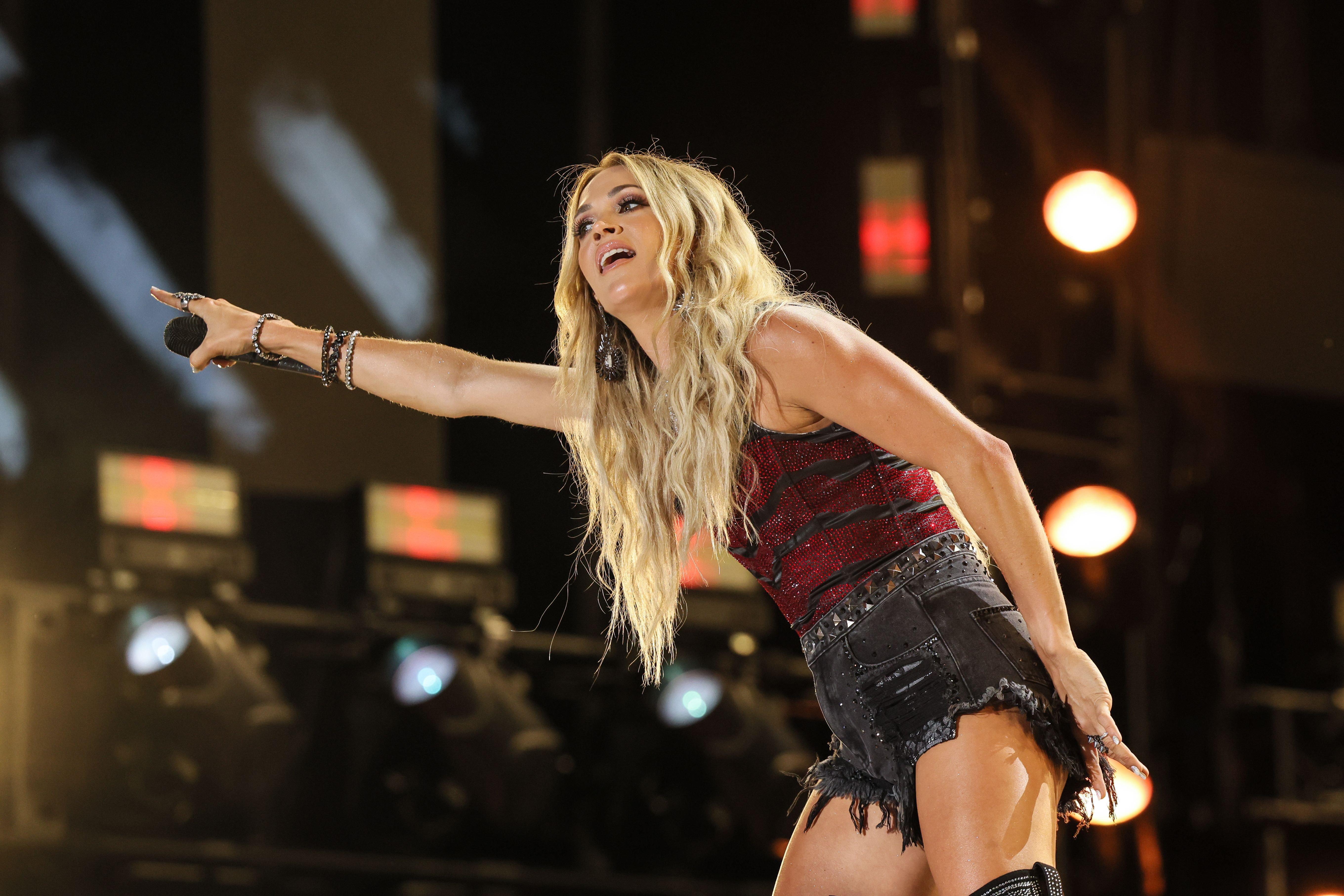 After opening night, Underwood will be performing in Indianapolis, Indiana, and Grand Rapids, Michigan, on October 17 and 18. From there, she'll be traveling to Lexington, Kentucky, for her Rupp Arena concert on October 20. On Halloween, the star will be putting on a great show in Tulsa, Oklahoma. The Denim & Rhinestones Tour lasts through March 2023, with the final performance taking place in Seattle, Washington.
Underwood has been hyping up the tour on Instagram this week, recently sharing a group photo with the whole band. "The gang's all here. Are you ready? #Rehearsals#DenimAndRhinestonesTour 💜💎," read the caption.