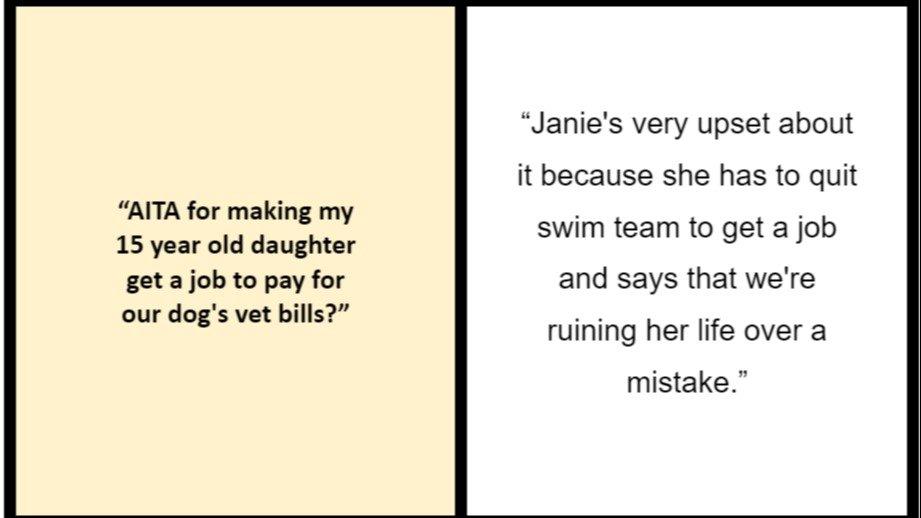 Mother Makes Teenage Daughter Pay $2000 In Vet Bills After She Forgets Their Dog Outside
Actions have consequences. This is the important lesson one mom had to teach her teenage daughter, even if it resulted in frustrating family drama. Redditor @aitavetcost shares the story of how she chose to punish their daughter after a careless mistake that almost cost them the life of their beloved family dog.
The mom of three explains on Reddit that her daughter Janie, 15, is responsible for making sure that their 2-year-old chihuahua, Pebble, is inside the house and safe from the heat wave.
Article continues below advertisement
2 weeks ago in the worst of the heat wave, Pebble was crying at the deck door. Janie got annoyed and let him go on the deck. Then she left for school and forgot him on the deck.
-
Janie's little blunder not only put their dog in danger but also led to a vet bill that cost almost $2,000! To teach her daughter a lesson, the family decided on making her get a job to pay for the vet bill.
Scroll down to read the full story.
Article continues below advertisement
Mom Punishes Teenage Daughter For Leaving Out Family Dog Outside During Heat Wave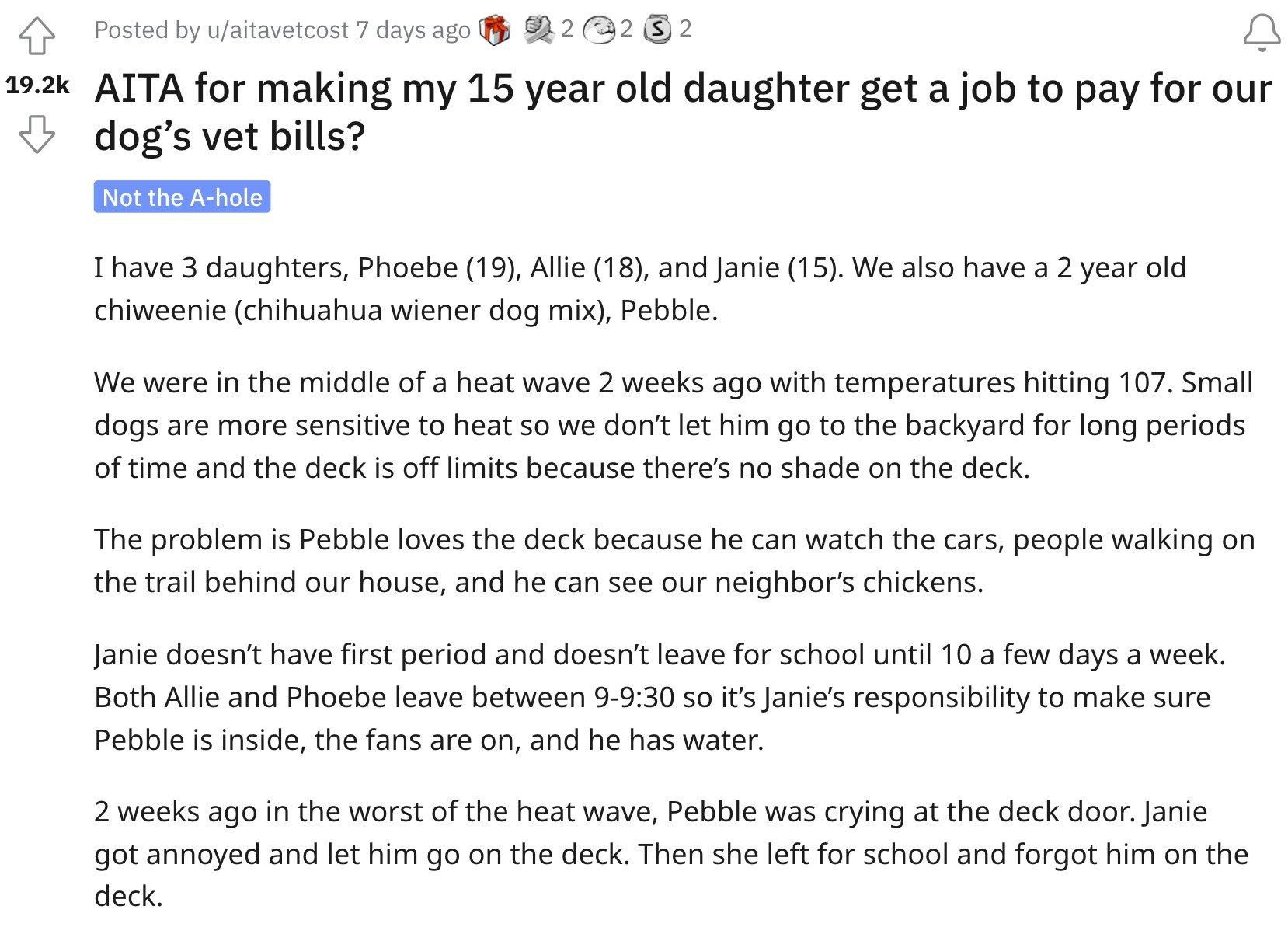 The Careless Mistake Resulted In Family Drama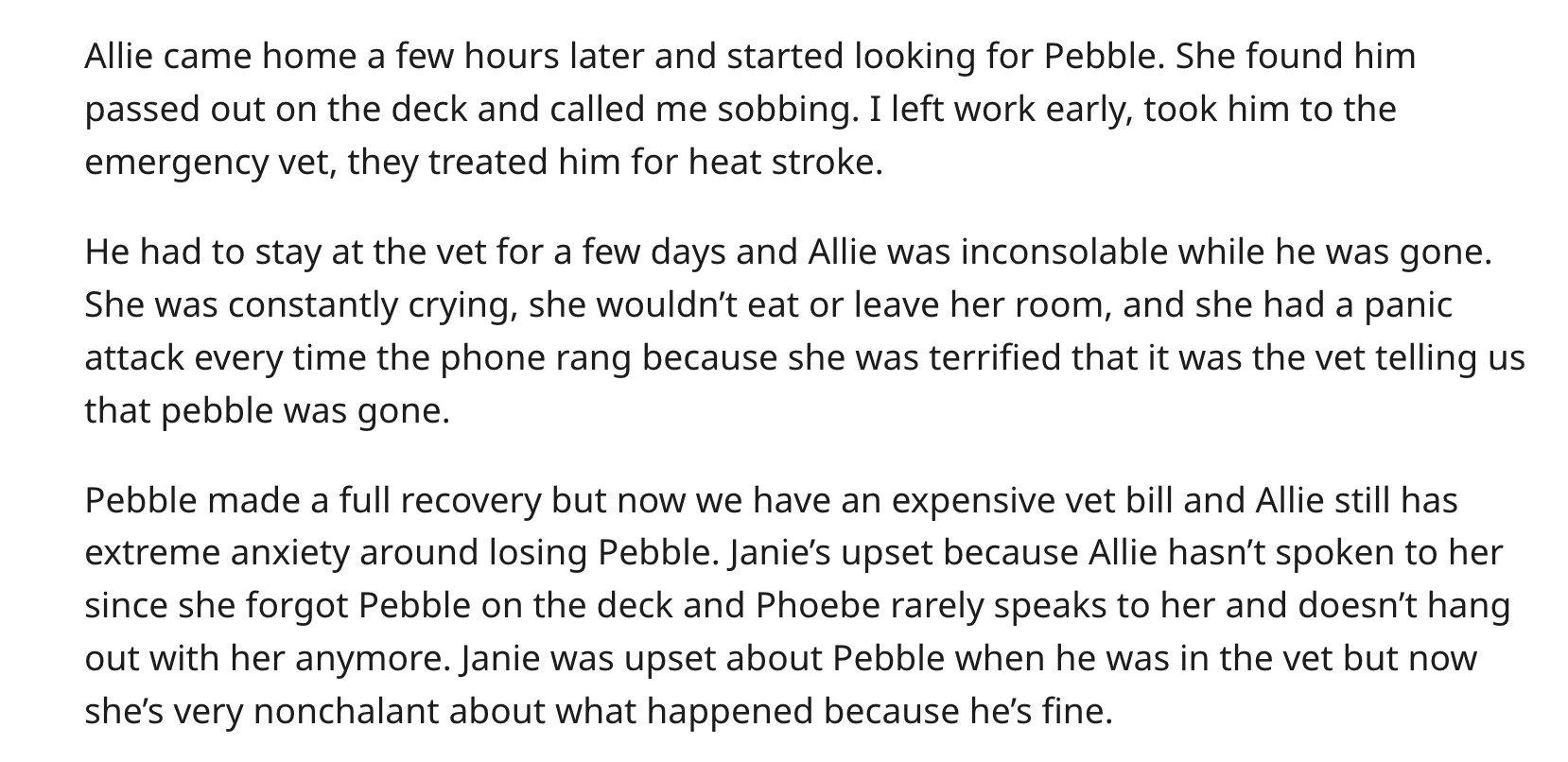 Article continues below advertisement
To Teach Her A Lesson, Family Decides To Make Daughter Pay $2,000 Vet Bill

Discipline Vs. Punishment
It can be difficult for parents to draw the line between punishment and healthy discipline. According to experts, punishment often has negative side effects. While it can temporarily suppress negative behavior, it can also lead to long-term mental health issues.
There are healthier ways of instilling discipline and eliminating bad behavior without resorting to negative reinforcements and destroying a child's self-confidence.
"The non-technical term is reinforcing positive opposites. This is based on many technical procedures (several differential reinforcement schedules) that have been well studied in human and nonhuman animal research (see references). Essentially, the key point is developing the behavior one wishes rather than focusing on what to eliminate," says Alan E. Kazdin, PhD in an article discussing positive ways to discipline a child without punishment.
"Punishment is about controlling a child, rather than teaching the child how to control himself. And most often, punishment changes the way a child thinks about himself," says psychotherapist Amy Morin adds. "Healthy discipline involves giving kids clear rules and consistent negative consequences when they break the rules."
Article continues below advertisement
Redditors Discuss The Proper Ways To Punish The Teen And Opinions Are Divided

Some Suggested To Give Age Appropriate Consequences For The 15-Year-Old Daughter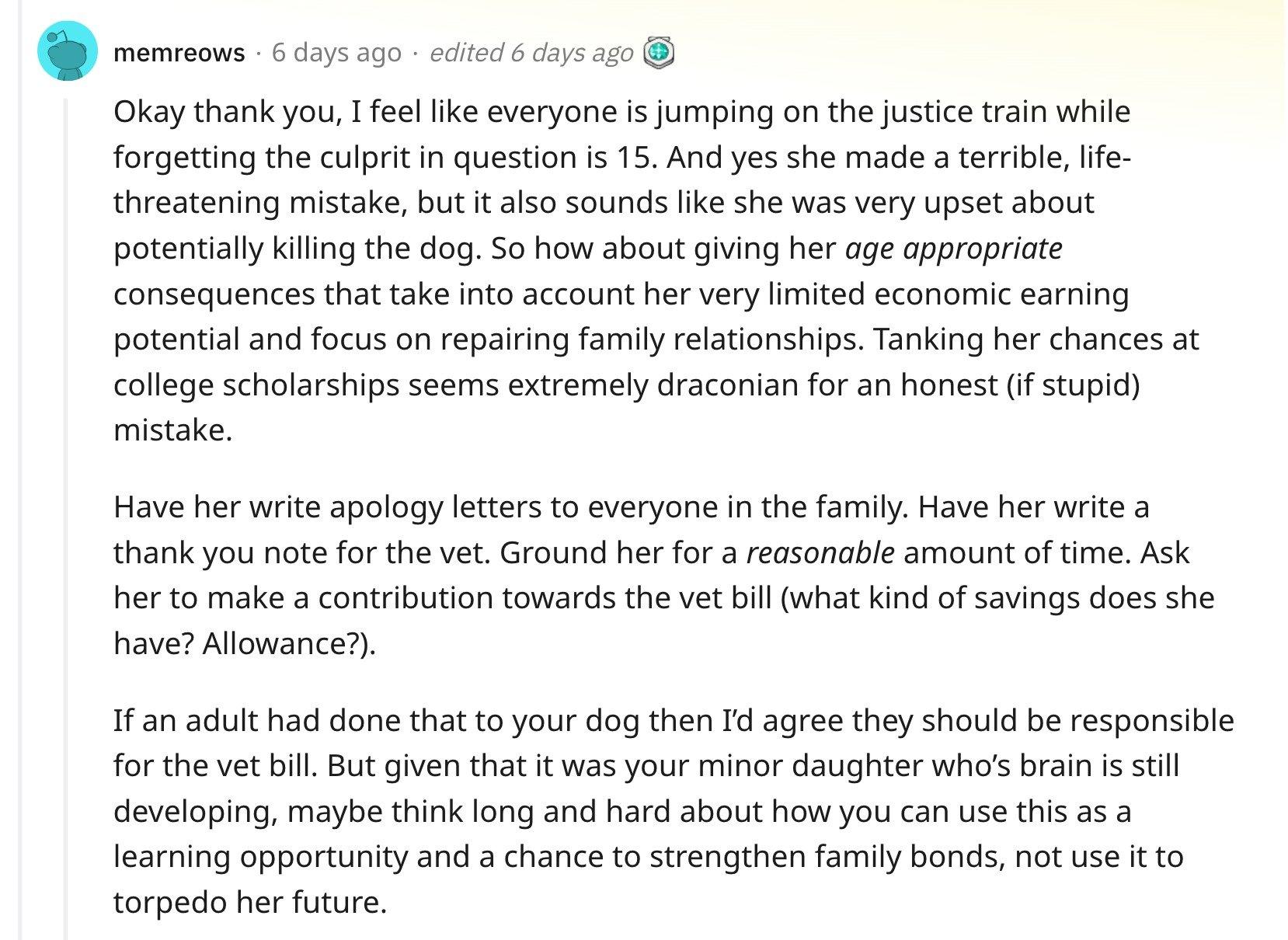 Another Redditor Proposed Community Work