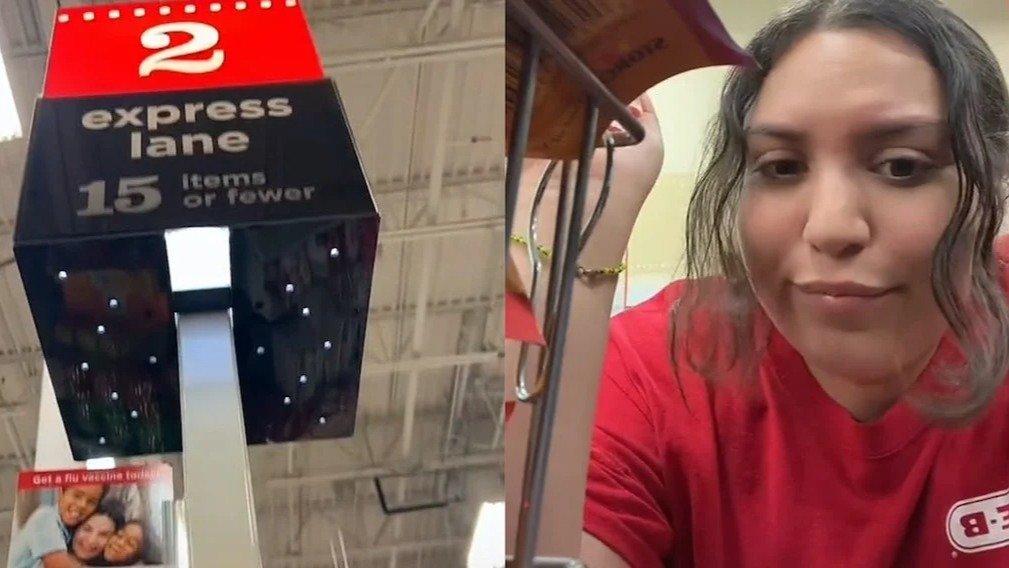 H-E-B Worker Shames Customer For Trying To Use The Express Lane With More Than 15 Items
Although employees must accord customers the greatest respect, some customers can be a real pain.
Recently, an H-E-B employee went viral on TikTok following her incident with a customer attempting to check out more than 15 items in an express lane. The 19-second video posted by user Yainara (@yagirlyainara) showed her working the express lane register at H-E-B as she told the tale of a demanding client who, despite having more than the allowed 15 items, forced herself into the quick lane.
Keep scrolling for more details about the story and how other users responded.
Article continues below advertisement
The Straight Up 'No'
In the video she quickly made while hiding under the counter, Yainara described how the lady behaved. First, the lady casually told Yainara she would check out more than 15 items, but she stopped her and told her no.
"Girl, you know you're not supposed to be here," Yainara said in the clip.
Most Commenters Side With Yainara
The video has amassed over 343,000 views since it was posted on September 20, 2022. Therefore, one can guess it has sparked a discussion in the comments section. However, most of the commenters sided with Yainara.
"YES TELL THEM NO SEND THEM AWAY! I love watching them walk away," a user said.
"I used to tell them no all the time and the managers always had my back on it," another one stated.
"It's literally to keep the lines shorter so to have someone with more than 15 items hold up the entire line with all their stuff making the line long," a third viewer explained.
Article continues below advertisement
But Some Others Disagreed
Although most commenters sided with Yainara, others disagreed with her, citing various reasons they would use the quick lane despite having over 15 items.
"Okay I went to an express lane with 20 items cause it was a 40 min wait in the regular lane I'm like 5 more items???" one person asked.
"Yeah but sometimes the managers or whoever is directing the registers tells us to go to the 15 or less," a second shared.
Yainara replied to the comment, writing, "that's not what I'm talking about tho, at our store they never send them all the way down where I was."
A Follow Up Video
Yainara didn't stop there but made a follow-up video to respond to one of the comments.
In the video, she explained how most people lie about having only 17 or 20 items in the express lane but actually have 40 or more. As a result, she usually sends them to a different checkout lane regardless of whether they have just one item over the limit. In addition to the deception, Yainara also doesn't want to disturb other customers by making them wait on the individual with more products.