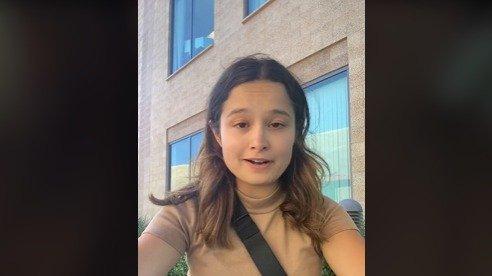 'It Should Be Illegal To Have Interviews In Public': TikToker Stumbles Into Zoom Interview At Starbucks
Zoom interviews intensified during the pandemic and have become an excellent alternative for in-person, but a TikToker (@_brittanylima) says it's not the best in public. She stumbled into a Zoom interview at her local Starbucks and overheard intimate details about the stranger.
While condemning the public interview, she shared the gist with her TikTok followers earning 2.8 million views and counting. Upon realizing the Starbucks customer was in an interview, she tucked her hair behind her ears to get every bit of the tea.
Article continues below advertisement
The Intriguing Interview
The interview started typically, and she figured he was interviewing for a managerial position but was unsure. He stated his previous work experience and was asked how many people he'd interviewed; his specific reply was 352.
That intrigued Lima, so she listened further and got more juicy gossip. She said the interviewer called his bluff, saying his former company was small because it wasn't listed on google. The TikToker was expecting him to beef up his lie, but he fessed up and told an outrageous story.
The Tea Gets Hot
This is where the tea gets pipping hot. I don't know if this man was on a truth bender or he was just desperate. He goes 'I have never had a job in my life. My Girlfriend is on her third pregnancy and she said, if I do not get a job, she's about to kick me out. Please let's continue this interview and I promise that I'll be the best employee ever.
-
When asked if he really went to school, the interviewee ended the interaction and left Starbucks, clearly admitting to yet another lie.
Article continues below advertisement
The First Red Flag
The comment section buzzed after her video went viral, with people talking about the situation, from pointing out the red flags in the interviewee's stories to finding the joke. His first failure was mentioning 352 as his managerial strength because that's a lot of people in the corporate world, and your resume must be pretty impressive for anyone to believe that.
McKinsey & Co. says the typical span depends on the type of leadership, ranging from 3 - 5 people for top positions to 6 - 7 and 11 - 15 for lower leadership.
Commenters Share Their Opinions
Never lie on resume they fact check 😳
-
Another hoped the man finds a job regardless. One person wished his girlfriend would find the viral post and catch him in his lie. One person questioned the truth of the gist, asking,
"Wait he's on zoom in public WITHOUT headphones????" because that seemed unlikely. Either way, it made for a great storytime.