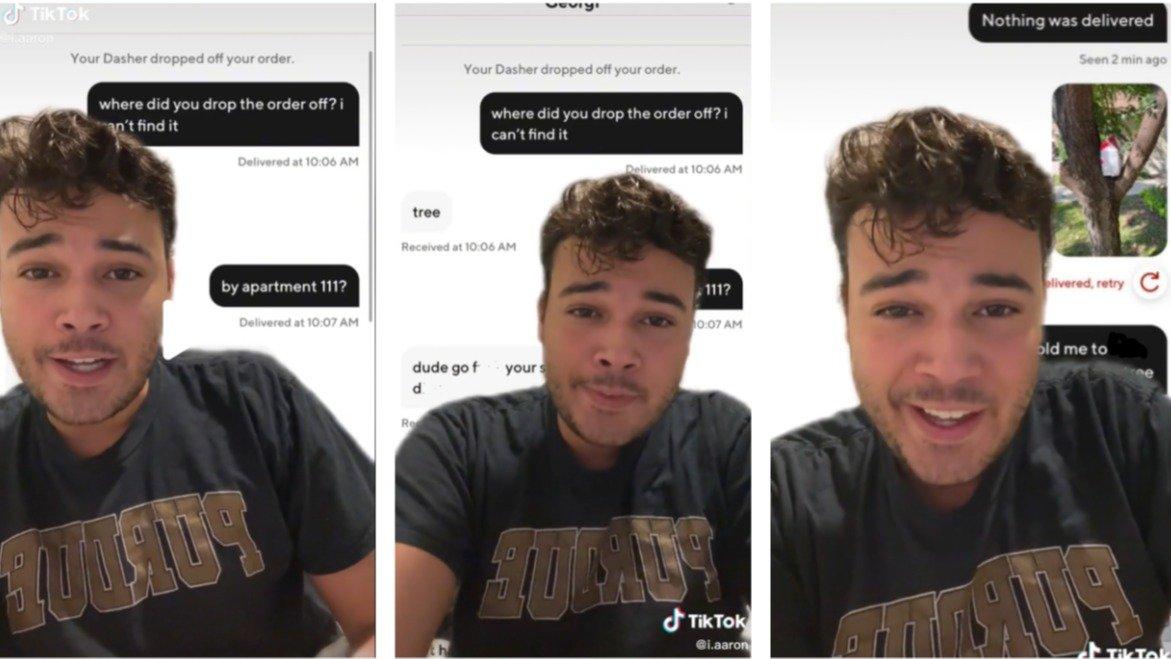 Customer's $1.50 Tip Made Delivery Driver So Mad That He Tossed The Food In A Tree
Tipping is a heavily contested subject, especially in the United States. On the one hand, some feel that because delivery drivers put in much effort to deliver orders, customers have a responsibility to tip them well. On the other hand, many contend that companies should be responsible for covering a significant portion of a worker's salary.
The subject was brought to the fore after a TikTok user shared a video detailing his horrible experience with a delivery driver.
Article continues below advertisement
Aaron Shares His Experience
The customer and Tennessee-based TikToker, Aaron (@i.aaron), revealed that he had used DoorDash to get breakfast from Chick-fil-A and was informed by the delivery man that his order had been put in a tree.
In an interview with Bored Panda, Aaron shared how he "couldn't stop laughing" when he realized that his order was indeed up in a tree.
"I was super confused at first and had no idea what he [the DoorDash delivery driver] meant. "I thought he left it at the back door," he shared.
Some TikTokers Criticize Aaron
The delivery man sent Aaron some pretty offensive texts, informing him that he had left his order in a tree. Aaron shared the irate texts the DoorDash delivery driver sent him on his TikTok video. He said the driver sent the texts because he tipped him $1.50.
Although Aaron enjoyed the attention his video received, he also noted that several of the comments were a concern for him and the future of the workforce. In addition, Aaron revealed that he received some hurtful messages from viewers.
"For a $1.50 tip, you deserve this and more," one viewer, who was displeased with Aaron's tip, wrote.
"Dasher is my hero," another person commented.
Article continues below advertisement
Aaron's Response
Aaron's video had TikTokers split into two sides. Some people horrified by how Aaron was treated were on his side. However, others who weren't on his side went so far as to refer to the delivery driver as a "hero." As a result of such comments, Aaron responded with a follow-up video in which he argued that, even if one was unhappy with your job, it didn't mean they should do it poorly.
A Delivery Driver Pushing For Change
Meanwhile, New York-based deliveryman Smithson Michael shared his thoughts on the issue. Smithson discussed the future of delivery and his views on tipping. Smithson, who is campaigning for change, and has created a petition, also described how difficult the job is for delivery workers, especially considering the minimum wage and cost of living. However, he asked delivery drivers to exercise patience, hold out hope that things would improve, and refrain from taking their frustrations out on their customers' orders.
The entire story is a sad one, both for customers and delivery drivers. It shows that delivery services may need a reformation which should happen soon to avoid a recurrence of similar issues.