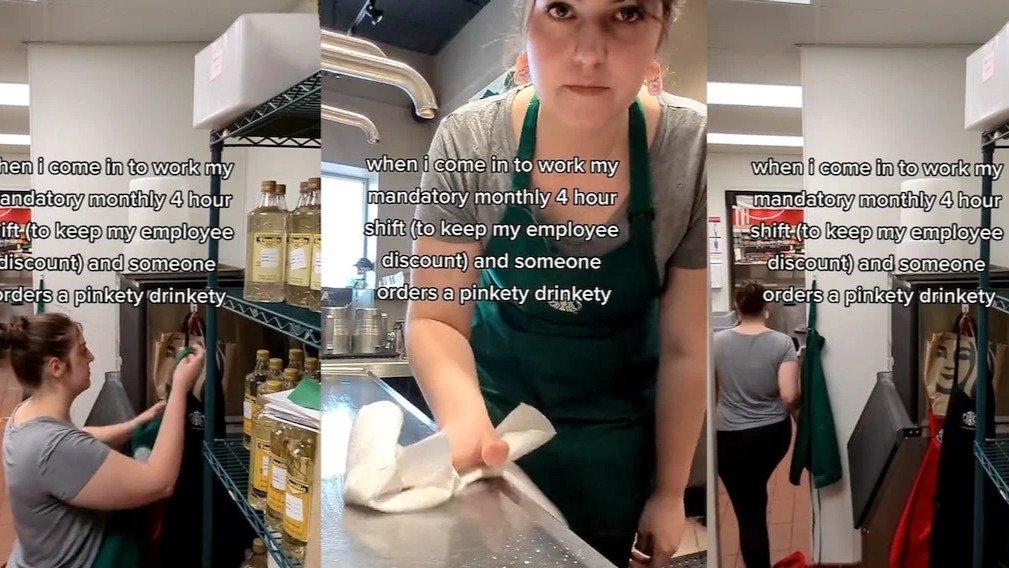 'I Work Only 4 Hours/Month': Starbucks Barista Dishes On Working Tips
During those short hours, she refuses orders that require strenuous efforts to make. She used a robotic voice to read out her text saying,
Article continues below advertisement
When I come in to work my mandatory monthly 4 hour shift (to keep my employee discount) and someone orders a pinkety drinkety.
-
Punching Out Before Hard Work Time
The video sequence showed the TikToker cleaning up her workstation while wearing her green apron and a black hat. However, once the "order" comes up, she removes her uniform and walks out then added a caption saying,
yeah, that's gonna be a no from me.
-
Her video now has over 346,000 views with 35,000-plus likes, 138 comments, and 96 shares. Of course, many of those comments were curious users wanting to know how they could get once-a-month jobs too.
Article continues below advertisement
Some Commenters Aren't Pleased
While some users got the joke, others didn't and instead complained about Starbucks workers hating their jobs. They wrote,
Starbucks employees when they have to do their literal job: OMG No, I'm going home.
-
One user shared an updated requirement saying,
AS of today all partners are require to work a minimum of 12 hours a week. Lol.
-
A commenter lamented her mistreatment by her employers even though she didn't work like the TikToker. She wrote,
Me dumbfounded as I barely used my employee discount yet was complained to how I didn't work over 30 hours a week.
-
Curious Users Fill The Comment
How do I get to be in this 1 shift a month position lmao?
-
It's a tarbucks! I'm on demand do I only have to work once every 4-6 weeks.
-
Another confused commenter asked,
I though minimum you had to work 12 hrs/wk?
-
Other users tried explaining the new system with a joke saying,
Yeah I though they changed it recently cause all the med school partners dipped out.
-
Who's An On-Demand Employee?
To clarify, Tarbuck is the colloquial name for Starbucks in Target stores. KT, the TikToker is an on-demand worker meaning she works once in a while when needed and punches in via an online portal per JobGet.
This system of work is suitable for people with changing schedules, and other serious work to occupy their time.