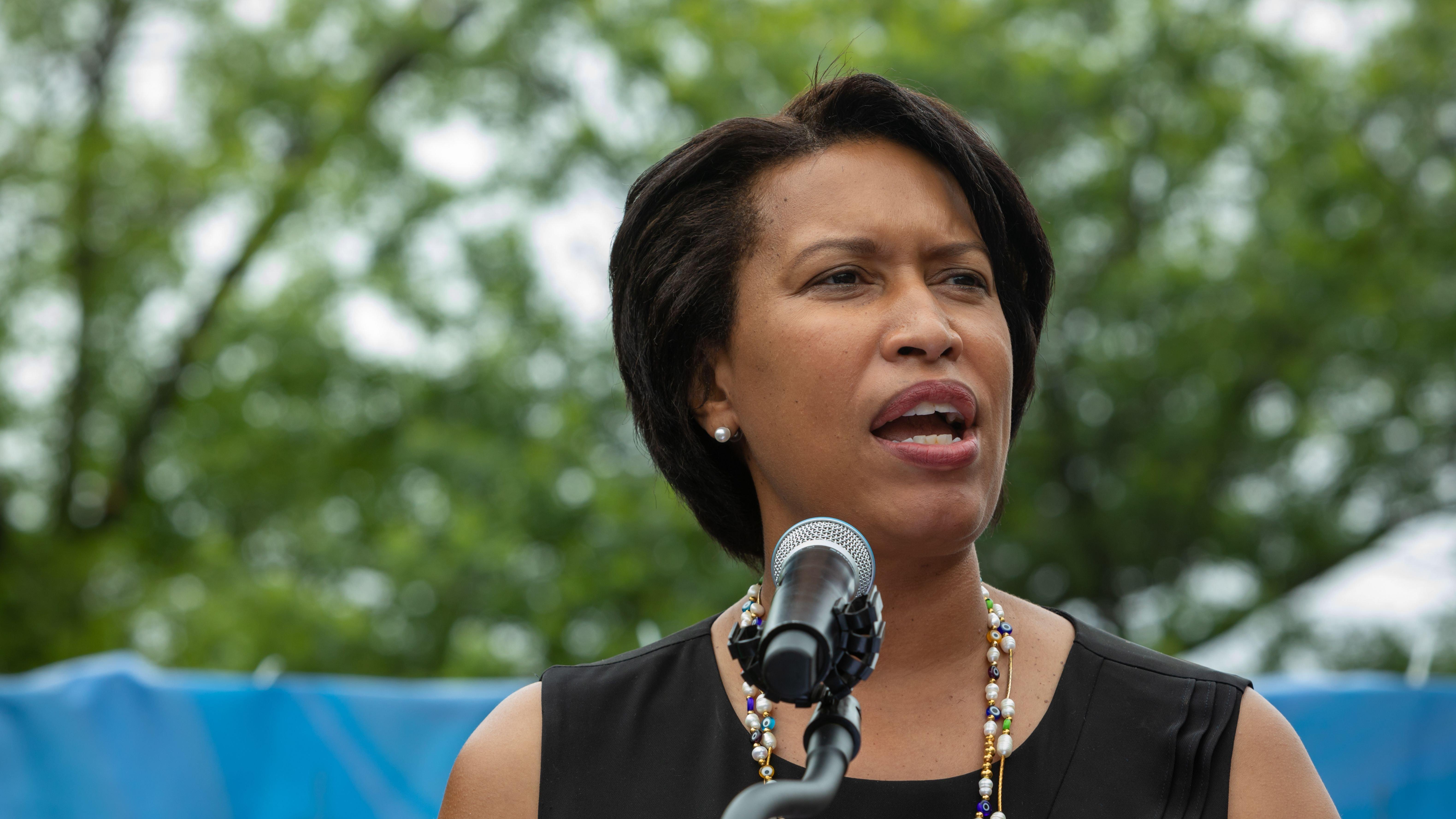 Border Sheriffs Blast DC Mayor Muriel Bowser Over Migrant Buses
Washington, D.C. Mayor Muriel Bowser, a Democrat, declared a public emergency last week over the migrant buses that have been coming from the states of Arizona and Texas.
D.C. is a sanctuary city, so it is perhaps no surprise the buses are being sent there, but some believe the situation is mostly a result of partisan bickering, with red states sending migrants to blue cities to cause a political crisis.
Article continues below advertisement
Border Sheriffs Speak Up
Goliad County, Texas, Sheriff Roy Boyd addressed Bowser's comments about D.C. being turned into a "border town."
"They have seen nothing. They are not a border town. They don't know what a border town is," Boyd told Fox News, saying that all Boyd is trying to do is "squeeze a little bit of money out of the federal government."
As Fox News noted, Border Patrol has encountered more than two million migrants this fiscal year. At the same time, Texas has reportedly sent less than 10,000 migrants to the nation's capital since April.
Read More Below
Executive director and CEO of the National Sheriffs' Association Jonathan Thompson said that liberal sanctuary cities are now experiencing a fraction of what border towns have gone through under President Joe Biden.
"Welcome to the everyday problems we are facing, and you have been ignoring and that you continue to want to blame someone else for," Thompson said.
Retired Texas Sheriff Clint McDonald, meanwhile, said liberal politicians criticized border sheriffs when they asked for help, but now seem to need all the help they can get themselves.
And now that major cities are starting to feel this pressure, it seems to be a whole different scenario for them than it is for the people who live it every day.
-
Article continues below advertisement
No Sympathy
Thompson said that border sheriffs "don't have sympathy" for liberal mayors like Bowser, because they are "overwhelmed" by the crisis at the southern border.
"They're overwhelmed in their communities with human services shortfalls. They're overwhelmed with crime response. And they're overwhelmed with just the sheer magnitude of things that need to happen to help care for people," he stressed.
Others told Fox News that this is not a partisan issue, and that both Democratic and Republican sheriffs are unhappy with how the federal government is handling illegal immigration.
What Is Biden Doing?
As reported by The Washington Examiner, the Biden administration has decided to reimburse border cities and non-profit organizations that have worked on busing immigrants to sanctuary areas.
Through the Federal Emergency Management Agency, Biden and his allies are reimbursing the city of El Paso, Texas, and several immigrant rights organizations.
It is unclear how much money El Paso -- which has a Democratic government -- has spent on this initiative, and it remains to be seen if Biden will also reimburse red states and cities.