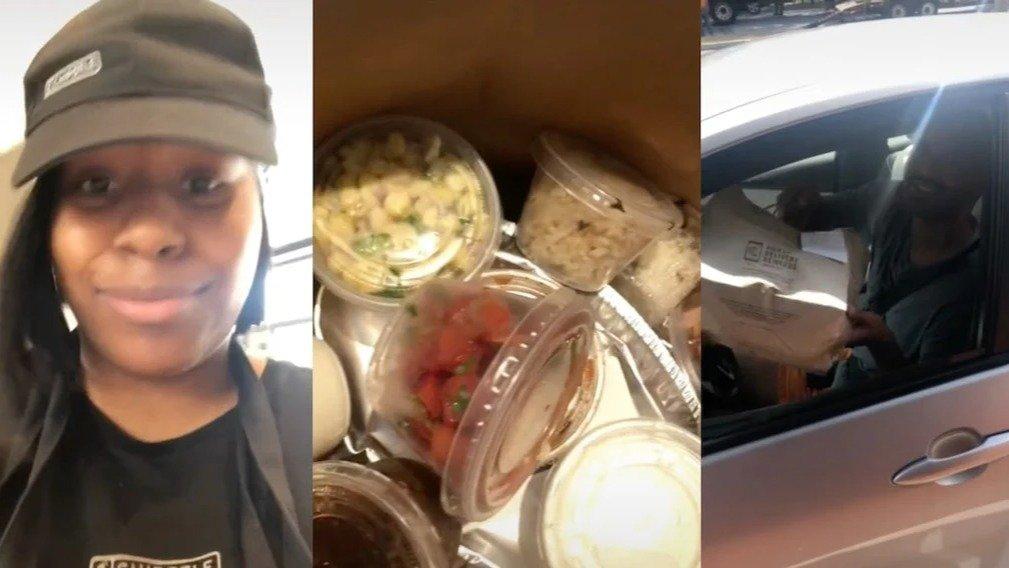 'TikTok Got Me Messed Up': Chipotle Worker Criticizes Customer Who Ordered TikTok Hacked Meals
Before the COVID-19 pandemic, Chipotle, a popular chain of restaurants serving Mexican food, had its price increases criticized, and they only seemed to get worse after the virus's 2020 outbreak.
Customers have complained that Chipotle charges them more money for less food, which prompted some brand devotees to devise inventive ways to reduce the cost of their meals. As a result, they came up with a well-known TikTok hack.
However, staff at the chain are not pleased with this ordering strategy. Recently, a Chipotle employee and TikToker @christinamaeeeee went viral for calling out a customer who used the hack.
Keep scrolling for more details.
Article continues below advertisement
Christina Calls Out Customers
"All I'm saying is TikTok you got me messed up. Because somebody just ordered these tacos, right," Christina said in the video as the camera moved from her face to plates of tacos on the prep counter, then back to her face.
"On top of ordering these tacos, they want two sides of tomatoes, two sides of greens, two sides of sour cream, a side of corn, a side of black, a side of brown rice, and a side of white rice, TikTok you got me messed up because I'm not finna make this," she added.
The Customer Considers Not Using The Hack Again
The video did not end there. Christina also recorded herself giving the bag of food to the customer who was waiting in his car.
"You got this off TikTok?" She asked the customer, who smiled and replied, "This is my first time trying."
However, Christina responded, "Oh I'm never doing that again," and then mentioned that she would rather just throw everything in the bowl together.
The customer replied, "If it's a lot of work for y'all, then I don't need to do it." Christina finished the video by telling him, "it is a lot of work."
Article continues below advertisement
How The Hack Works
With the hack, customers can purchase a taco using the online ordering system, add a second tortilla and ask for the meal's sides to be delivered in separate containers.
According to users who have used the technique, they get more food for their money because they receive more in the side containers than they would in a burrito or bowl. The customer then assembles the burrito themselves, adding the remaining ingredients to the side tortilla along with the protein they received in the tacos.
TikTokers' Opinions About The Hack
Since August 31, when it was posted, Christina's video has received over 1.3 million views. Additionally, multiple TikTokers have shared their opinion about the hack. While some claimed it was unnecessary because it added Chipotle workers' workload, others believe it's okay and won't affect the workers.
"Tiktok tries to hack the system while making everyone work harder," wrote one commenter in support of the employees.
"Why do people say they can't do xyz like it's not your job?" A second viewer who thought it was not a big deal wrote.
With the contrasting opinions from customers and employees, one can only hope the management resolves the issue amicably, so everyone is satisfied.