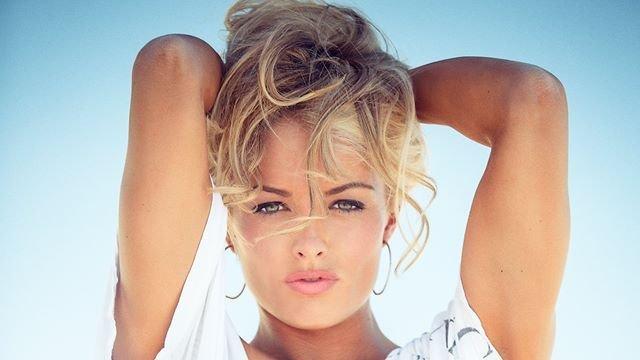 Mandy Rose Flaunts Her Fit Physique In A Skimpy Bikini
Mandy Rose is the reigning champ of the WWE NXT Women's Championship but this time, she's making the news for her incredible body. As a champ, the athlete knows a thing or two about keeping fit and maintaining a sexy figure. She shared a new picture showing off her body in a bikini as a promotional clip for her confectionary business, Damandyz donuts. Despite being obviously healthy and fit, Rose encouraged consumers to start their Mondays eating one of the many flavors the brand offers.
Article continues below advertisement
A Good Way To Start The Week
Every muscle on Mandy Rose's body tensed in this bright blue bikini as she posed beside a palm tree by the ocean. The drawstring triangle top showed her cleavage and she kept all the attention on her body by styling her long, brown hair in a ponytail with a side swoop.
Keeping The Summer Spirit
Mandy Rose is holding on to the summer feeling by spending as much time as she can on the beach. She continues sharing pictures of her beach and pool time with her social media family. The teal bikini she wore was similar to the blue two-piece used to promote Damandyz donuts suggesting it's an edit.
Article continues below advertisement
An Emotional Moment
Love was in the air last week as Mandy Rose celebrated her partner, Tino Sabatelli. She wrote a sweet message to him via her Instagram page saying,
Happiest birthday wishes to my babe @sabatinop24 We've been through a lot over the years but always managed to find our way back to each other. You are one of the strongest & hardest working man I know and no matter what happens in life you never let it affect your mentality. Thank you for your continued support and always staying positive and motivating me everyday to be better. Hope you have the best day ever, and you're like fine wine, you get better with age.
-
A Fun Game For Fans
In another post, the athlete shared a video of herself in a bikini moving over a pink silhouette and then asked fans to take a screenshot of her body fitting perfectly into it. While the game is fun, let's take a moment to appreciate Mandy Rose in a bikini and pair of cowboy boots.
She's not the first person to rock this fashion as Kendall Jenner wore a similar look last year. Perhaps it's a new trend worth trying and we'll see more celebrities wearing the look soon. Watch this space.