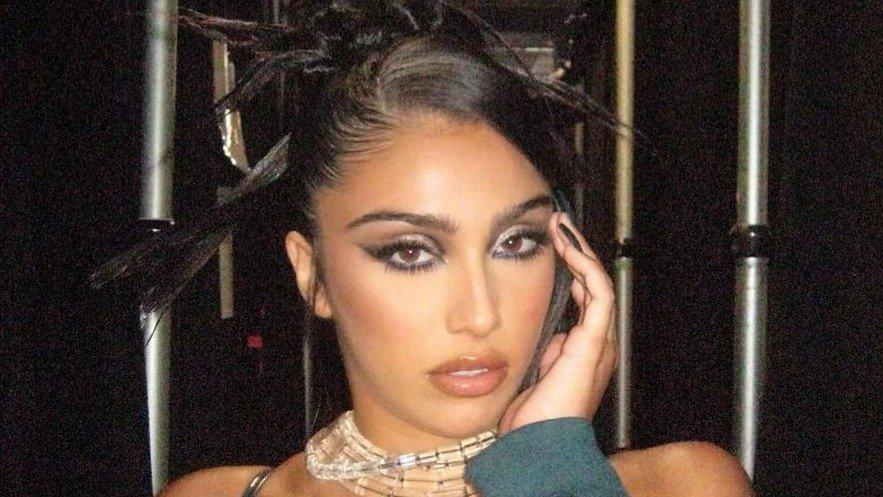 Lourdes Leon Sizzles In A Black Minidress On The Runway
Lourdes Leon, also known to many by her nickname Lola, is already gearing up to be a formidable artist in her own right. Of course, it's in her blood as the daughter of two artists - heavyweight pop singer Madonna - aka 'The Material Girl' - and dancer father Carlos Leon. No matter which areas of entertainment she ends up throwing her full weight behind, the end result will undoubtedly be nothing less than spectacular! The 25-year-old has an Instagram account that is currently at 338,000 followers and continues to grow with each release. With the world as her oyster, the style maven and muse is just getting started!
Article continues below advertisement
Lourdes Debuts The Asymmetrical Minidress!
Summer is known as the choosing season, and in this form-fitting LBD (little black dress), Lourdes is strutting her stuff and daring us all not to pick her! The model has all the curves to pull off this daring dress, and it is a bold fashion choice for a progressive woman such as herself. With her black hair curled and pulled back and in fire engine red lipstick, Lola is all about the business of fashion! Turn to the left, turn to the right!
Lourdes, The International Jetsetter Is All Over The Place
With her mother splitting her time between homes in London, New York, and Portugal, and her father also staying in NYC, Lourdes has spent plenty of time on both sides of the Atlantic, and her international heritage and lifestyle are a reflection of what she has already been exposed to at such a young age. Everyone likes to talk up her mother Madonna's Italian heritage, but the truth is that there is more to it than that! Madonna is of French Canadian descent as well and a distant cousin of the French chanteuse Celine Dion herself! Lourdes and her half-brother Rocco were also enrolled in a French language school as kids, so she knows her way around a language or two, for sure! C'est la vie!
Article continues below advertisement
Lourdes Is A Fashion Baby!
Lourdes put the girl in 'Material Girl' when she released the clothing line in partnership with her mother, with Kelly Osbourne repping the brand upon its launch in 2010. The two of them share strong mothers that pull out all the stops in common!
Lourdes Is An Author
Also teaming up with her mother in 2003, Lourdes and Madonna released The English Roses, which is partially based on her upbringing. They promoted the book with a series of public readings throughout the year of its release.