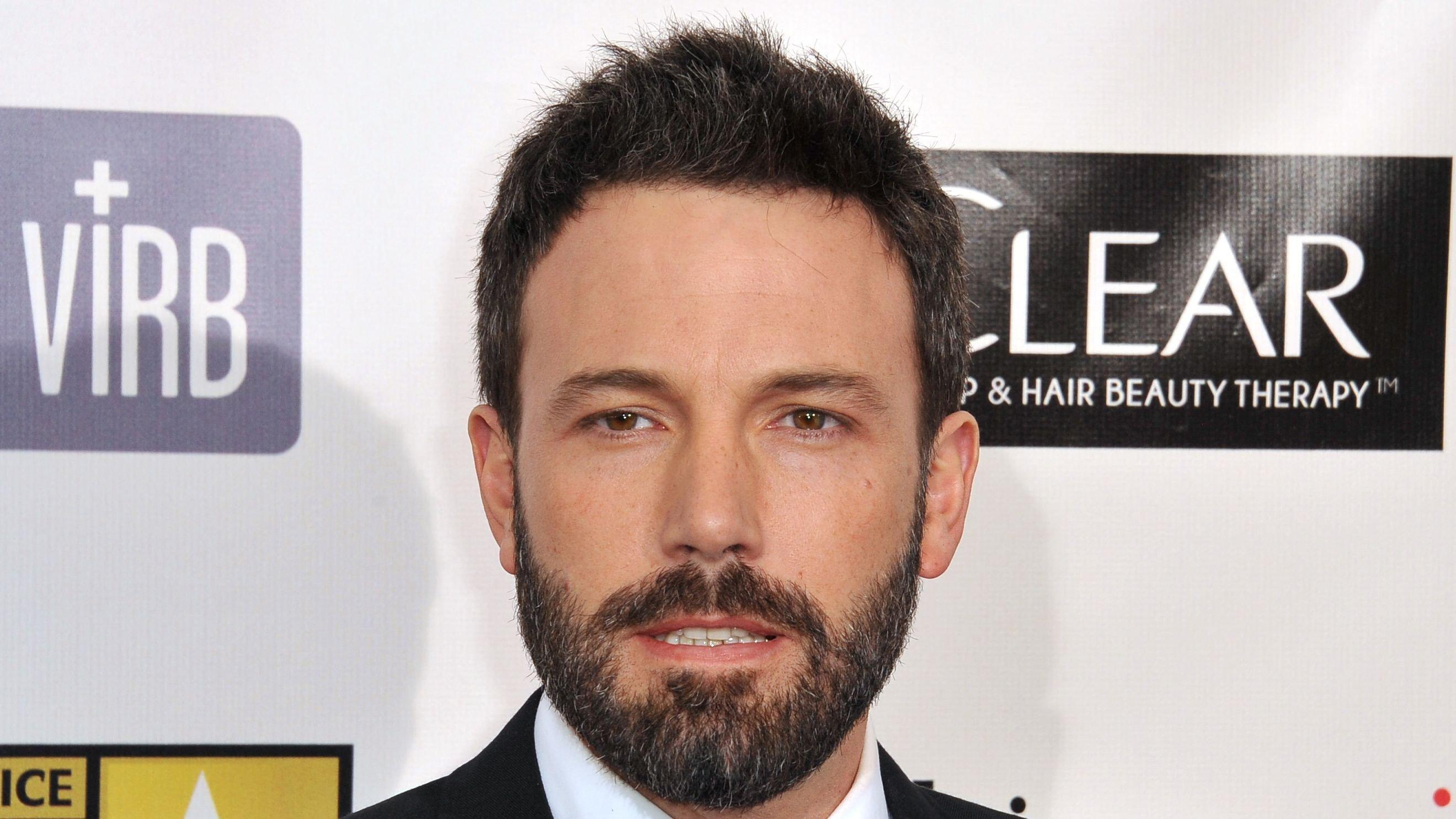 Recently Married Ben Affleck Wants To Sell His Palisades Bachelor Pad For $30 Million
Ben Affleck spent an impressive $19 million on a property around the time he and his ex-wife Jennifer Garner divorced in 2018. Located in the upscale Pacific Palisades neighborhood of Los Angeles, the then-new East Coast Traditional mansion was situated behind gates over half an acre above the Riviera Country Club.
Now that Ben is married to Jennifer Lopez, they are looking for a $50 million property to house their combined families. While Ben and his ex-wife Garner have two children, Lopez shares twins with her ex, Marc Anthony.
Being a married man, Ben, a two-time Oscar winner, no longer needs his PacPal bachelor pad. Hence, the actor has listed the property for sale at just under $30 million.
Find out more details about Ben's listed home below.
Article continues below advertisement
Some Of The Home's Amenities
The home's New England-inspired construction features seven bedrooms and nine bathrooms.
The magnificent columned front porch of the white brick estate opens to 13,500 square feet of A-lister living space.
The living space is obscured by tiny trees positioned among artfully groomed plants. While the dining room has what the marketing brochures refer to as a "statement chandelier," the curved staircase enhances the entrance. The modern blue cabinetry in the gourmet kitchen is also very stylish.
More High-End Amenities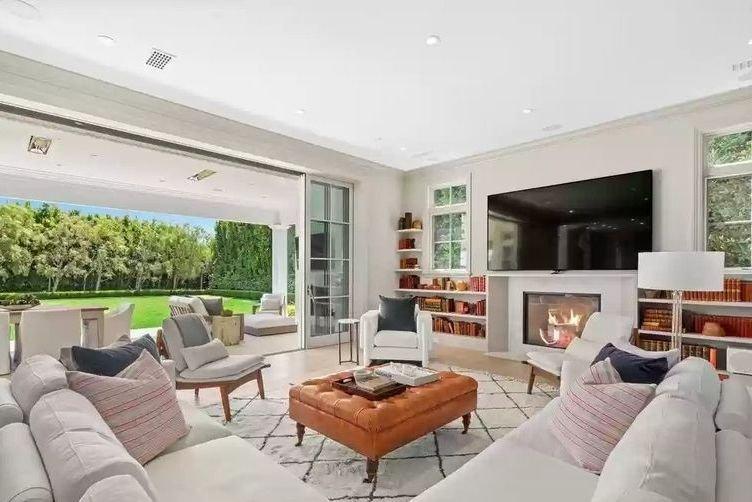 In contrast to the home office, which features a wall of built-ins, the second family room is completely wallpapered. Additional notable features include a full basement with an entertainment area, climate-controlled wine cellar, gym, wellness room, home theater, and principal suite with a custom-fitted walk-in closet.
The family room has a glass wall that can be peeled back to reveal a covered patio with seating and a dining area that is lavishly furnished with a fireplace, a flat-screen TV, and in-ceiling heaters. The pancake-flat backyard offers lots of space to spread out and is surrounded by trees that obscure the views of nearby houses.
Article continues below advertisement
A Glimpse Of The Outdoor Facilities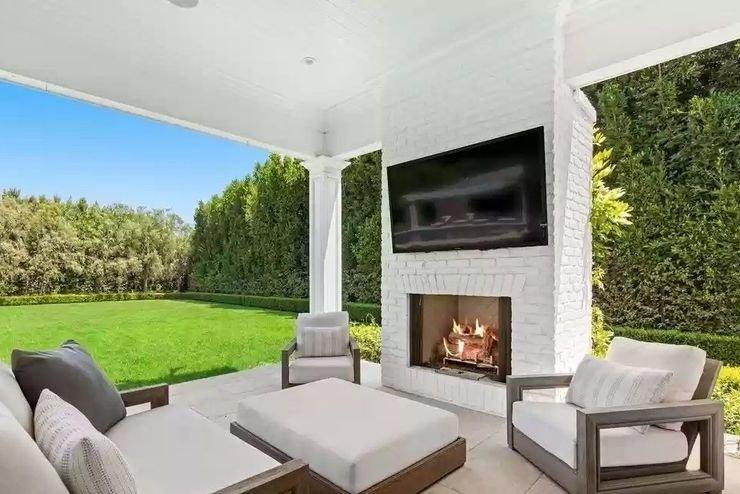 In addition to a boxwood-bordered lawn and a pool with a swooping slide, an outdoor kitchen and a raised bed garden for producing herbs and vegetables are part of the property's exterior features. A kitchenette and a bathroom with an outside entrance are included in the guest house by the pool.
Ben's Previous Listings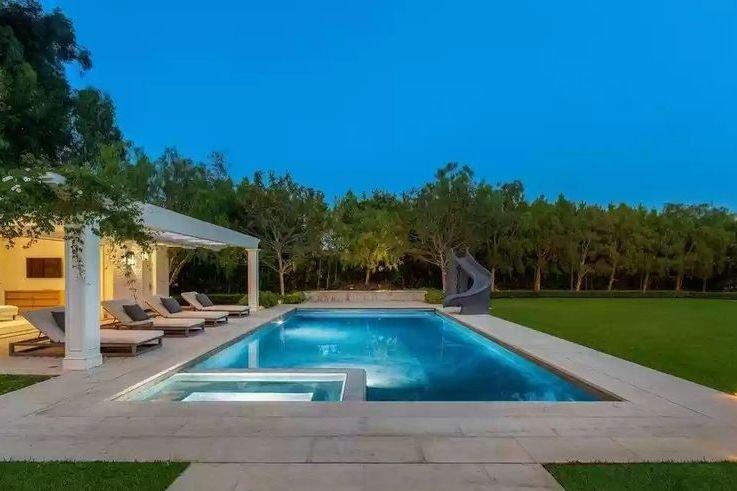 Ben and Jennifer need a new home in the same way that an eel requires a hot air balloon. However, the couple is well-stocked in real estate and has recently listed several properties.
In 2019, Ben listed his sizable coastal Georgia mansion for $7.6 million. He previously marketed the 87-acre property for $8.9 million, but after it went unsold, he reduced the price to $7.6 million. But it appears that the home is no longer on the market.
Three different homes make up the estate, the first of which is a 6,000-square-foot white plantation palace in the Greek Revival style known as "the Big House." The entry to the Big House is stunning, with strong columns and a large flight of stairs leading to the grand foyer.
A Few Of Jennifer's Properties
On the other hand, Jennifer owns an expansive portfolio that includes, but is not limited to, an eight-acre ranch in Bel Air that she acquired in 2016 for $28 million. She also has an eight-bedroom mansion in the Hamptons' Water Mill neighborhood and a massive New York City penthouse that she bought in 2014 for $20.2 million.
Meanwhile, Ben's recent property listing came just one month after he and Jennifer tied the knot in a small ceremony in Las Vegas. There is a high chance that a buyer will come quickly for the property thanks to all the high-end amenities it offers.