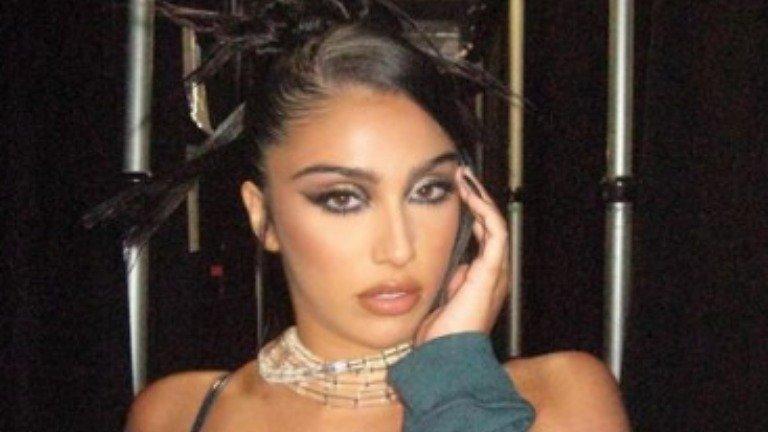 Lourdes Leon Glams It Up In Silver Minidress
Article continues below advertisement
Lourdes Leon is giving some serious Studio 54 vibes in a silver minidress serving up disco ball brilliance. The 25-year-old model and artist is the proud daughter of pop icon Madonna but is forging her lane in the industry and gaining some hard-earned respect along the way.
While she easily could have rested on her laurels and coasted off of her mother's success, she has made clear-cut plans for her future, and while most of them are under wraps, the more she reveals, the more impressive she is.
Lourdes Is More Than A Model These Days
Of course, she has the body to pull off a tiny minidress and anything else she chooses to wear, but when she is not being clicked for the cameras, she is also studying behind the scenes.
She was only a teenager when she professionally debuted as a model in Stella McCartney's ad campaign, working alongside other models, including Kenya Kinski-Jones, Amandla Stenberg, and pop star Grimes.
The multi-talent decided early on that she wanted a career in the field and began studying at the La Guardia School of Performing Arts in 2014. She even attended the University of Michigan, her mother's alma mater, to study performing arts.
Article continues below advertisement
Lourdes Famously Has A Strict Mother In Madonna
Even before having children, Madonna warned the world that she intended to be a strict disciplinarian with her kids, which turned out to be very accurate, according to Lourdes. Lourdes was not allowed to go out until she was 18 or have a boyfriend until that time.
This is the type of discipline that Lourdes rebelled against as a young girl, but now she admires her mother for being so stern and preparing her for the world in a real way. These days, Lourdes is noted for her discipline and hard work. These are the same traits that have been attributed to her mother as well. If it worked for Madonna, then why not Lourdes too?!
Lourdes And Her Keen Fashion Sense
Aside from modeling, Lourdes is also somewhat of a stylist and fashionista. When her mother noticed her sense of fashion, she decided to hire her to co-design her first line, called Material Girl. The collection was inspired by the 80s and became a trendy label that showcased Lourdes's ability to cultivate a look and represent teen styles at the time.
What's Next For Lola?
That's a good question and one that the artist is being tight-lipped about at the moment. The truth is that her fans already know that they never know what to expect from her, and this intrigue is what makes her even more appealing. Will she show up in her mother's upcoming bio-pic? Will she release a music track? Will she be attending her brother's next art exhibit? Stay tuned!