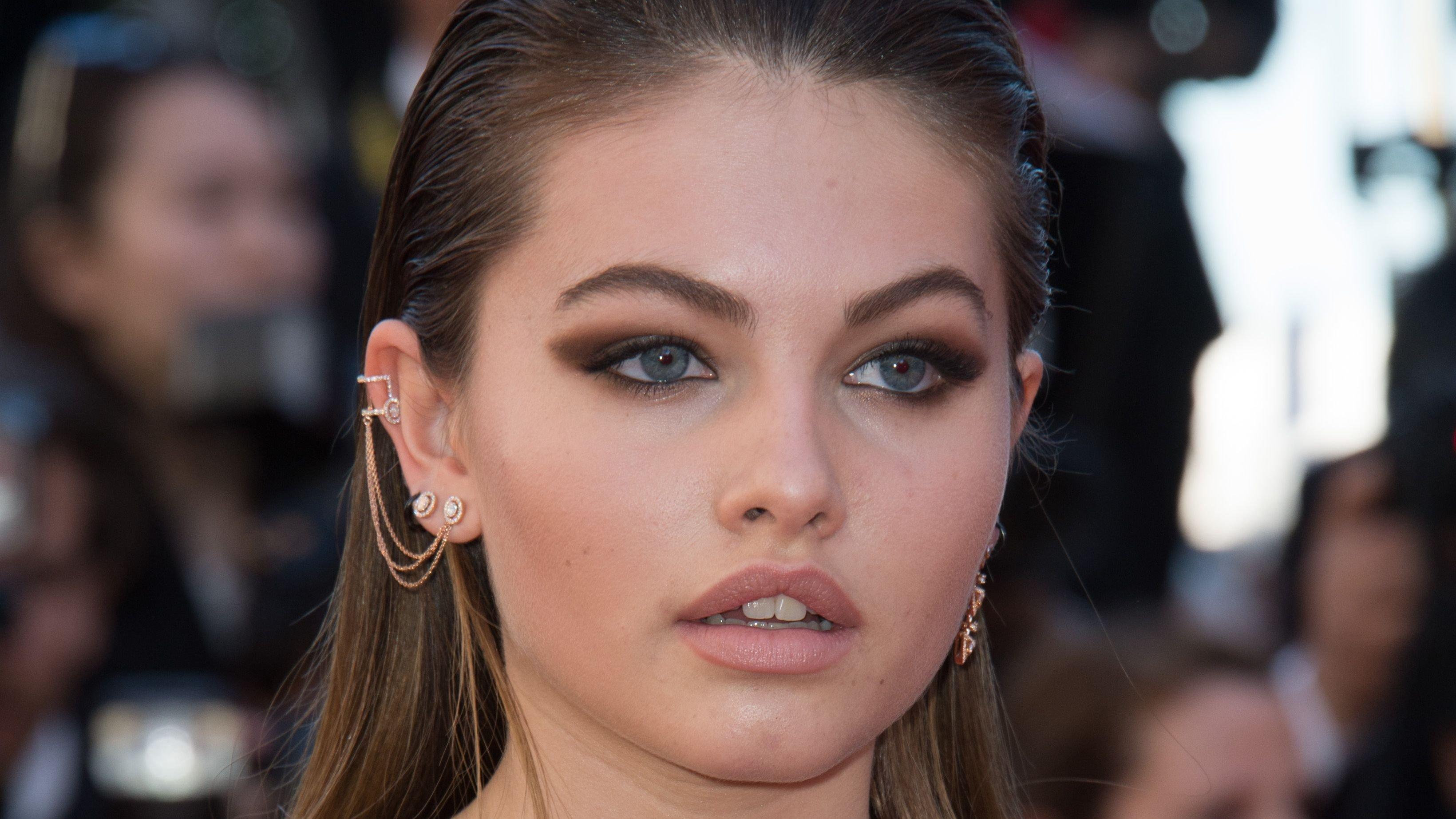 Thylane Blondeau Stuns In Slinky Thigh-Skimming Dress
She may be a self-declared tomboy, but Thylane Blondeau was the epitome of elegance in a YSL minidress while posing for fashion and beauty photographer Thierno Sy.
Going tight in a thigh-skimming number, the French model, who topped TC Chandler's list of "100 Most Beautiful Faces of the Year" in 2006 and 2017, flashed her sculpted legs in sheer tights with a chic polka-dot print -- a far cry from her "kind of boyish" personal style, as she described it to W Magazine.
See the photo below and keep scrolling for more pics!
Article continues below advertisement
Femme Fatale
Photographed in Paris at night, according to an Instagram hashtag from filmmaker Ämr Ezzeldinn, Blondeau posed in a stylish interior that gave off a film noir vibe. Backed by dark wood paneling anchored by a large classical painting, she leaned against a counter filled with champagne bottles chilling on ice.
With padded shoulders and a cinched waist, the YSL dress beautifully highlighted her hourglass shape, while a row of buttons on the side accentuated the sinuous contour of her figure. The twice-crowned "world's most beautiful girl" exuded a femme fatale air as she glanced sideways with a fierce gaze, her chiseled cheekbone exposed by a slick updo.
Embracing A Vibrant Fashion
The 21-year-old shared the black-and-white photo on her own Instagram page and snagged close to 100,000 likes from her 5.7 million followers.
Taken for Numéro Russia back in October 2019, the snap was part of a colorful editorial that contradicts the image's somber atmosphere. The project captured her in vibrant designer looks styled by Sandra Benbaruk, which ranged from breezy gowns to form-fitting dresses, with luxury brands such as Roberto Cavalli, Mugler, and Balenciaga being represented.
Article continues below advertisement
Pictorial Queen
Versace was another brand featured in her Numéro Russia shoot -- and Blondeau has plenty of experience working with the Italian fashion house. The model wore Versace in a pictorial for Cosmopolitan Spain three months later, highlighting her catwalk legs and insane abs in tight pants and a braless crop top.
Serving as a muse for photographer Valero Rioja, the French beauty stunned in a shimmering strapless gown.
She also modeled a glittery blazer covered in shiny studs, going pantsless in long socks.
The Controversial One
Of course, we can't talk about her editorials without mentioning her most famous and controversial one of all: the one she did for Vogue Paris at age 10. Starring in the magazine's Vogue Enfants supplement, the Aix-en-Provence native was depicted in a gold dress with high heels and a face full of makeup.
Many took issue with the adult theme of the shoot but her mother, French TV presenter Véronika Loubry, was there to back her up. "I understand that this could seem shocking. I admit I myself was shocked during the photo shoot. But let me be precise: the only thing that shocked me is that the necklace she wore was worth €3 million!" was her legendary clap-back.