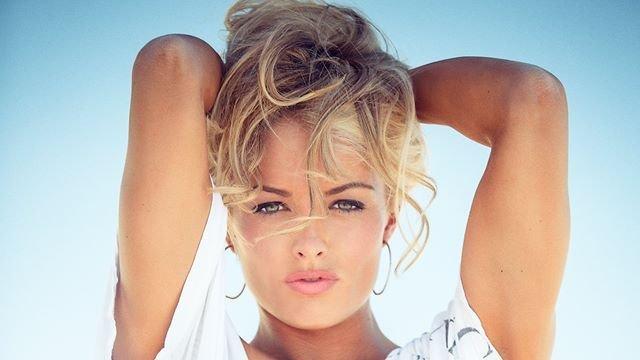 5 Celebs Who Enjoyed The Fourth Of July In Bikini
Yesterday was the Annual Independence Celebration Day (4th of July) in the USA, but many Americans weren't feeling the moment. Women in entertainment took a moment to decry the alleged regression in the country's law, especially those which strip women's rights away. The country is still sore that the supreme court overturned Roe V. Wade, a precedent protecting women's abortion rights.
Here's a list of how your favorite social justice champions turned a fashion moment into a political statement.
Keep scrolling for the top 5 celebrities who slayed in a star-spangled summer, from
Article continues below advertisement
Bella Thorne In Bikini Disses Patriarchy
Bella Thorne joined a host of other celebrities heating the 4th of July in their swimwear. The actress stood holding the American flag with palm trees in the background as she modeled the two-piece outfit, which featured a strapless top and thong bottom. She completed the outfit with circular sunglasses and long, blonde hair parted in the middle.
Bella added a caption to the pictures.
PATRIARCHY CAN EAT MY 🍑
-
Mandy Rose Is Feeling Patriotic In Swimsuit
Mandy Rose served double trouble last year alongside Sonya Deville, her closest friend, and fellow WWE employee. She was dressed in a high-rise, halter-neck monokini with a bottom made of the Star-Spangled Banner, with red and white stripes on one side and white stars on a blue background on the other. She tied a white head tie around her golden hair, styling it in a carefree wave. Mandy's toned glutes were well framed by the thong, which complemented the halter top's plunging neckline that displayed her breast.
Article continues below advertisement
Lisa Rinna Is Athletic In USA-Inspired Bikini
"Once-twice a year, you get a hot dog, and the burger's good too." Real Housewives of Beverly Hills fans know what that statement means. It's the fourth of July and time for Lisa Rinna to indulge in guilty pleasure eating!
The reality tv star looked athletic in her two-piece bikini consisting of a blue stary triangle and red string bikini.
Denise Richards Flaunts Sexy Body In Bikini
Denise Richards, a former member of the Real Housewives of Beverly Hills, followed Lisa Rinna's lead and celebrated the Fourth of July while sporting a patriotic bikini. Richards posted her photo to Instagram and an invitation to follow her OnlyFans account for other exclusive stuff.
Article continues below advertisement
Bethany Frankel Celebrates July 4th With Hubby
Bethenny Frankel gave grown woman energy in her matching American flag cover-up with her partner, Paul Bernon. She fused it with the Italian flag since she was on vacation with Bernan.
Paris Hilton Gets Motivational On July 4th
Paris Hilton got motivational on the 4th as she shared a picture with the caption;
In the midst of darkness, light persists. ✨ #MondayMotivation ⚡️ #4thOfJuly
-