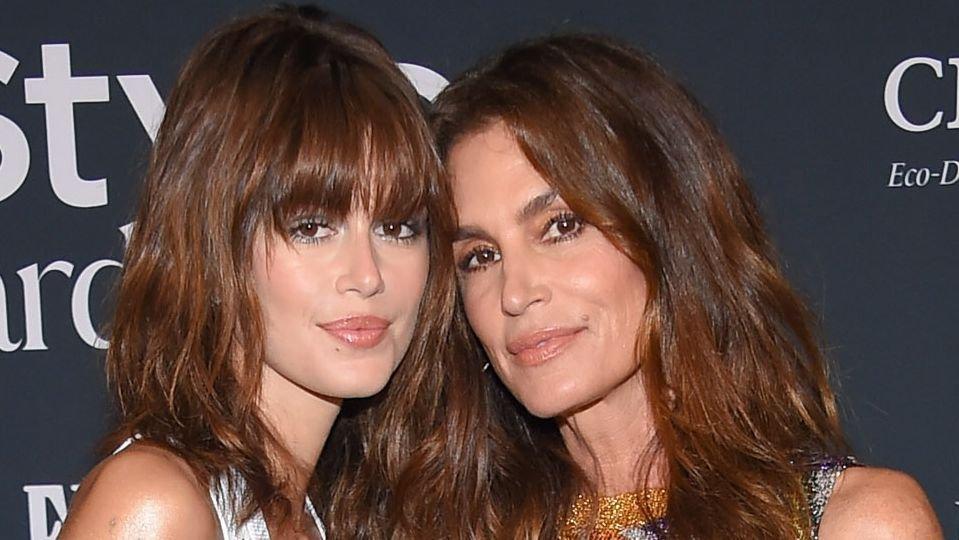 Cindy Crawford And Kaia Gerber's Best Twinning Moments
Cindy Crawford may have officially relinquished her supermodel throne but her daughter Kaia Gerber is proving to be a worthy heir.
The '90s fashion icon, 56, has definitely passed on the gorgeous gene to her 20-year-old doppelganger daughter (and let's not forget her equally good-looking son Presley – also a model), along with her chic sense of style and a work ethic that's setting her up for certain success and longevity in the industry. Never has the phrase "like mother, like daughter" been truer!
Ahead, take a look back at this duo's adorable twinning moments.
Article continues below advertisement
The Gorgeous Pair In Paris
Crawford and Gerber headed to Paris last March to attend Off-White's Fall 2022 show, and the pics are on Instagram. The supermodel/mom uploaded the photos to her page with the caption, "Postcards from Paris 💌," showing the pair as they soaked up the sights in matching camel-colored coats, black boots, and shades.
They were twinning in more ways than one during the trip, too. At the Off-White show, they both walked the runway as models wearing elaborate outfits – a rare moment where the two worked together on the same catwalk!
Posing In The Same Sweater
In December 2021, Crawford posted a pair of photos on her Instagram which she captioned, "Baby stole my look! @elleusa now and then ❤️ #FBF." It showed Gerber wearing a flag-intarsia sweater by Ralph Lauren along with a pair of jeans, her hands in the pockets.
Swipe and you'll see Crawford wearing the look on the cover of Elle in 1994 – same sweater, same pose, same windblown hair, same flat abs!
Article continues below advertisement
Omega Brand Ambassadors
In September 2020, Crawford shared two photos of herself and Gerber doing a photo shoot. She wrote, "When your garage is converted into a studio, WFH takes on a whole new meaning! On set with my favorite model @kaiagerber and #normanjeanroy for @omega ❤️"
In the pics, the gorgeous mother-and-daughter tandem are twinning in black tops and leather bottoms (and white slippers, too) while posing for an Omega ad – they're both brand ambassadors for the luxury watchmaker.
Cover Stars
Back in March 2016, Gerber posted a photo on her Instagram of the Vogue Paris cover she shared with her mom – their first cover together. They're wearing identical black leather jackets and hoop earrings, and even their brown tresses and beautiful smiles are the same! One comment said, "Oh Lord... So much beauty in one photo," and we totally agree!
And then there's this picture Gerber shared in November 2017 which she hilariously captioned, "i just don't see the resemblance." Both are so stunning!