Carmella Goes Bridal In Bikini
A few weeks before getting married to the love of her life, WWE bombshell Leah Van Dale, professionally known as Carmella teased her impending nuptials by wearing a white bridal bikini with a chiffon overskirt. The athlete flaunted her toned body and practiced for her big day wearing the white set with matching jewelry pieces.
Article continues below advertisement
Carmella Dresses Like A Wrestling Bride
Carmella wore a studded white bra and matching bottoms with an arm-length lace opera glove on either hand, thigh-high stockings, a lace choker, and a pearl necklace. She topped her look with a chiffon overskirt that highlighted her slim waist and added flair to her outfit. Carmella wore shimmery silver eyeshadow and curled her long blonde hair into deep waves.
Cosplaying The Pop Icon
In case it wasn't clear, Carmella's last post showed the inspiration for her photoshoot - Madonna's Like a Virgin pose from her MTV live performance. She also added a black and white filter to the picture to make the resemblance more uncanny. She also added that she loved Madonna like it wasn't obvious already.
you made me feel shiny and new 🤍. Love me some @madonna. she wrote.
-
Fans and friends in the comment shared their love for the pop icon as well and commended her homage fashion including one comment saying,
Totally digging this Madonna vibes.
-
Article continues below advertisement
Declaring Her Love For Madonna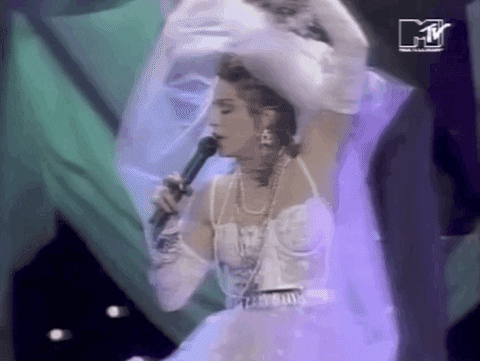 Carmella made a TikTok video dancing to Madonna's hit single Like a Virgin, with an image tripling effect making two more images of her appear on the sides in colorful blurs. Each video and picture was a hint that her wedding to Corey Graves was closer than we expected, but not many people picked up on the hints.
The athlete started dancing with her back turned to the camera and turned to her front, later on, smiling at the camera, and she captioned her video with lyrics from the song.
Carmella And Corey Finally Tie The Knot
Carmella and Corey Grave married last month at the Living Sculpture Sanctuary, Florida, in the presence of their family, friends, and colleagues from WWE. She wore a traditional white dress with a long flowing lace-embroidered train and matching lace veil. Carmella and Graves also had white floral arrangements in their open space wedding.
After a long relationship (2019) and short engagement (2021), Carmella is enjoying her new status as a Mrs. sharing a new post with Graves, with the caption, "Walks with my husband."