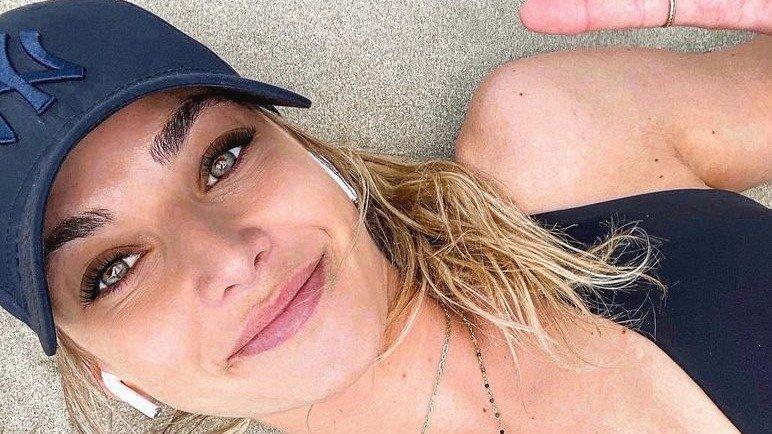 Olympian Lea Bouard Surfs In Bikini
Olympic skier Lea Bouard is always up for perfect summer days before skiing in the Winter. The 25-year-old enjoys surfing on the beach and skiing the alpines during the Icy season, and she looks forward to this year's summertime. Although it's way past Winter, Lea still rode her skis in British Colombia this month in a competition. As we anticipate the warm and bright summertime, here's a recap on the Summer the German freestyle skier spent in Mallorca, Spain, and France.
Article continues below advertisement
Flaunting Her Skills
Lea rode a big wave in Lake Annecy, France showing off her skills and toned body in a two-piece white bikini and a protective black life jacket. She captioned the picture,
Some perfect summer days before skiing again next week! 🙌🏼
-
And she had a lot of those during the compulsory lockdown when she moonlighted as a waitress in her older brother's restaurant. Lea said in a lengthy message that she missed training during those days because it became a drug she was addicted to, and she didn't feel like herself being idle. Regardless of her feelings, Lea ensured she helped her brother out during the difficult time, and it brought another type of fulfillment to her life.
Lea Loves Surfing
Surfing has remained one of her favorite pass time sports over the years, and she's good at it based on the videos she shares with her almost 100,000 Instagram followers. However, now, she's back on the snow in Paris, and she shared "a little taste of her time in British Colombia" with her followers.
While she waited for long periods before the sunrise, Lea admitted the fun time skiing down the steep snow trail made it worth her time.
I never had those feelings before because I never skied big mountains like that.. And I fucking love it !I definitely want more and more now!! she wrote.
-
Article continues below advertisement
Documented On Film
She told her followers that there'd be more to come in the official video release of the Backcountry competition. Although it felt like being far from civilization, Lea didn't mind because she loves communing with nature. Nuit de la Glisse cinema documented her journey in British Colombia and would release a Documentary film featuring Lea Bouard and other skiers, including France's Wadeck Gorak and Valentin Delluc.
Positive Foreshadowing
Lea spoke positivity into her British Colombia journey and it came to pass. She wrote in her revealing caption that it would be an amazing experience.