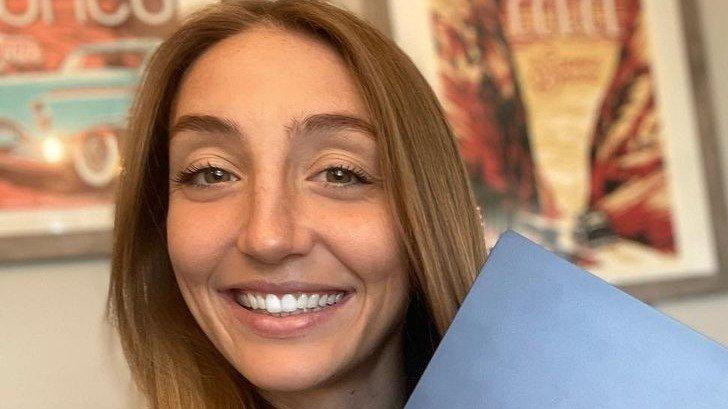 Olympian Kristen Santos Flaunts Toned Legs In Biker Shorts
27-year-old Olympian Kristen Santos flaunts her speed skating toned legs on the gram for her 5,000 plus followers. The athlete who finished in a heartbreaking fourth place at the just-concluded Winter Olympics is back home in the USA doing other things she loves, including hiking and riding bikes. Recently, she shared with her followers that she took a short vacation to Mexico in preparation for Summer. Before then, let's revisit the rigorous training Santos underwent before the Winter Olympics.
Article continues below advertisement
Track Racing In Advance Of The Olympics
Santos flaunted her toned legs as she shared a back view of her physique mid-race. She ran track as part of her pre-Olympic training in anticipation of the short track speed skating competition. Her workout gear consisted of the TEAM USA tank top and figure-hugging biker shorts.
Hiking With Her Huskies
Santos also hikes as a leisure exercise with her pet dogs, and she posts her trails with pride on her Instagram feed. The Olympian beamed at the camera in one such post after reaching the mountain top with her huskies. She wore a black-on-black athleisure outfit holding one of her pets (Koda) in her lap while leaning against the other (Bear). Santos revealed that the scenery from the top of a trail is part of the reason she indulges in the activity, apart from the exercise she gets.
Article continues below advertisement
Mountain Biking
Before the Winter Olympics, Santos joined the National Team at Bike Camp as part of her training for the Women's Short-Track Speed Skating. Although she finished in a disappointing fourth place, the Olympian still reaped the physical benefits of her hard work - she got well-toned and defined limbs.
Check out her toned legs below.
Back To The Basics
According to Connecticut Insider, the Olympian said ahead of her Beijing competition, "she spent most of her days working out and training for her big moment in the Winter Olympics. Santos moved to Utah to train with the National team, and she told Hartford Courant,
I was used to [training] for a couple hours a week and not 40 hours a week. That was an adjustment. But I'm grateful that I didn't have that at a younger age for myself. I know myself well enough to know I wouldn't have been able to handle that. I would have burnt out.
-
Now that she's back in the USA, the Olympian doesn't train as much except for the occasional exercises she gets from leisure activities like Mountain biking, Hiking, running track, and her regular routines.