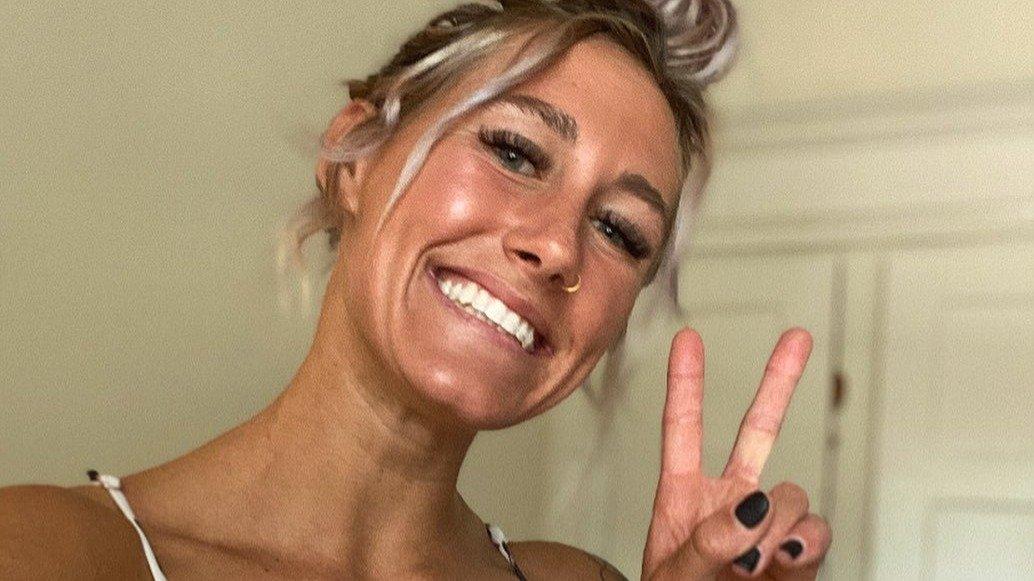 CrossFit Athlete Danielle Brandon In Bikini Has 'Beach Withdrawal'
Danielle Brandon was in a nostalgic mood as she took to Instagram to post a throwback from one of her Hawaiian vacations. The 26-year-old CrossFit star, who recently impressed fans in a floral string bikini while working on her tan in Lahaina, uploaded a pair of shots from Waikiki Beach, explaining in the caption that she was suffering from "beach withdrawal."
Scroll to see the photos!
Article continues below advertisement
Something About Donuts
In the images, Bradon was relaxing on the sand with a huge smile on her face. She sat on a beach towel and leaned back on her hands, prompting up her torso and flaunting her toned abs. Her legs were stretched toward the camera, left in full view of her audience by teeny bikini bottoms with a red floral print. They had a low waistline that showed off her tummy and tied on both hips with neon-lime strings.
Her beach attire was complete with a nude sports bra-style top -- a halterneck design that exposed her muscular arms and cropped right at the chest line. She was barefooted and wore her hair tied back in what looked like a messy braid.
Snapped from the front with her knees apart, the CrossFitter included a half-profile shot in which she basked in the sunshine with her eyes closed. Several shadow silhouettes were visible around her, suggesting she was joined by friends for a little downtime at the beach.
Not afraid to get candid in the caption, Brandon nonchalantly declared that she was "clearly having beach withdrawals" at the time she posted the pics. Racking up compliments for her fit physique, she added a very straightforward hashtag announcing to the world: "fitbutlikesdonuts."
Fun Vacay
This was not the first time that Brandon got nostalgic about this particular Hawaiian getaway. After posting about it while she was still on her trip, the athlete followed up a month later with a throwback captioned with "inneedofthebeach" and "needislandfood" hashtags. In the picture, she wore the same bikini and was leaping in the air just above the shallows.
Another month in, she was trying to escape the Nevada heat by sharing a photo of herself dipping her feet in the waves. "When the weather goes from 70 to 95° real fast and there's no beach around," she wrote in the caption, adding: "I miss Hawaii."
It's clear from the numerous photos she posted over time that her Waikiki Beach getaway was a ton of fun. The three-time CrossFit Games athlete often goes to Hawaii to unwind and even spent a Christmas or two there, judging from her Instagram feed. The 26-year-old powerhouse rang in the 2020 holidays on a beach in Kaanapali together with her BFF and fellow CrossFitter Melissa Koepke.
At the time, she opened up about her mental health struggles on her platform, writing: "Christmas & holidays are tough for me and I know that can sound selfish because of where I'm at. But just a reminder that no matter where you are in life or even physically that feelings follow, and the lows are there no matter what and that's true no matter who you are or what's being seen on social media."