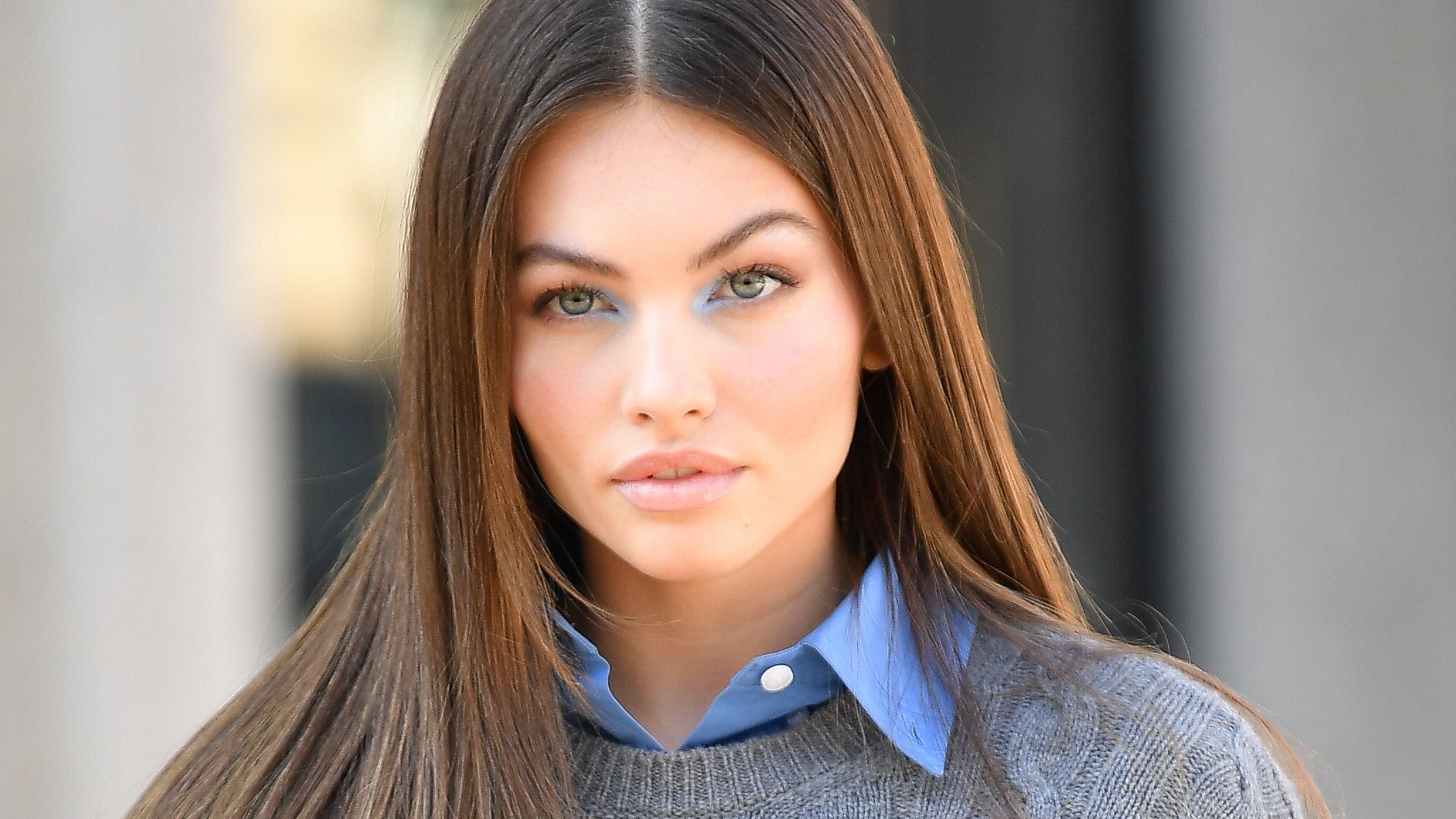 Thylane Blondeau Bares Legs In Prada
Fresh from turning heads in Miu Miu at Paris Fashion Week, Thylane Blondeau is repping parent-brand Prada and showing off her supermodel legs in the process. A post recently added to her Instagram page showed the 20-year-old posing in front of the Galeries Lafayette in Paris in a thigh-skimming minidress from the new Prada Tropico collection, with fans taking to the comments to declare, "Prada or nada."
Article continues below advertisement
LBD Chic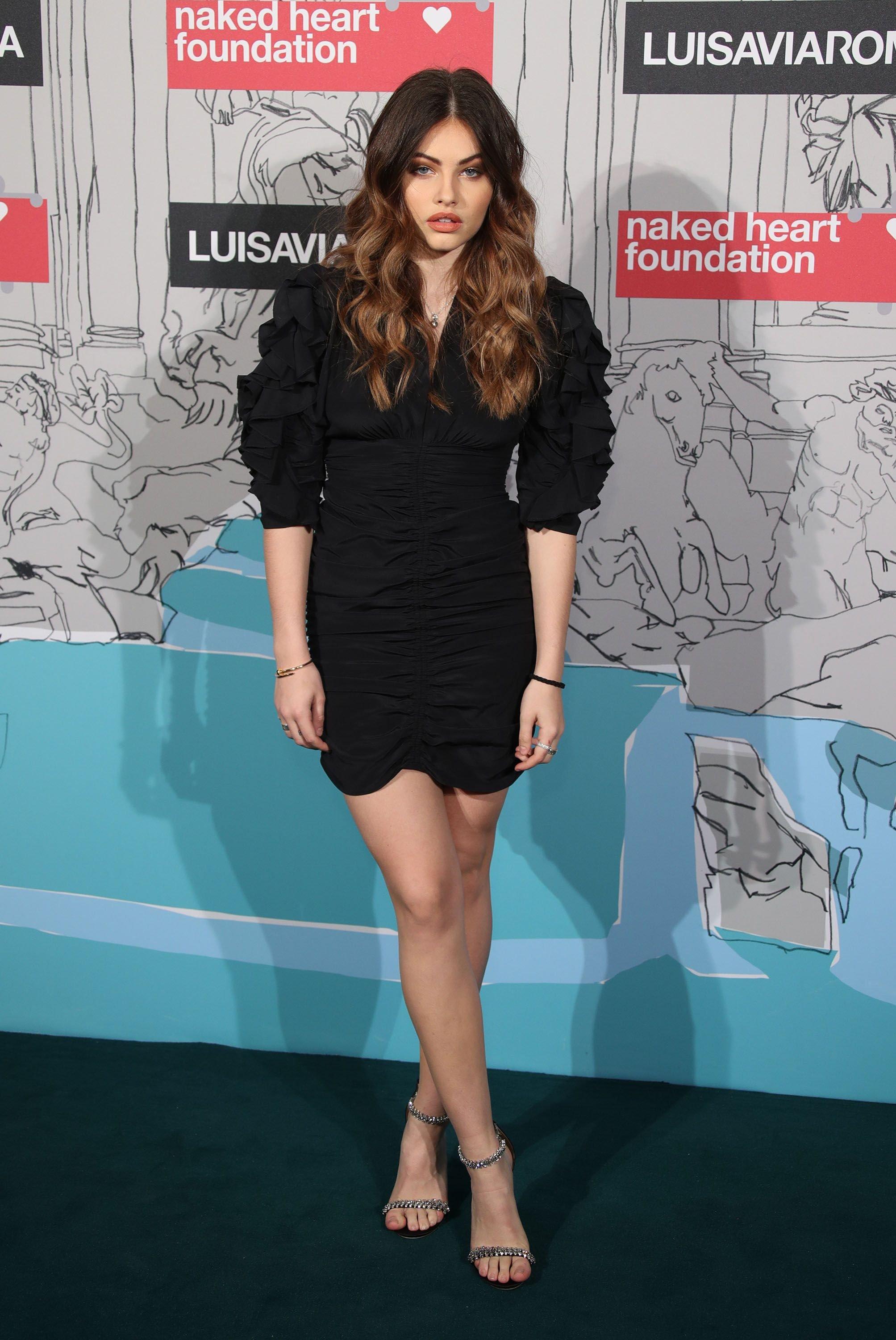 Going classy in a black number with long sleeves and a collared neckline, Blondeau added a pop of color with an orange knitted top sporting the Prada brand name and logo. The mid-sleeve top allowed much of her minidress to be admired and was slightly tucked in in the front to expose the low-rise belt highlighting her slender hips.
Blondeau accessorized with chunky oxford shoes and long socks, also in black. A white leather triangle purse infused texture and dynamism into the look, which was complete with green nails.
All About The Purse
Living up to her "World's Most Beautiful Girl" title, the French model sported a fresh-faced look, going sans makeup for a double update that was focused on her eye-popping purse. Kicking off the share with a sultry close-up wherein her full lips were pursed and her hair was swept to the side, she followed up with a full-body pic in which followers could admire her trendy footwear. Her supple legs were also in full view of the camera in the image, with Blondeau crossing her pins and showing off her lean figure.
The 20-year-old drew attention to her Prada purse in the caption, writing: "u guys look how cute is my new bag."
Article continues below advertisement
Rocking The Long-Sock Look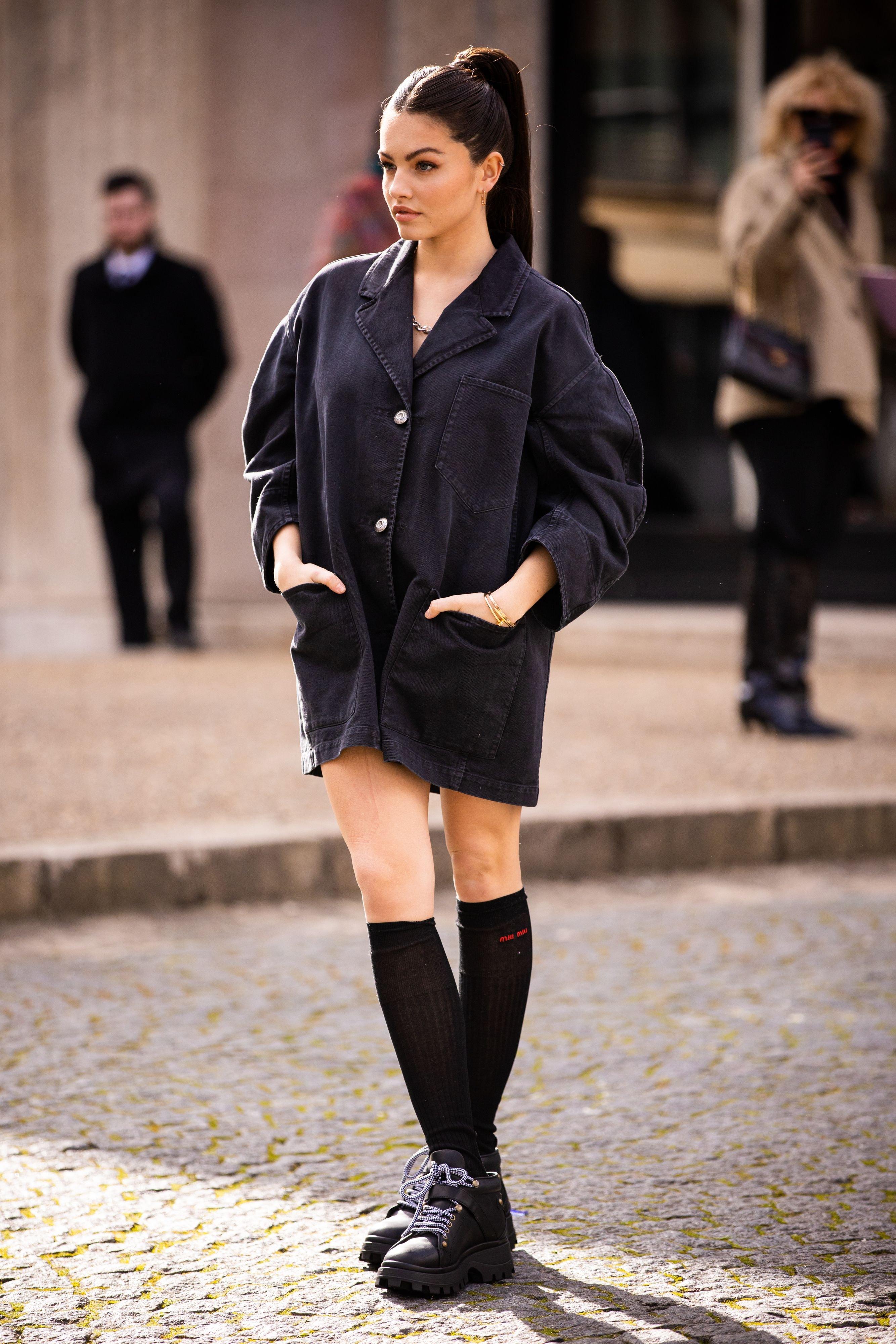 This was not the first time that Blondeau has rocked long socks with a minidress. For 2020 Paris Fashion Week, the model bared her toned gams in a Miu Miu denim blazer dress and black socks that reached her knees. Opting for a loose fit that kept all of the attention on her chiseled pins, she ditched the high heels in favor of comfy sneaker boots, keeping things sporty-chic with a sleek, high ponytail.
Sharing photos of the outfit on Instagram, she snapped a selfie of her elegant, understated glam and chic jewelry, which included a thick chain and a collection of small earrings.
Repping Her Own Brand
As someone who's walked the runway for prominent designers such as Dolce & Gabbana, Chanel, and Ralph Lauren, Blondeau knows a thing or two about fashion. The model even started her own clothing label, No Smile, which prominently features athleisurewear and tie-dye designs.
Frequently repping her brand on her feed, Blondeau's most recent post showed her modeling a colorful tie-dye set, and, while she describes herself as "never smiling," she broke her own rule in the upload that portrayed her on a sunlit street corner in Paris.
Introducing the No Smile label on Instagram back in September 2020, Blondeau wrote: "If you know me, you know how much I love & care for fashion! I've created no smile [a] few months ago and I was looking for the perfect name for the brand, and as you know I never smile!!!"