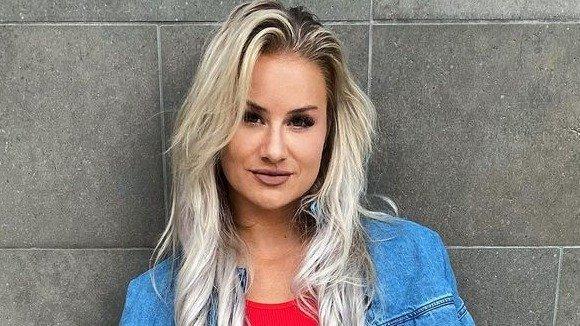 CrossFit Athlete Dani Elle Speegle In Bikini Stretches On Beach
Dani Elle Speegle gave her Instagram followers a massive thrill as she posed in a fiery-red bikini on a beach in San Diego. The CrossFit star, who came in 7th at the 2021 Open, didn't hesitate to get soaked for the photoshoot, delivering sultry poses that earned 50,000 likes on the platform. While she was unapologetically herself, the 28-year-old took to her caption to hash out some of the negative responses that her swimsuit shoots have been getting.
"Just because I chose to be a woman PROUD of her body and my journey doesn't mean I should be subjected to harassment," she wrote.
Article continues below advertisement
A Vision In Red
The blond beauty was a vision as she stretched her toned body in the first photo -- a side profile of Speegle sprawled out in the shallows, with tiny waves crashing against her sculpted silhouette. The Crossfitter showed off her strong legs and supple midriff with a sexy back arch, raising a knee and spreading her elbows in a way that drew attention to her defined biceps.
The athlete wore a sports bra-style top with ripped shoulder straps to match the sides of her bottoms. Fans got a closer look at the sporty-chic bathing suit in the next slide, in which Speegle was on her knees in the water with her six-pack abs in full focus and her tongue playfully stuck out.
Flashing her chiseled core, she leaned on one hand for support and placed the other one on her thigh. Her wet locks added to her sultry look, tumbling over her shoulder.
In the caption, the three-time CrossFit Games athlete clarified once and for all why she still posts bikini shots despite being criticized for saying she doesn't like the attention.
"There has been 1 negative response that I have gotten over and over again and that is the one I'd like to address here," she began, quoting a message that said she should "learn to suck that sh*t up."
Speaking Up Against Harassment
"Simply put - my body, my life, my choice," Speegle explained her stance. "My body is [a] project that I have now been working on for 27 years," she continued, saying that she has much to be proud of in that endeavor.
"With this task of loving how my body looks I have changed so many aspects of my life," she detailed. "I have found self love. I have discovered my self worth. I have discovered health and balance. What started out as an aesthetic challenge - quickly became the catalyst to COMPLETE internal growth and change."
Sharing all the reasons why she enjoys posting swimsuit photos, the athlete spoke up against the harassment that many women face on social media: "Just because I am a woman who wants to show other women, and men, what power, strength, beauty, hard work, and dedication can look like doesn't mean I should have to accept that I have 'opened the door' for sexual photos, comments, threats, and suggestions."
Speegle added: "It most certainly doesn't mean that I should have to be subjected to hateful comments. What is wrong with our society? Why can't we look at a human body and simply say 'Wow. She works hard. Good sh*t!'...and then move on?"
This is not the first time that the athlete has addressed Instagram trolls. Posing in a black bikini to preach body confidence, she shared a poignant message about people attacking this type of post.
"Photos like this one are often seen at just surface level," she said. "A girl, little clothing. Women and men alike come out from the depths of the internet to share their opinions on the 'attention seeking sl*t' in the photo. Feeding off their own insecurities and jealousies - they tear the girl down. But what if we started seeing photos like this in a different light?"