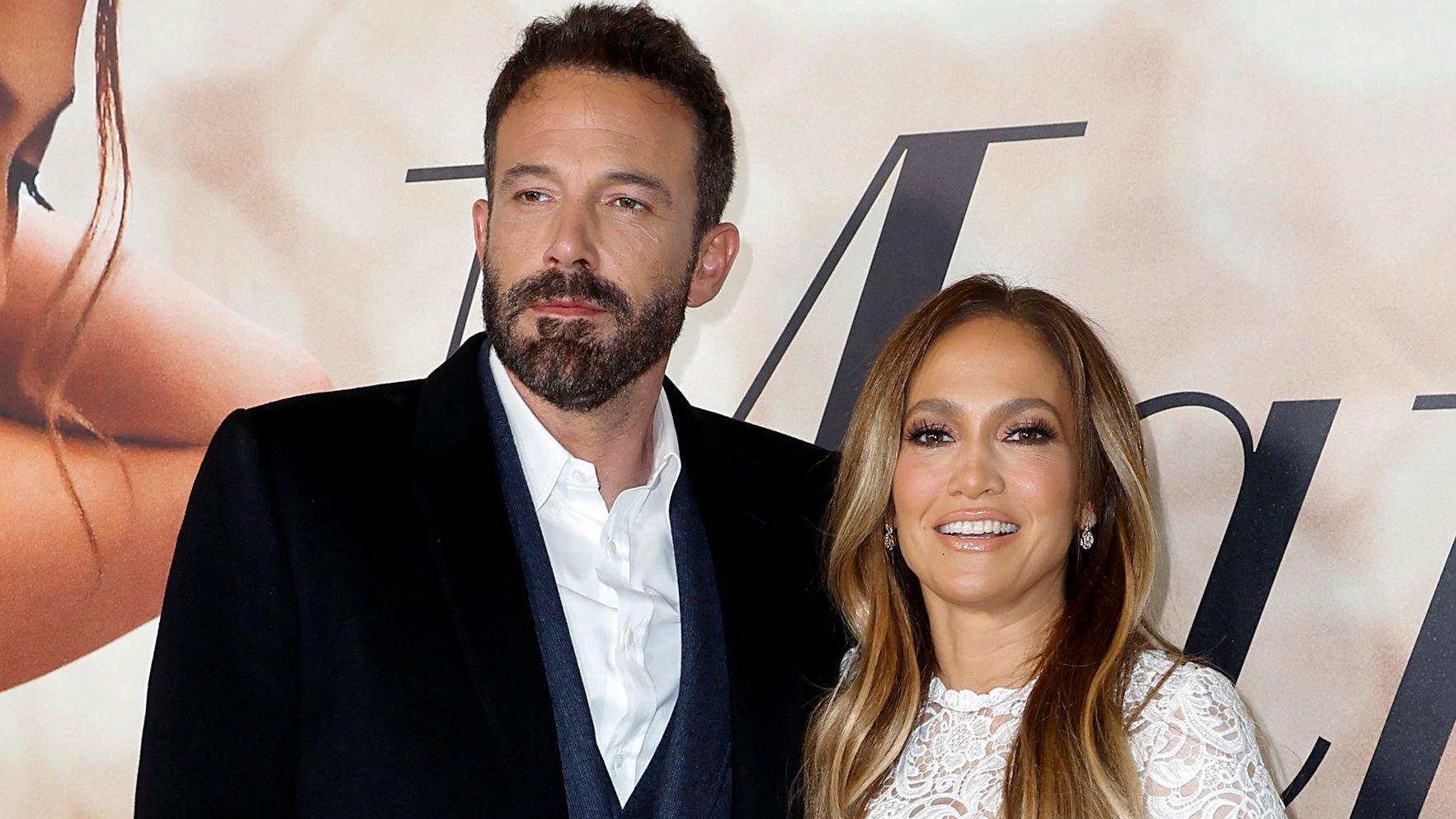 Inside Jennifer Lopez & Ben Affleck's New Bel-Air Home
They rekindled their romance last April after nearly two decades apart and now "Bennifer" are buying a house together. Jennifer Lopez and Ben Affleck are in the final stages of closing on their dream home, a Los Angeles megamansion in high-end Bel-Air for which they're ready to plunk down at least $50 million.
TMZ was the first to break the story over the weekend, with a source stating that the luxurious residence is intended for their blended family. The outlet even noted that the "big move" spells marriage for the couple, who have five children between them.
Article continues below advertisement
Posh Family Home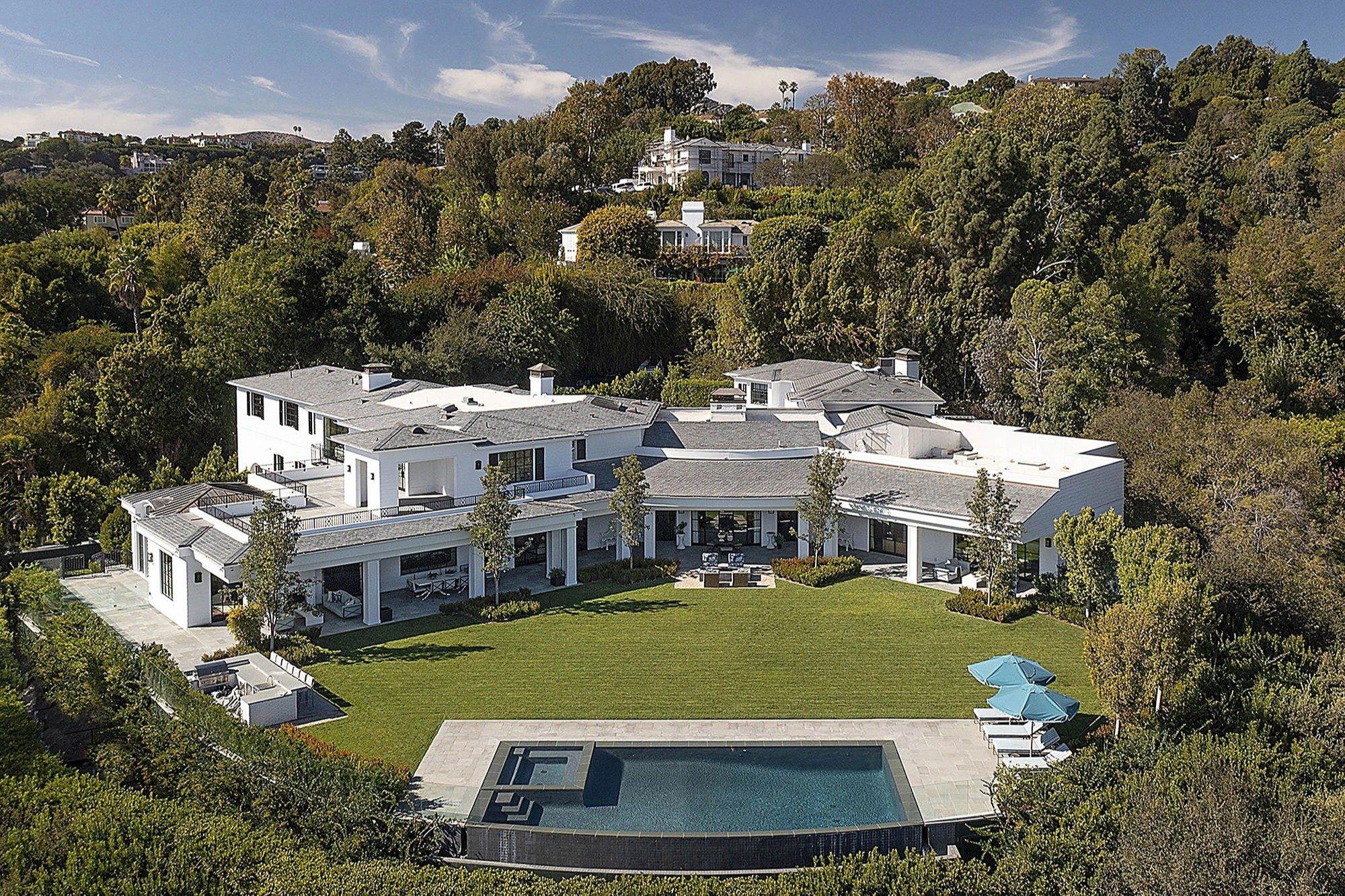 Wedding bells or not, Lopez and Affleck certainly look like they're building a future together. The couple has spent several months in search of the perfect home and it seems like the 1.1-acre property fit the bill. Built in 1936, the traditional-style mansion is nestled in the heart of Bel-Air but still affords tons of privacy as it's tucked away on a secluded patch surrounded by trees.
Known as "The Bellagio Estate," the house offers 10 bedrooms and 17 bathrooms spanning a living space of nearly 20,000 square feet, with The Cut dedicating an entire article to all the reasons why the lovebirds would need THAT many restrooms. "All of the people who have officially played or voiced Batman could have their own bathroom (Bat-room?), and there would still be two left over," writes Mia Mercado.
All The Commodities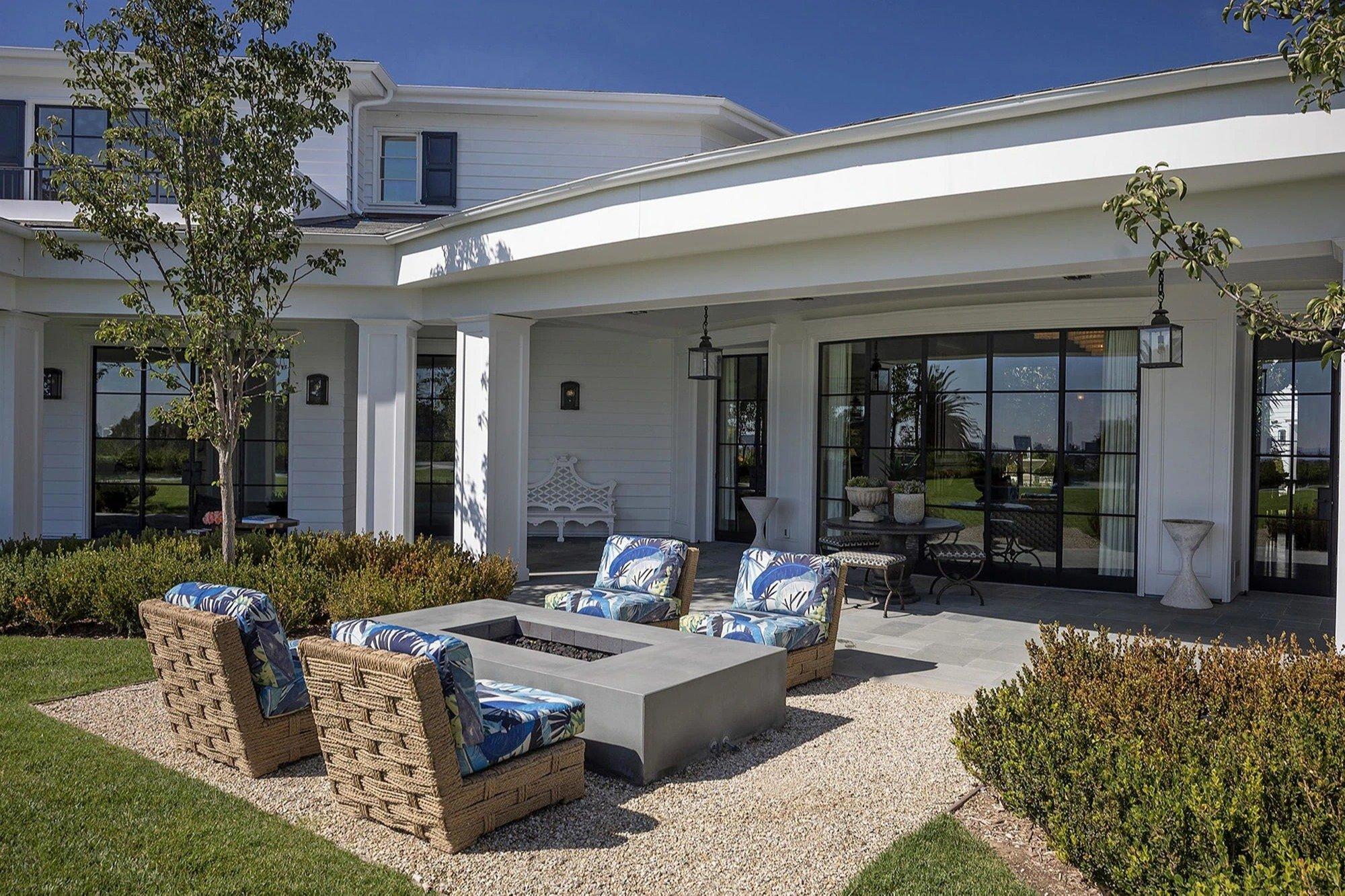 Lopez and Affleck are definitely getting a big bang for their buck. The outdoor amenities alone are a dream and include an infinity-edge pool with a spa overlooking an incredible view of the city. The commodious backyard features a vast lawn with pocket gardens throughout, as well as a putting green, a fire pit, and al-fresco dining areas, with several loggias making the transition between the multiple sitting and lounge spaces.
The front yard is just as impressive, with a circular driveway anchored by a fountain sitting just across from the front door. Pictured above is a small section of the wrap-around patio, with several balconies extending the outdoor lounge space.
Article continues below advertisement
Perfect For Entertaining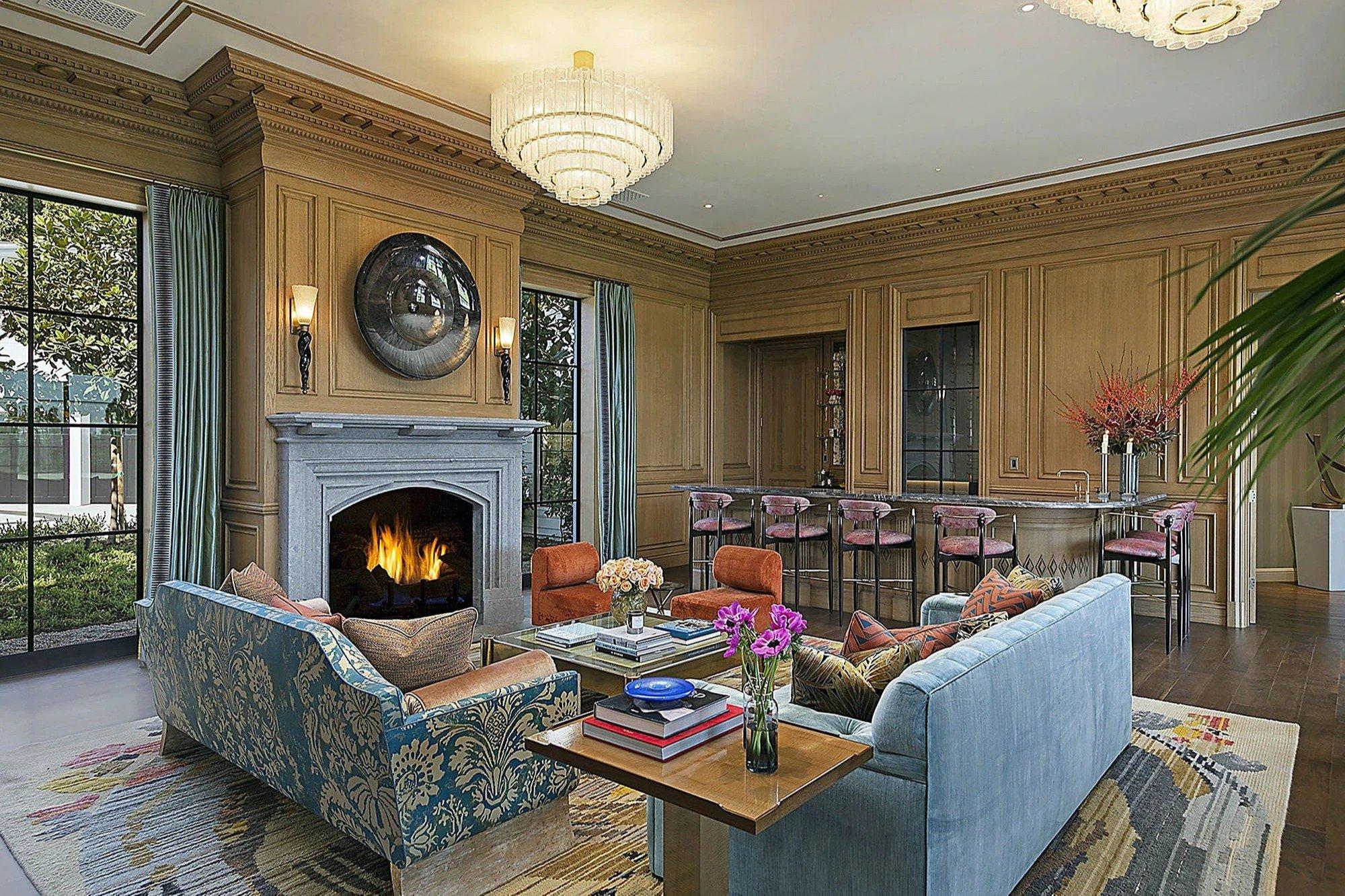 The three-level residence is designed for large-scale entertaining and features an elegant formal dining room with crown molding, a formal living room with floor-to-ceiling windows overlooking the upstairs patio, and a downstairs living room with a wet bar (pictured above) -- all of which are equipped with wood-burning fireplaces.
There's also a wine cellar, a movie theater, a game room with a billiards table, and a separate guesthouse with its own kitchen. Other highlights include a home gym, library, wood-paneled office, as well as a private "security suite" for a full-time bodyguard.
Keep going for more photos of the interiors!
Four Kitchens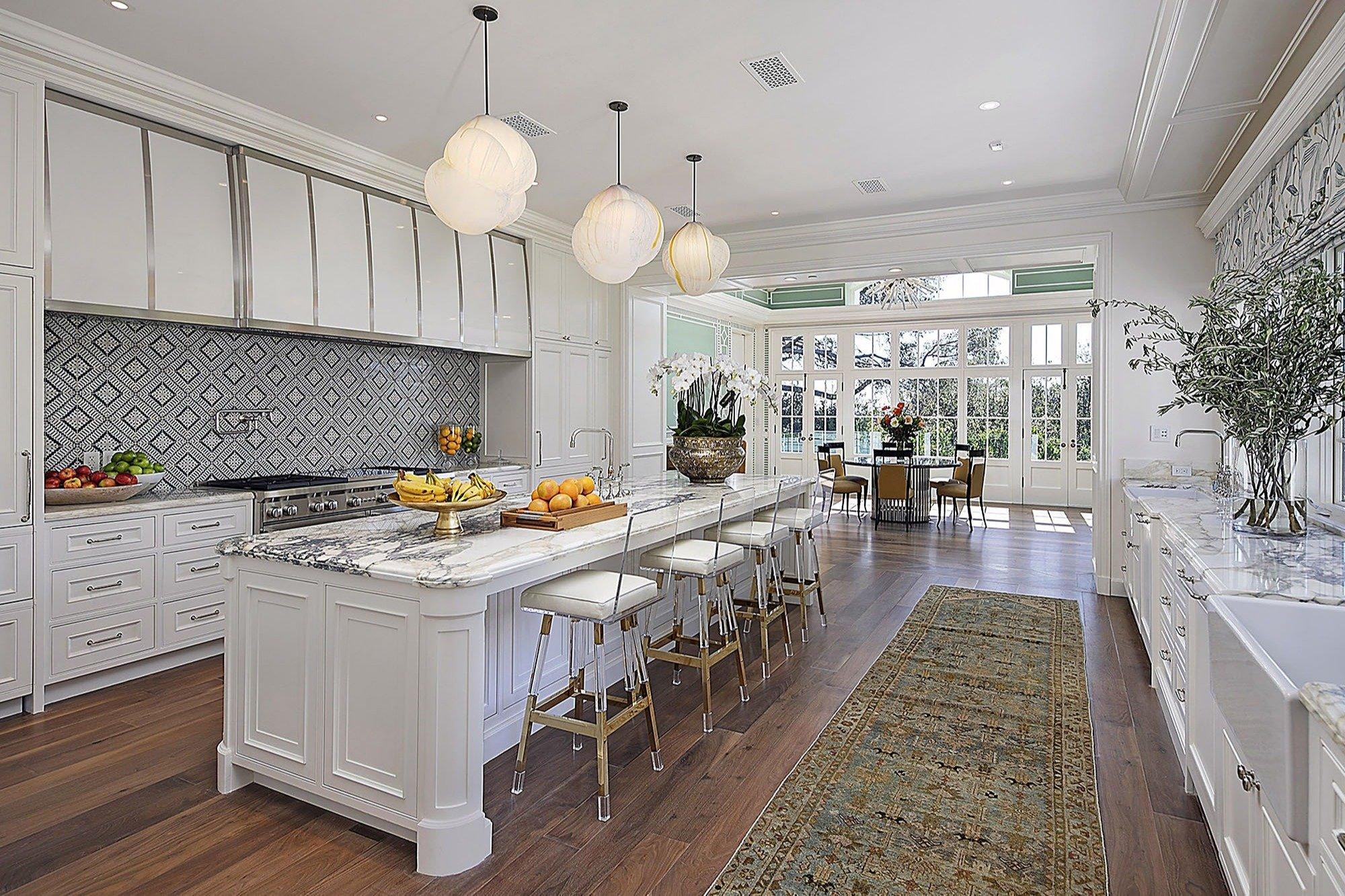 The sprawling manse boasts a total of four kitchens, with Dirt listing a gourmet kitchen and a catering kitchen in the main house, a third one in the guesthouse, and a full outdoor kitchen/BBQ center in the backyard. The main kitchen is outfitted with a spacious island and flows into a dining nook set up by sunlit French doors that open to the backyard.
Check out the master suite below!
Article continues below advertisement
Luxurious Master Suite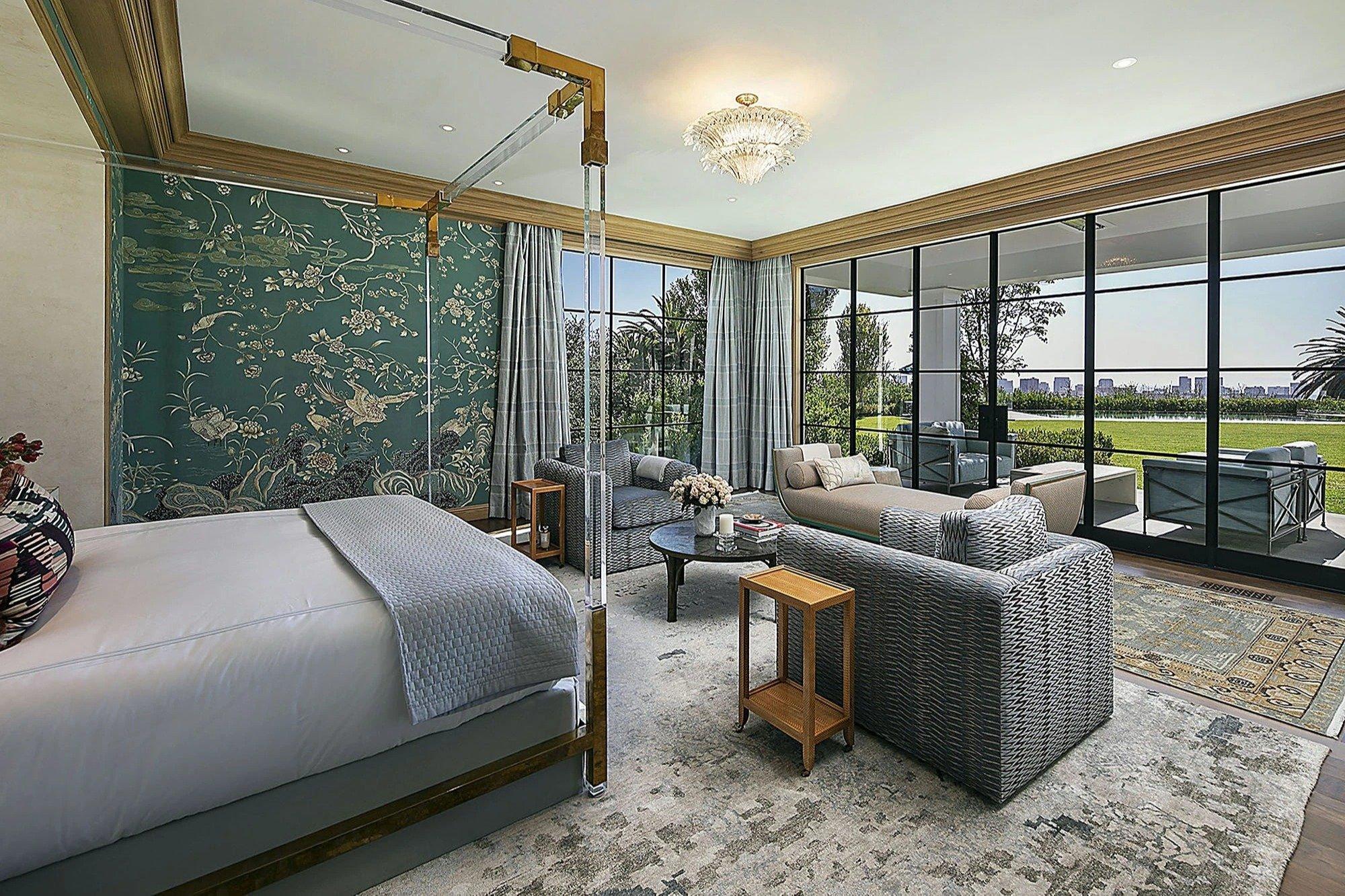 One of the clear selling points is the master suite, described as an "ultimate retreat" in the listing. Fit for Hollywood royalty, it features a sitting room with a fireplace and a massive bookcase, as well as his and hers bathrooms and dual walk-in closets, including a glamorous "diva-worthy" dressing room decked in pastel pink.
The same color scheme extends to one of the bathrooms, which has a gold standing tub placed in front of a floor-length window and pale-pink cabinets to match the floor tiles.
See the formal dining room below!
Huge Price Tag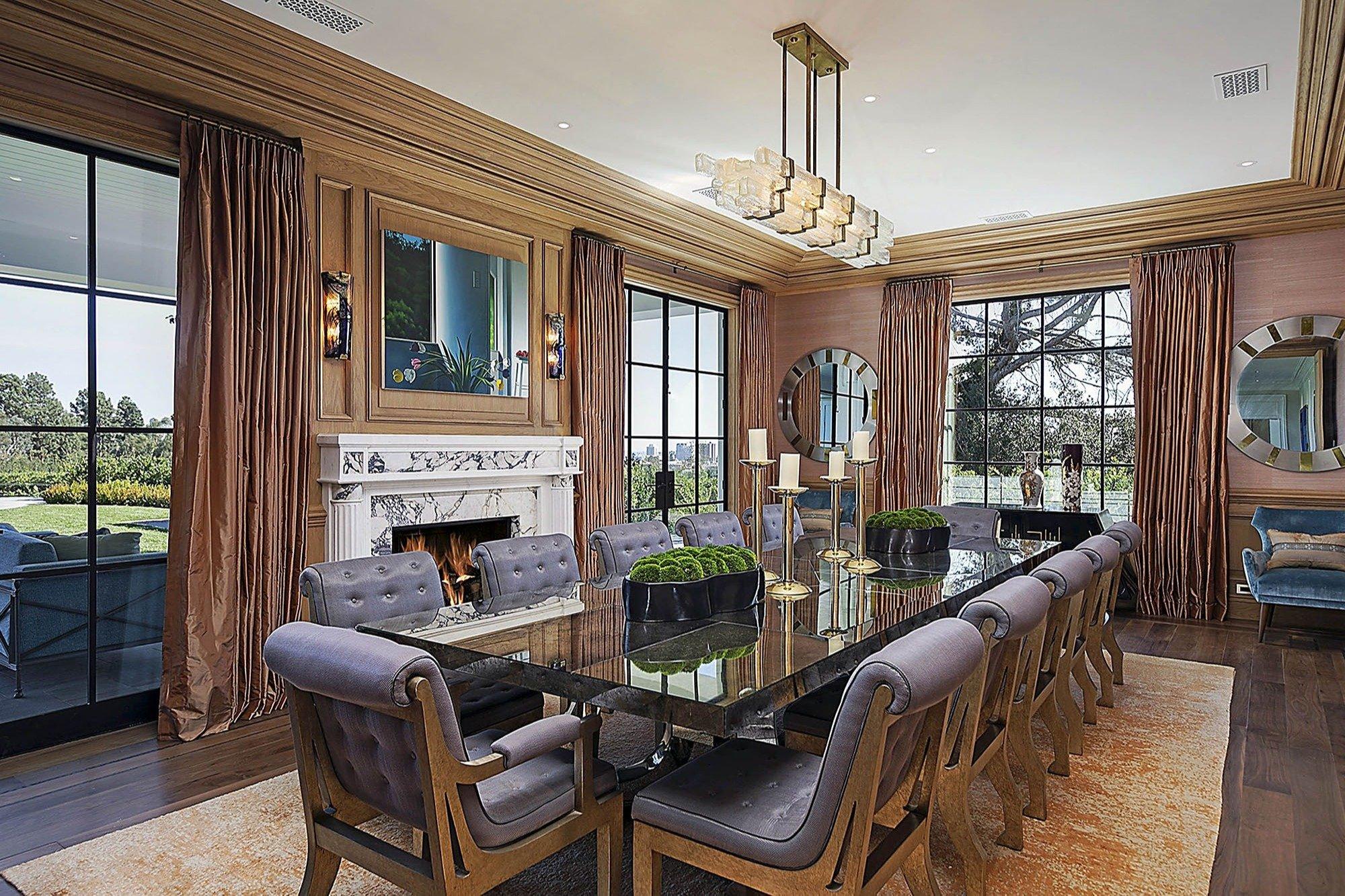 With a mid-$50 million price tag, it's no wonder that TMZ describes the coveted estate as "insanely expensive" but J-Lo and Affleck are actually getting a great deal for the massive home, listed at $65 million. That means a 23 percent discount for the celebrity couple who are currently in escrow for the expansive property.
On the market since February, the mansion belongs to Texas hedge fund manager Todd Lemkin, who purchased it in 2016 for $27.6 million. It also comes with real-estate pedigree, having been designed by the "Architect of Hollywood" Paul Revere Williams -- the creative behind numerous iconic celebrity homes, including that of Marlon Brando, Star Trek actress Jane Wyatt, and The Wizard of Oz star Bert Lahr, whose Colonial Revival manse Madonna snapped up in 2020.
The deal has not yet closed and is still contingent on inspections. Even at the original asking price, it doesn't seem like Lopez and Affleck would be deterred, with the New York Post reporting that the pair were previously looking at a $65 million pad in the Holmby Hills neighborhood.
The Grammy-nominated singer shares two children with ex-husband Marc Anthony, while the Oscar winner shares three children with ex-wife Jennifer Garner.