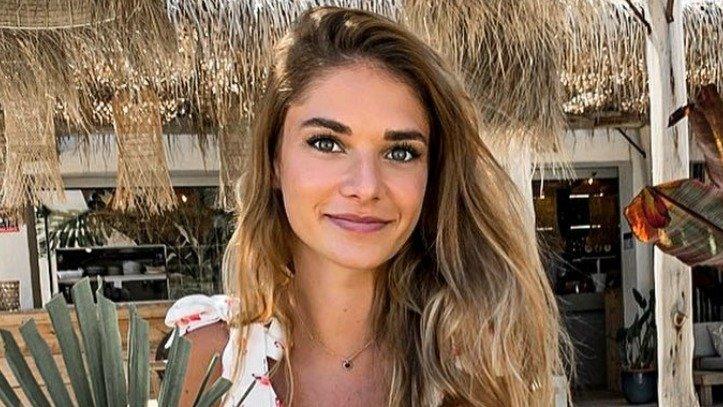 Olympian Lea Bouard In Bikini Is A Beach Bum
German Olympic free skier Lea Bouard has another talent asides from completing snowy runs. The 25-year-old loves surfing as much as she adores skiing, and it makes sense before she lives by the ocean. though she took a much-deserved break before, she announced her participating in the Canadian D-4 this weekend. She shared her practice video on Instagram.
Article continues below advertisement
Can't wait to be there and ski some big mountains with a big crew !!That will be an amazing experience !! 🙌🏼, she wrote.
-
Ready To Catch A Big Wave
The athlete wore her skintight black scuba suit halfway, letting the upper body fall to her waist. It exposed a red bikini top underneath as well as a white face cap and neck scarf to match. Lea posed against the backdrop of a vast beach with tire tracks and footprints in the sand and white and blue skies merging with the landscape to produce a beautiful artwork.
She poses with her giant surfboard, which matches her bikini top with its red lining paint scheme between a blue outer line and yellow/orange gradient bodywork. With her backpack ready for the gaming season, the German athlete threw up a thumb.
Article continues below advertisement
Her Favorite Place In The World
Thumb up for the last two weeks I spend on my surfboard ! 🏄🏼‍♀️👍🏼Vieux Boucau in south west of France is my favorite place to grab my surfboard and to forget about everything around me and have fun on the waves on September/October when the tourists are gone. 😎I have been coming to this place since 12 years now once a year and you will definitely see me again next year.
-
A Girl Of Many Talents
Lea's mantra is to live life like no tomorrow which explains why she has so many hidden talents. She's one of those few people good at anything they put their minds to do. Another hobby of hers is skating, which is almost like surfing but on land. At least, this is familiar territory for the Winter Games practice.
Lea Goes To Canada For The D4 Competition
Lea is ready to dominate in Canada, and she's back on the training circuit. The athlete made a reel showing herself navigating the snow in Engelberg. She dressed in a complete ski outfit, even with visors and a protective helmet, spraying snow on the camera in a naughty child-like manner. Lea's having fun with it; "losing" doesn't phase her even though she wants a win.