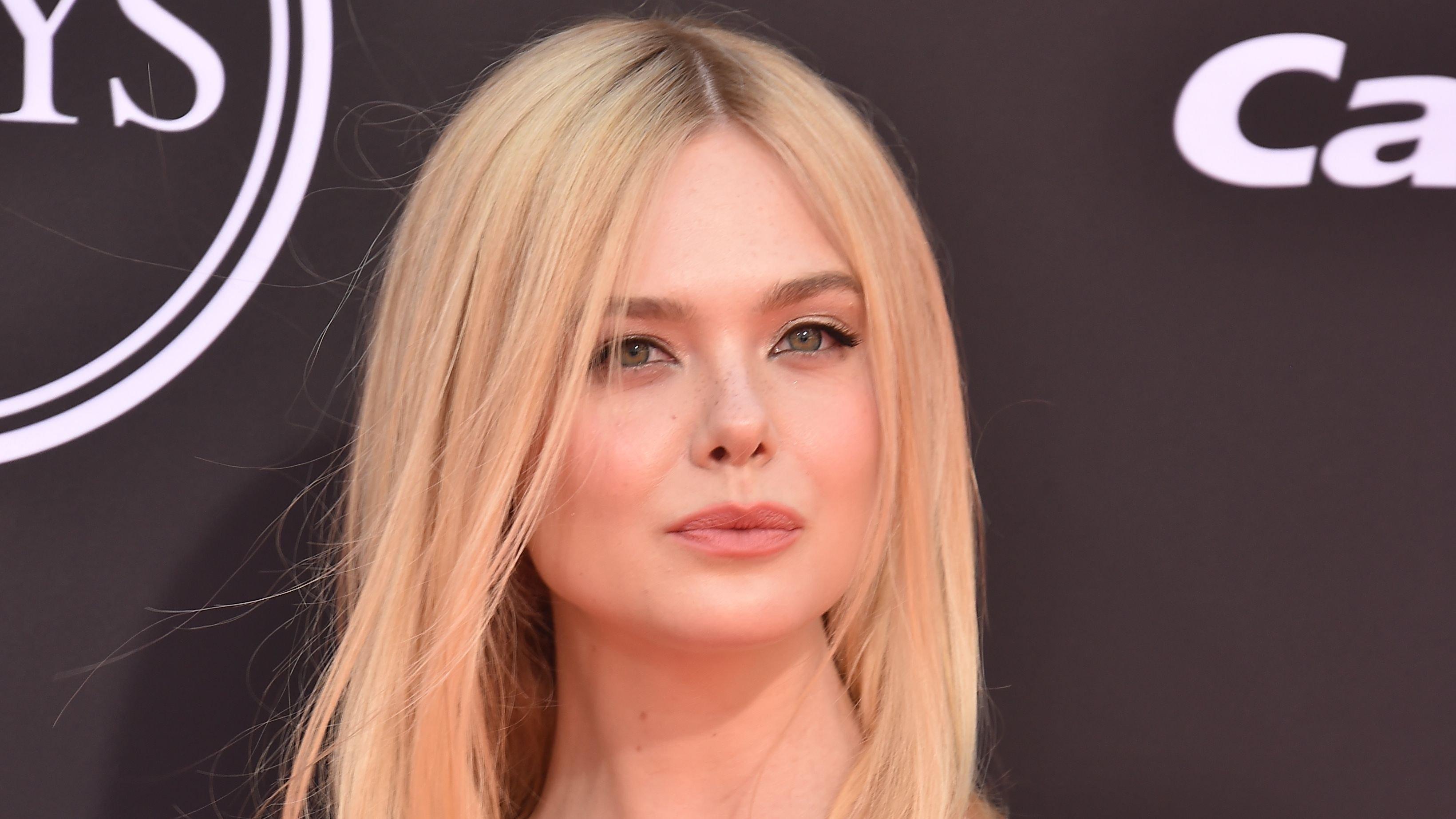 Elle Fanning Flashes Underwear In Oscar De La Renta
23-year-old Elle Fanning had a real-life royal moment as she walked the red carpet at the just-concluded Critics Choice Awards in an Oscar De La Renta A-line Gown. The actress entertained her Instagram fans with BTS pictures from the epic night, and even though she didn't cart home the statuette, she sure had a swell time. The Dominican fashion house established its presence this Awards season, dressing major Hollywood stars, including Awardees.
Article continues below advertisement
Elle Channels Catherine The Great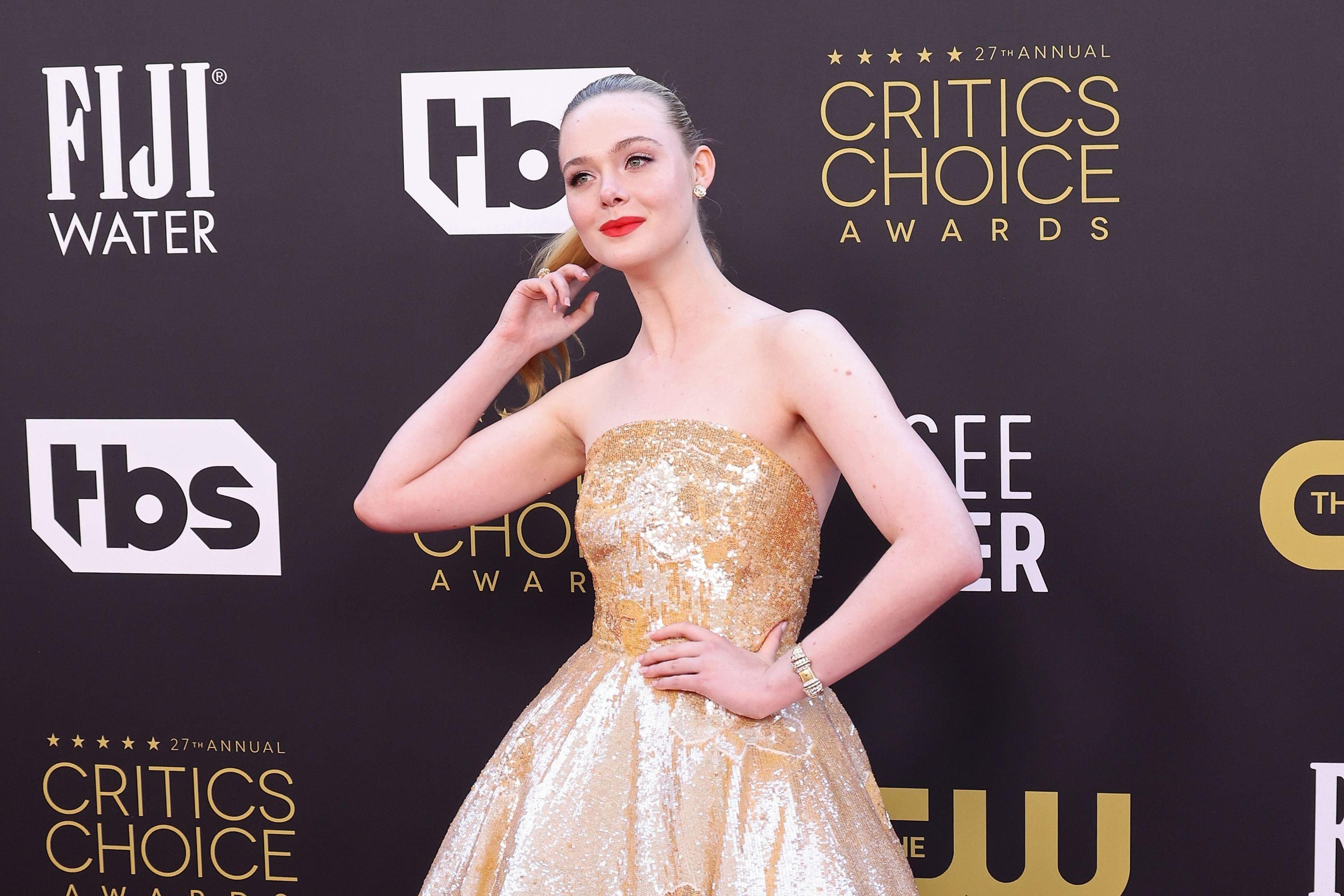 Elle dressed in a buttercup sleeveless cocktail dress that'll make Catherine the Great proud. The back of the dress cut low and snatched Elle's waist with yellow ribbons laced in a criss-cross. She left her neck bare since the frock's splendor was enough to get any and everyone's attention!
Elle also styled her hair in a low ponytail letting the tail curl at the tip, a look that complimented her subtle makeup safe for the bright red lipstick she spotted.
A Little Fun Never Hurt Anyone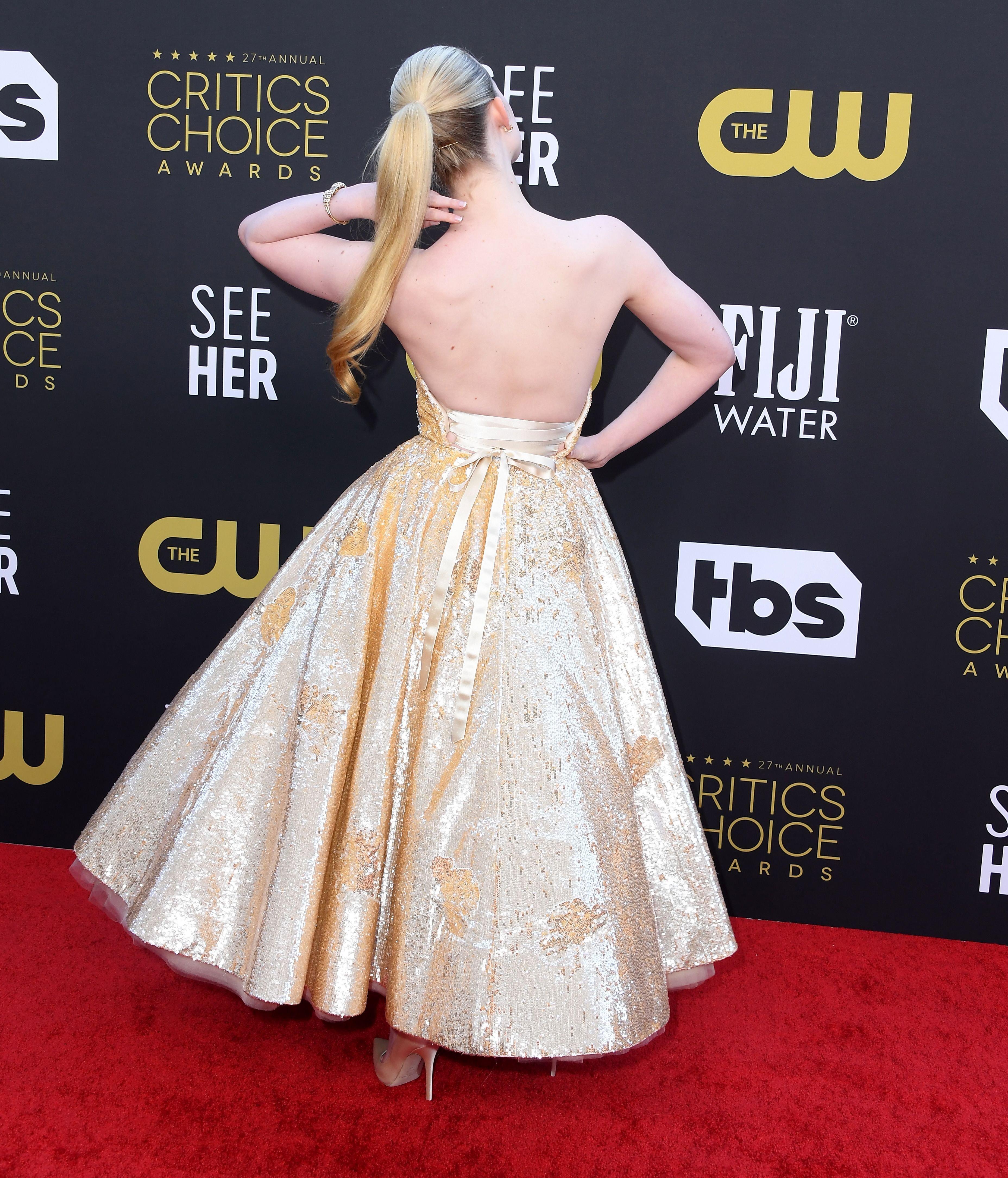 After the seriousness comes the fun, as Elle proved in this playful bathroom selfie. She threw her legs up in the air while relieving herself on the toilet seat, leaving her undies halfway down. Her long toned legs shone underneath the glow of the camera's flash with her dress hiked up and buttercup pointed-toe stilettos standing sharp against the bathroom's wall. It also captured her wide bright smile as she supported her weight with the towel hanger and leaned her head against the dispenser.
Elle also shared an intimate look into what actually goes on inside these Award shows. No, she's not giving a speech but enjoying a yummy mint macaron. She also revealed it's Pistachio.
Article continues below advertisement
Emma Watson Storms The BAFTAs In A Daring Dress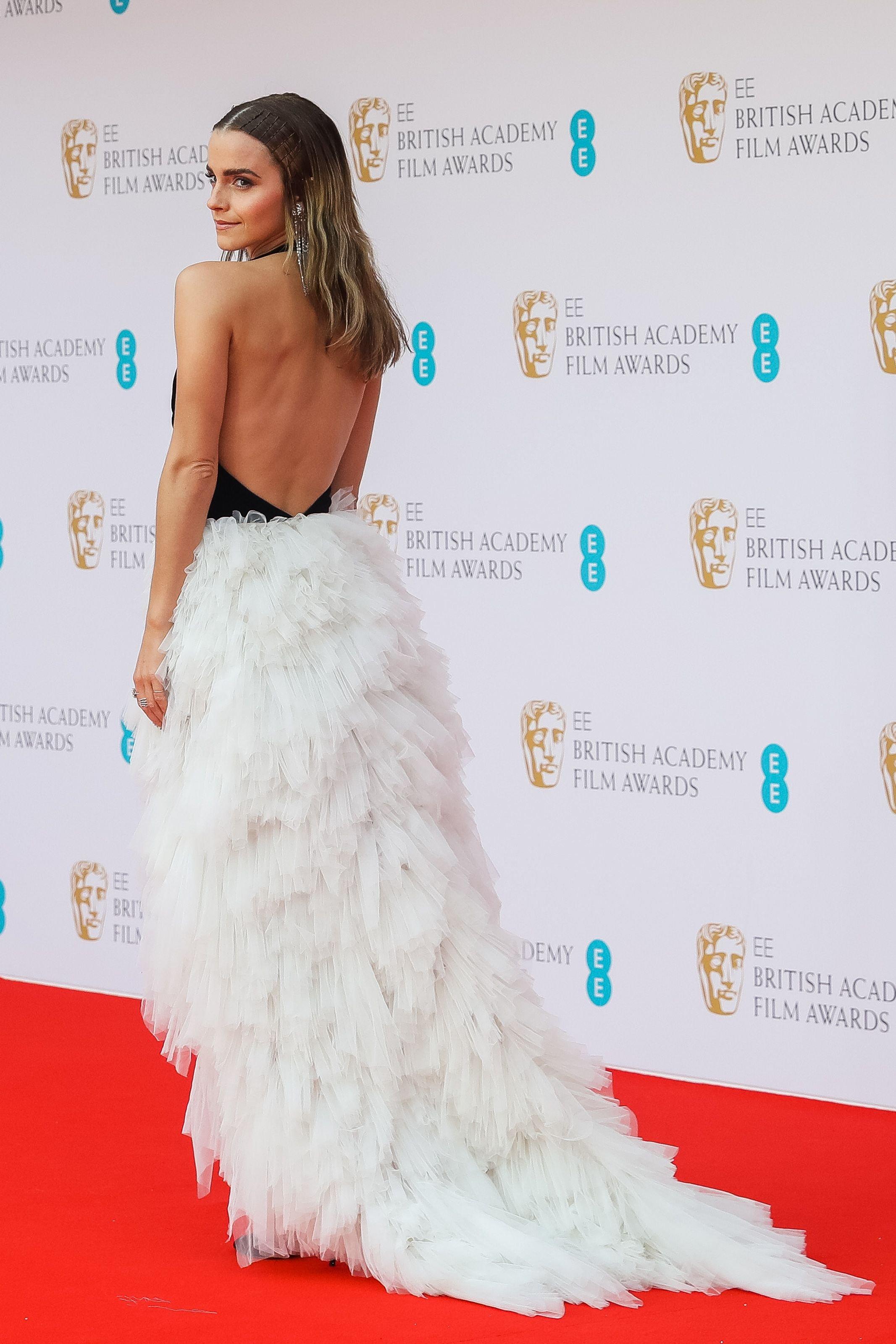 Elle Fanning wasn't the only star to wear Oscar De La Renta in the past few days. British actress Emma Watson walked the BAFTA's red carpet in a two-toned mixed texture dress. The black and white gown with a velvet top and tulle skirt leading into a train was one of the riskiest dresses of the night. The snatched black velvet halter neck bodice had a plunging neckline and entirely bare back.
Serial Winner Arian DeBose Accepts Yet Another Award In Oscar De La Renta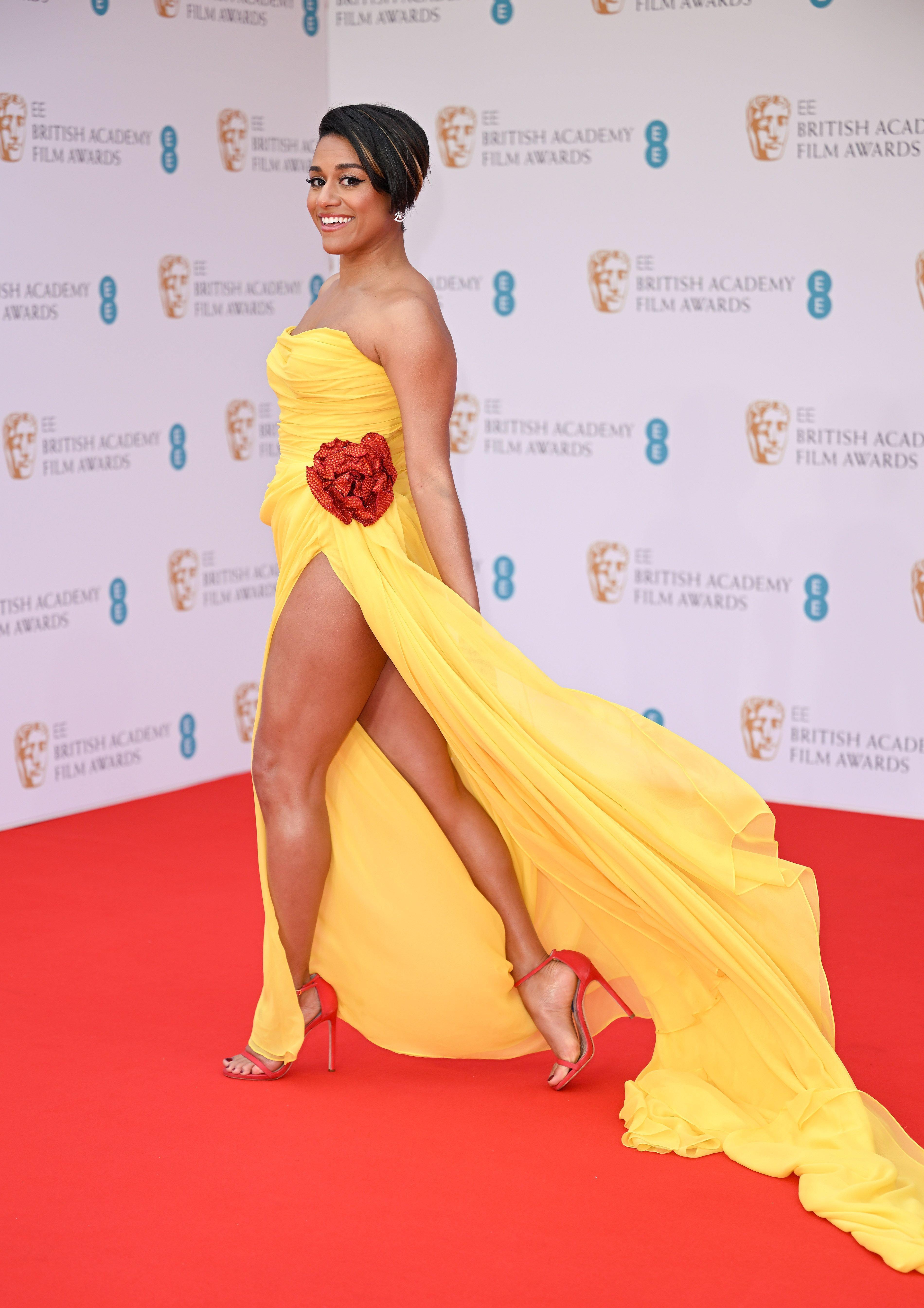 Sleeper star Ariana DeBose, a serial winner this award season, accepted her BAFTA's actor's mask in a canary yellow, hip-high slit chiffon gown with beaded gardenia appliqué.
DeBose garnered critical acclaim for her portrayal of Anita, an immigrant who dies losing her faith in the American Dream, in Steven Spielberg's West Side Story. So far, she's earned a SAG-AFTRA Award, Golden Globe, BAFTA, and two nominations at the upcoming Tony and Academy Awards.