Gigi Hadid Embodies Fran Fine In Vivienne Westwood
Gigi Hadid dominated the runway during Fashion Week. She dominated magazine covers as she joined seven other young celebrities on the cover of the CR Fashion Book for Spring/Summer 2022. The campaign features each cover model channeling a pop culture icon, and Gigi's muse for the spread is Fran Drescher as Fran Fine in The Nanny.
Article continues below advertisement
Gigi Hadid In Vivienne Westwood
Gigi served a "rich girl goes to a prep school" aesthetic in this photoshoot, embodying the spirit of Fran Fine. Her blonde hair sits atop her head in a full curl highlighting her cherry red glossy lips. It compliments her red plaid mini skirt and blazer set with the white dress shirt tucked neatly underneath a black vest and dressed in a polka dot yellow tie.
She completed the outfit with black sheer stockings and matching plaid platform pumps. It's one thing to wear clothes and another to have Arthur Elgort capture one's emotions so vividly, and that's what he did with Gigi for CR Prime.
Gigi As Fran Fine: The Original IT Girl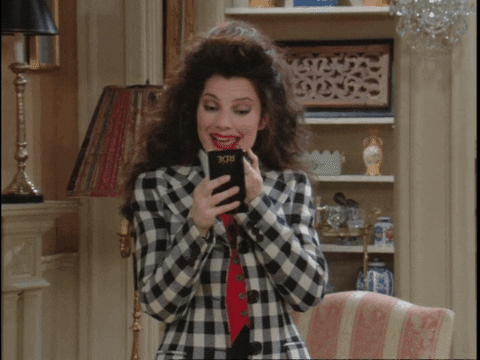 Before we had fashion icons like Carrie Bradshaw and Rachel Green, there was the girl from Flushing, Queens. She had style, she had flair, and now supermodel @gigihadid tries out Fran's bold fashion sense inside the pages of our new issue, #CRPRIME.
-
Article continues below advertisement
Walking For A Cause
Gigi walked for Vivienne Westwood's Fall Collection in Paris, showcasing the draped goddess-style dress and veils covering her eyes in a powerful, subtle statement. The model explained via Instagram that while the world cannot ignore people's sufferings in Ukraine, the show must go on because they'd been booked in advance. However, she reached a compromise by joining her younger sister Bella in a just cause. The sisters promised to donate their earnings from Fashion Week to the victims of the Russo-Ukraine war.
An Excerpt From Gigi's Speech
We don't have control over most of our work schedules, but we would like to walk 'for' something. Following in the footsteps of my friend @micarganaraz, I am pledging to donate my earnings from the Fall 2022 shows to aid those suffering from the war in Ukraine, as well as continuing to support those experiencing the same in Palestine. Our eyes and hearts must be open to all human injustice. May we all see each other as brothers and sisters, beyond politics, beyond race, beyond religion. At the the end of the day, innocent lives pay for war- not leaders.
-