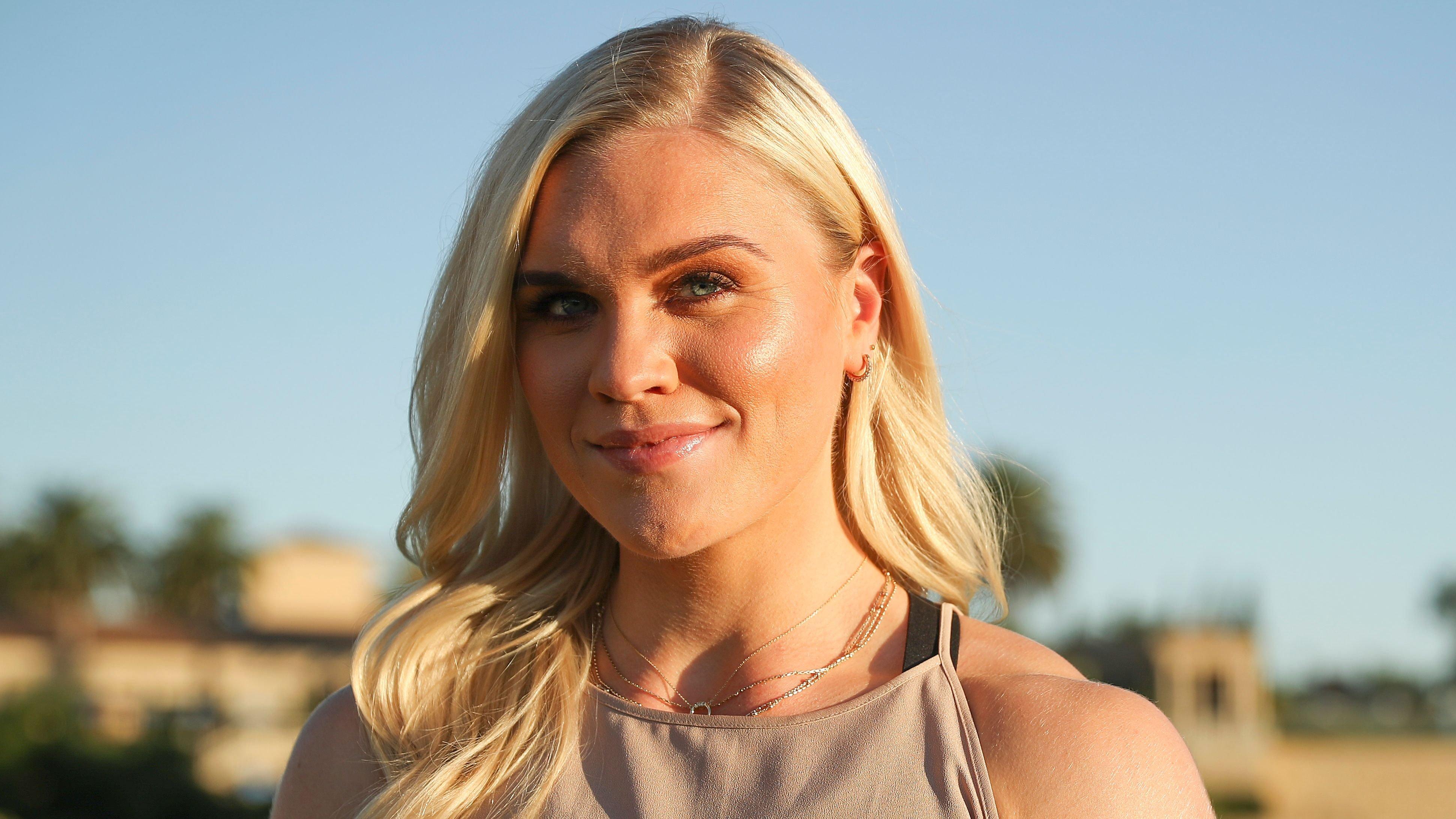 CrossFit Athlete Katrín Tanja Davíðsdóttir Celebrates International Women's Day In Swimsuit
Katrín Tanja Davíðsdóttir stripped down to her swimsuit to celebrate International Women's Day on Instagram. Welcoming the global holiday with a relaxing dip in a mountain spring, the Reykjavik native, who is one of Iceland's most decorated CrossFit athletes having won the CrossFit Games two times in a row in 2015 and 2016, penned a lengthy message of appreciation for the "many incredible women who lift me up" and called on fans to embrace their inner power.
"There is something so powerful about fearlessly being YOU," she began, uploading a photo wherein she was fiercely gazing ahead amid a tranquil backdrop of snow-capped mountains and turquoise water.
Article continues below advertisement
Powerful Message
Submerged up to her shoulder blades, Davíðsdóttir was captured from behind, with the angle merely teasing her strappy swimsuit. Going classic in black, the Icelandic beauty opted for a one-shoulder number with metallic details, which she paired with pearl stud earrings.
Pulling up her long blond tresses into a messy low bun, she turned her head in profile, showing off her trendy side braid and confident smile. Projecting more of the same confidence in her caption, the four-time CrossFit Games veteran, 28, had some sage advice to share with her 1.8 million followers.
"The older I get the more I realize that the more you stop 'trying' to be a certain something & start embracing your BEING, the more that the beautiful, powerful, incredible YOU is able to shine through," she said, adding: "& there is only one of YOU ✨ Let her shine the absolute brightest!"
Fans Show Their Appreciation
Showered with love by friends and fans, Davíðsdóttir was lavished with attention by her photographer/ex-Ice Hockey player boyfriend, Brooks Laich. "A tribute to you and all the incredible women of the world, #happyinternationalwomensday my love!" he wrote in the comments, ending with a heart emoji.
The former gymnast and track athlete also received a glowing tribute from sportswear brand Nobull, for which she is a spokesperson. "YOU are an inspiration! Happy International Women's Day 🤘," read a comment from the Nobull Instagram account.
CrossFit star Lauren Fisher also chimed in, calling her "beautiful," while Amanda Barnhart "could not agree more" with her powerful message. "PS I love who you are," wrote the CrossFit athlete.
The upload comes after Davíðsdóttir spent a romantic Valentine's Day with Laich in a similar setting, with the couple enjoying a steamy dip in a spring. "The luck of my life that he is my Love! 🌹❤️💋 Happy Valentine's day, ástin mín. xxx," she wrote alongside a video scored to Paratone's "Heaven Is a Place on Earth."