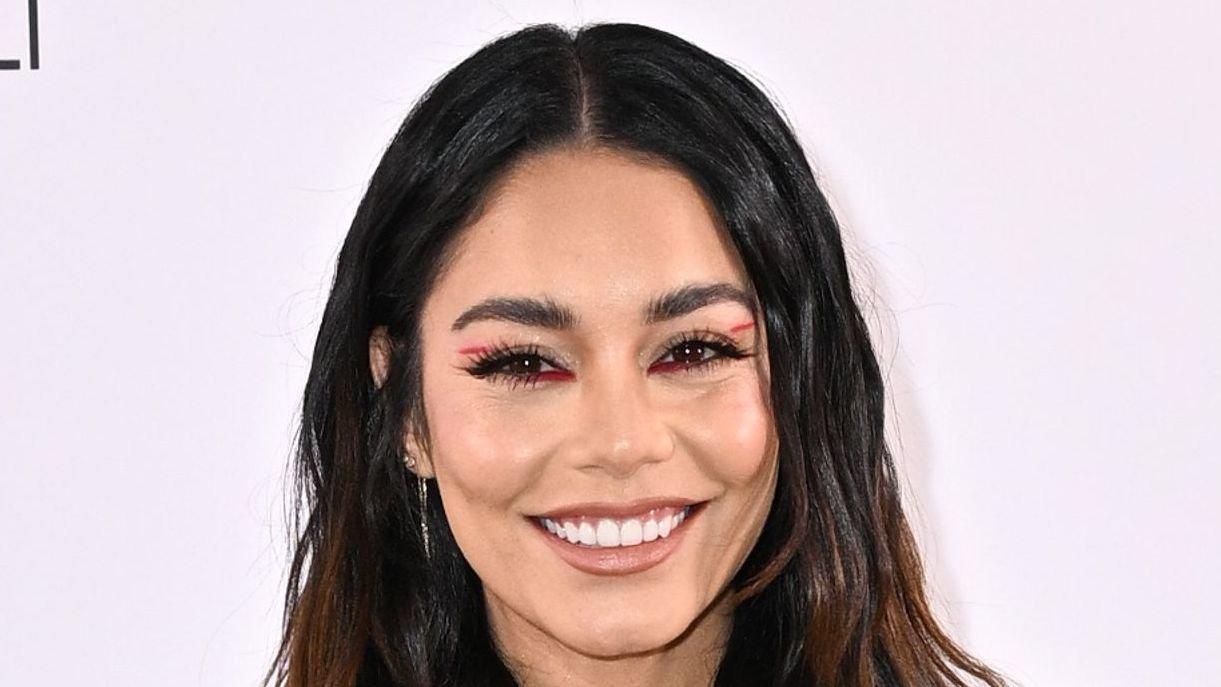 Vanessa Hudgens Flaunts Underboob In Minidress
Vanessa Hudgens made a major fashion statement yesterday, Mar. 7, in a chic red and white mini dress at the ongoing Paris Fashion Week. The 33-year-old attended the Giambattista Valli womenswear Fall/Winter 2022/2023 wearing its Spring/Summer 2022 couture, and she couldn't have nailed it more. The cameras couldn't get enough of Vanessa from the hotel to the streets then the venue, and honestly, neither could we!
Article continues below advertisement
Vanessa Attends Paris Fashion Week In Giambattista Valli SS22 Dress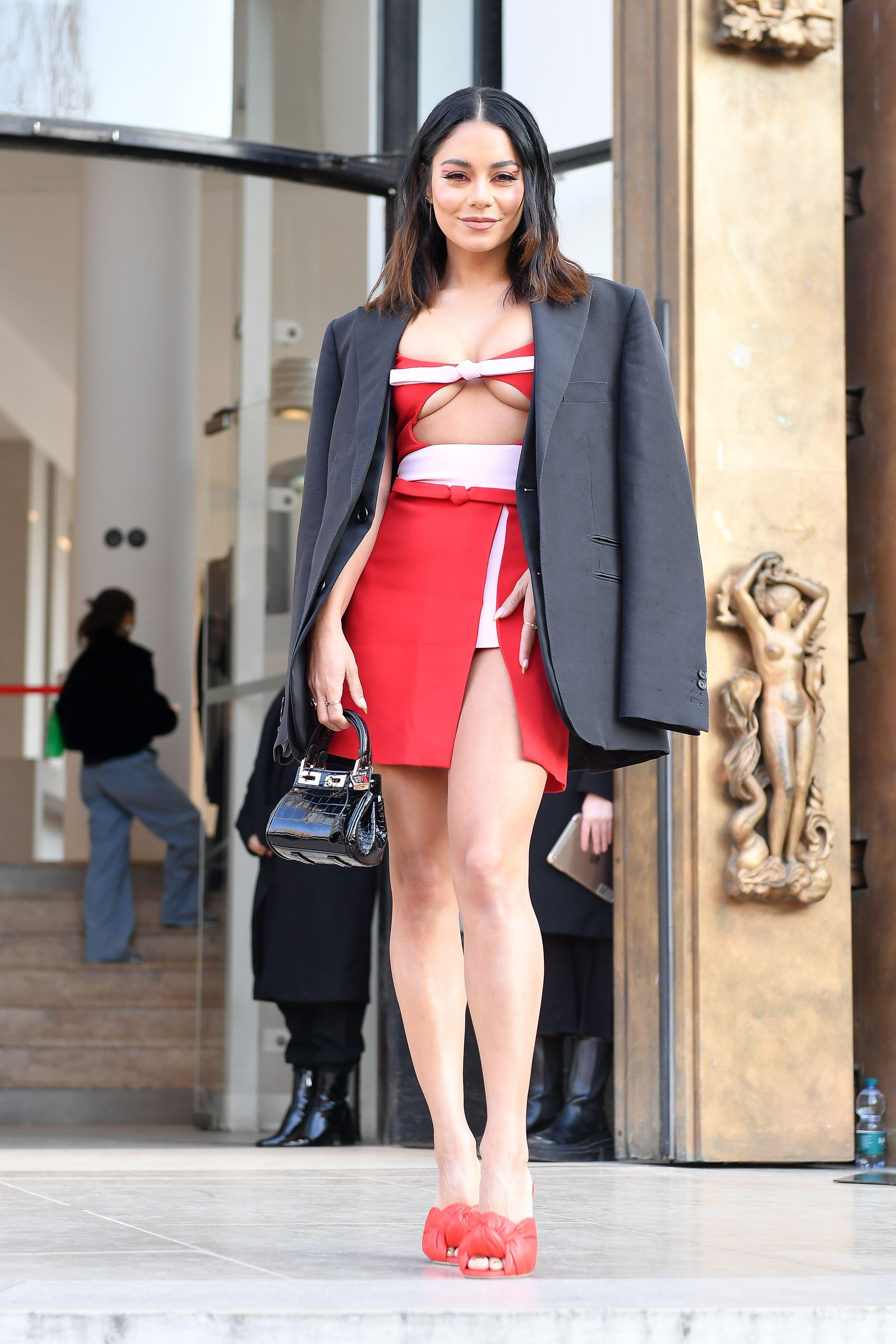 Vanessa wore a risque cutout red mini dress with white linings on the bra, belt band, and slit gap. The wide openwork cut underneath her boobs to her midriff displayed her rounded underboobs and flat abs, while the thigh-high slit showed off her glowing, toned legs. Unlike Milena Smit, who wore knee-high boots on her Vogue Spain cover, Vanessa opted for knotty red mules showing off her manicured toes.
The actress paired her dress with a black blazer to match her mini leather tote - all from Giambattista Valli.
Article continues below advertisement
Red Eyeliner To Match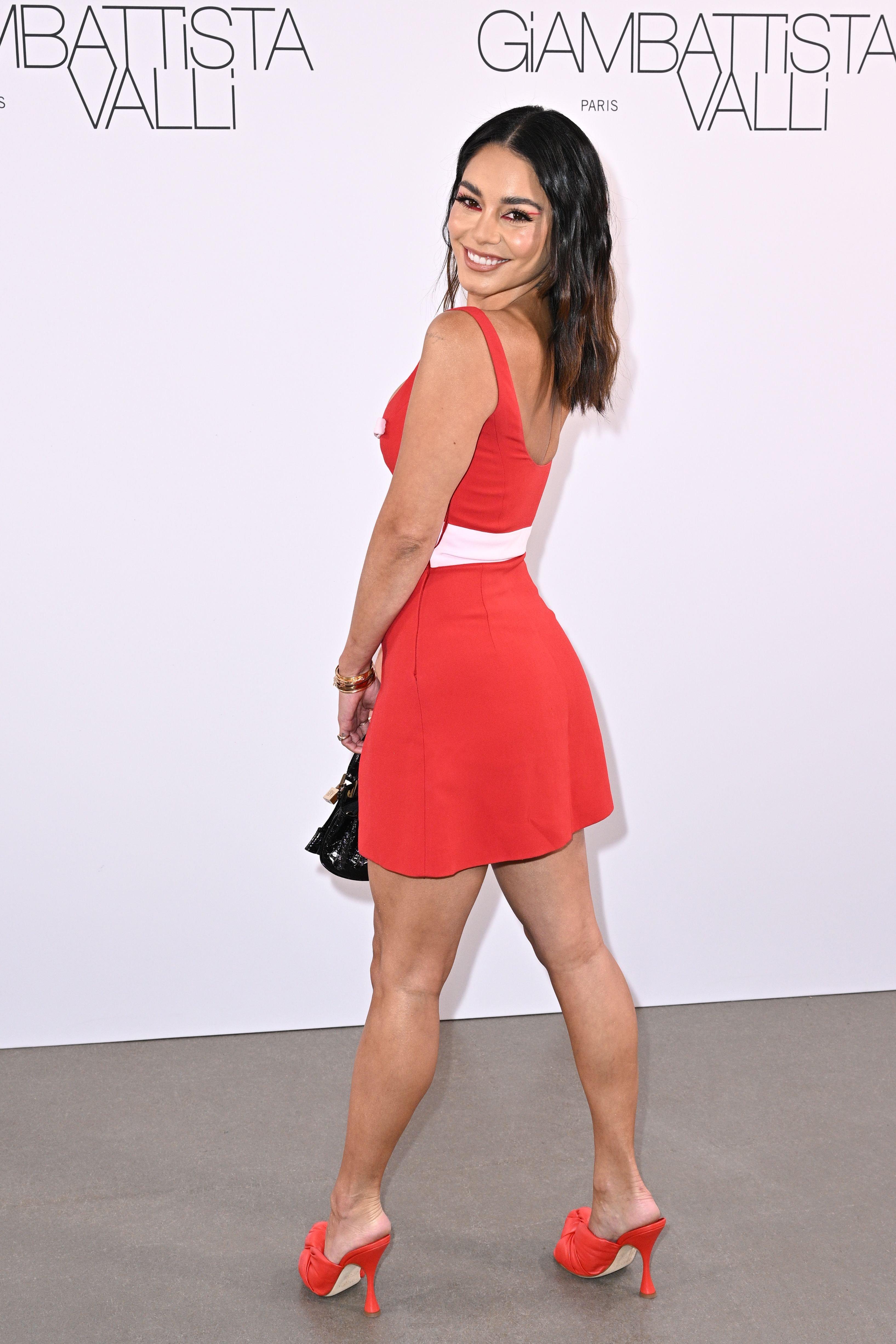 The back of Vanessa's dress had a U-cut and no slit on the skirt, but that's not the center of attraction. Fashion enthusiasts know that Vanessa Hudgens does amazing things with a makeup palette creating facial looks that match her mood, outfit, and event. Her Monday morning outing wasn't any different as the Know Beauty co-founder designed her eyes with bright red eyeliner and kept the lipstick neutral with a soft-nude shade.
Cheerleaders In The Comments
Vanessa's comment section teemed with positive comments about her makeup and outfit. Sarah Hyland wrote, "YOU STOP IT RIGHT NOW. HOLY SHITTTTTTTTTTT 🔥🔥🔥🔥🔥🔥🔥." Fitness trainer Isaac Boots said, "Come on Queen!" Alexandra Shipp wrote, "Just like 😍🔥," Rachel Bilson left flaming emojis, RnB singer Tinashe wrote, "Makeup 😍," and so on.
There seemed to be a divergent camp with one side gushing over the makeup, and the other focused on how good the outfit looked.
Which category do you fall in?
KNOW Beauty
Secondary puberty hit Vanessa hard in her early 20s, causing her skin to break out, and while that's not a bad thing in itself, it's stressful for a public figure. People expected her to be perfect and have the best skin and whatnot. Paparazzi was ready to catch her looking "not her best." After many trials and errors, she decided to create her brand focused on personalizing skincare based on each customer's needs hence the birth of KNOW beauty.
@vanessahudgens + @madisonbeer created @knowbeauty to build a smarter way for people to know their skin. Both founders have different skincare journeys, but they share one common goal: skincare shouldn't be trial and error. It should be based on what's right for YOU.
-