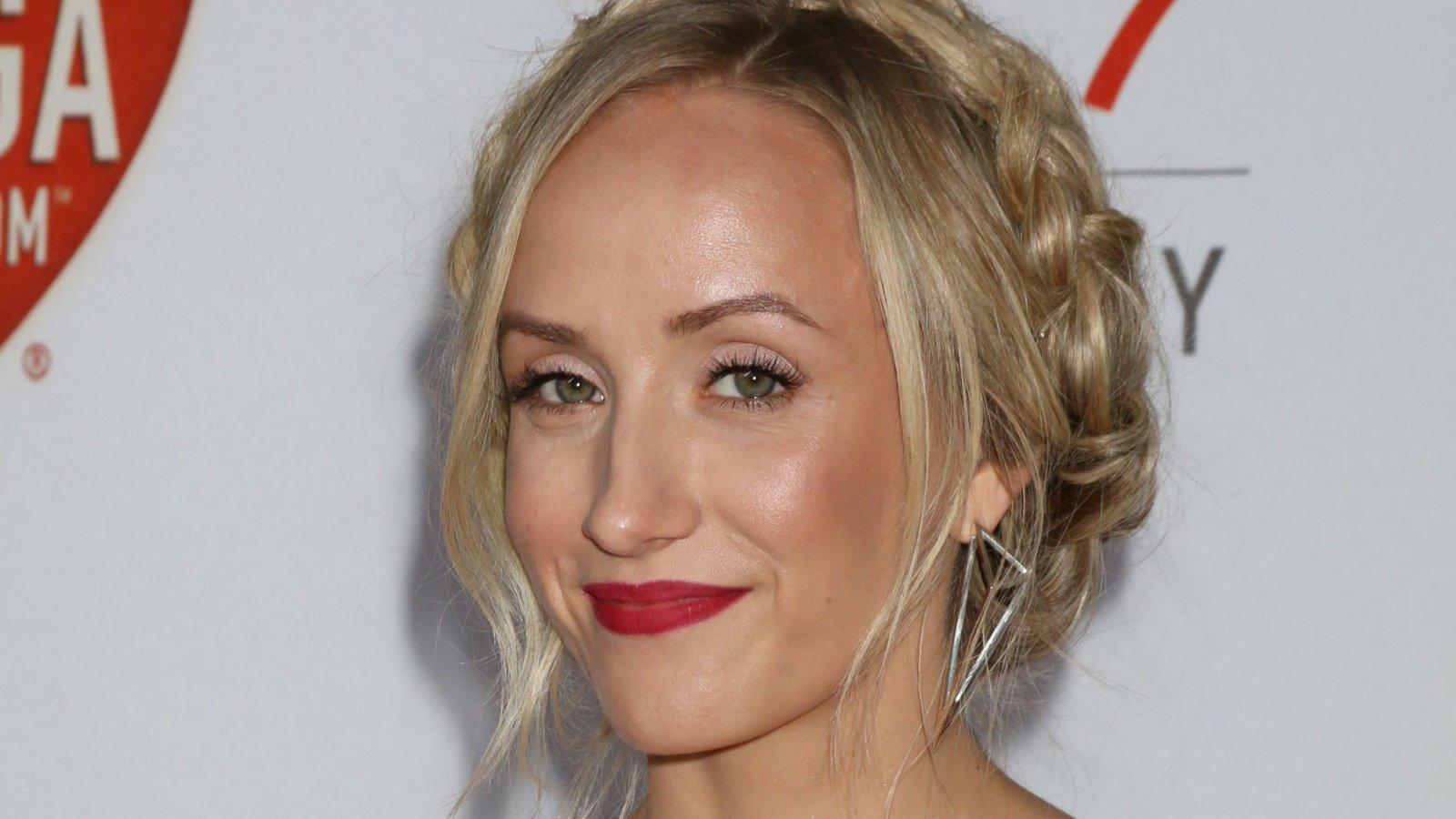 Olympian Nastia Liukin Flaunts Gymnast Legs In Bathroom Selfie
Olympic Gold Medalist and NBC sportscaster Nastia Liukin delivered style and supple legs in a recent Instagram update filled with minidress chic. Posting for her 1.1 million followers all the way from Ireland's capital city of Dublin, the Dallas girl, 32, looked gorgeous in a thigh-skimming number from ROTATE Birger Christensen, proving to fans she still maintains her gymnast figure one decade after quitting the beam.
Article continues below advertisement
Gymnast Legs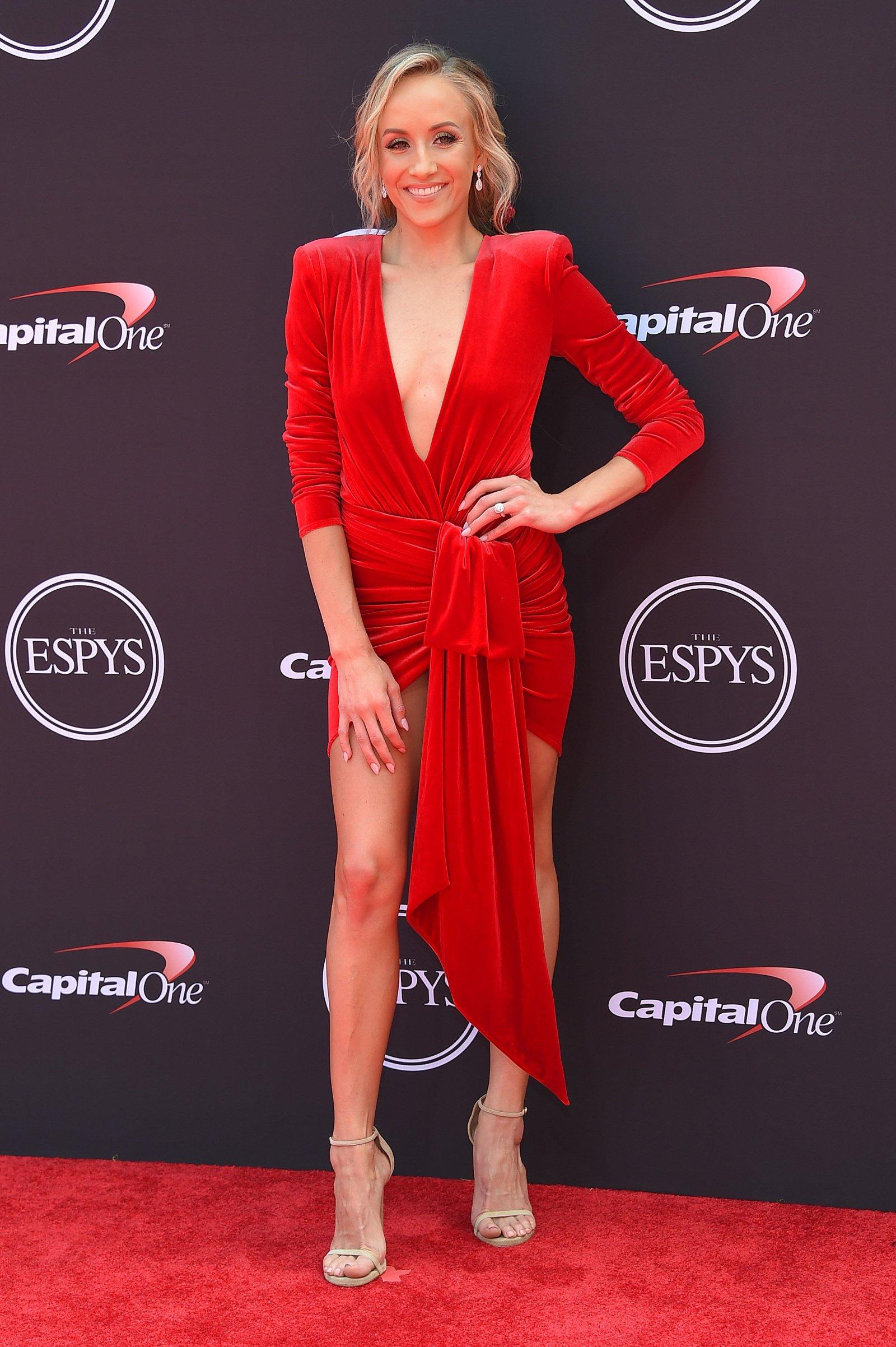 The former athlete-turned fashion icon was half-swathed in satin in a long-sleeved turtleneck that only showed her chiseled pins. Sporting a colorful print in lush hues of red, purple, and yellow, it complemented her golden waves, which Liukin wore with a side-part to allow her multiple earrings to be seen. She added an extra pop of color with an aquamarine Bottega purse, going comfy in white Celine sneakers for the perfect sporty-chic look.
The five-time Olympic medalist shared a close-up of herself sitting on a plush purple divan sofa, giving fans a full view of the outfit in an additional mirror selfie. Posing in a bathroom covered in white spider-vein tiles, she stood in front of a large pale-pink closet with her hip cocked and her legs parted.
"currently playing: galway girl 🎶," she quipped in the caption.
Swipe to the next slide for her mirror selfie and scroll down to find out how she stays fit!
Favorite Workouts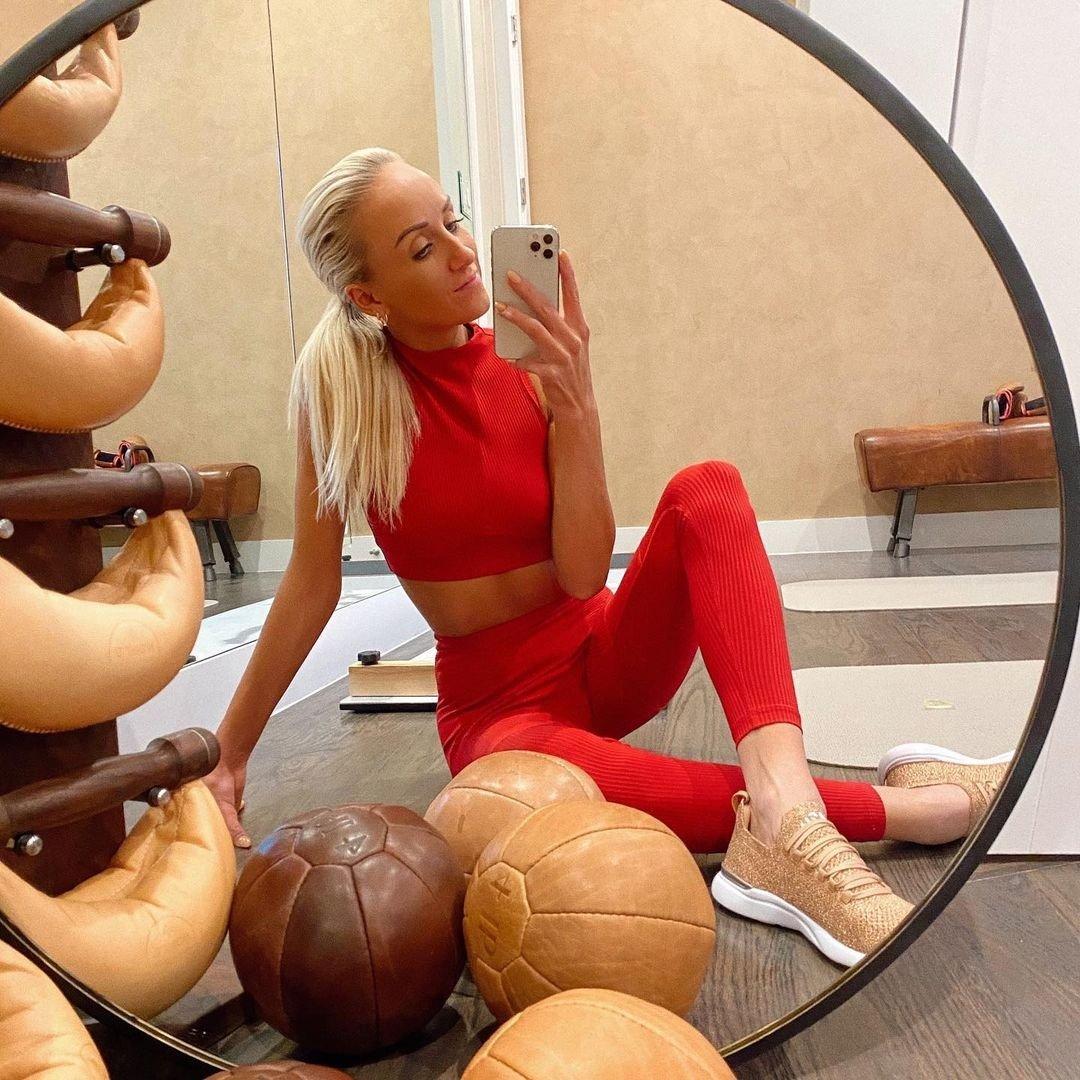 Though retired from pro gymnastics since 2012, Liukin hasn't let up in the gym one bit. Known for her legendary workouts which she regularly streams on Instagram Live, the Moscow native often stuns fans with her flexibility and flawless form.
Watch her perform a gymnastics routine on the kitchen island in her Texas home in the video below.
Speaking to The Cut back in 2016, the 2008 all-around champion opened up about what she does to stay fit, sharing she knocks off her morning workout at an hour when most of us are still sound asleep.
An early bird, Liukin is up by 5:30 a.m. and immediately hits the gym. "For me, it's really important to get a workout in as soon as I wake up because if I don't do it then I feel like I'm not going to have a chance to do it," she said in the interview, noting she works out up to five times a week.
Getting specific about her favorite ways to work up a sweat, Liukin revealed she loves barre classes, hot yoga, spinning classes, and "boxing with my trainer."
She's also a huge fan of Pilates: "That really elongates you, but it's also important to do some kind of cardio, and now that the weather's nice I love running along the West Side. It's a beautiful view."
Swipe to the next slide to watch her slay a resistance band "booty burner" workout for the glutes, thighs, core.
Article continues below advertisement
Talking Nutrition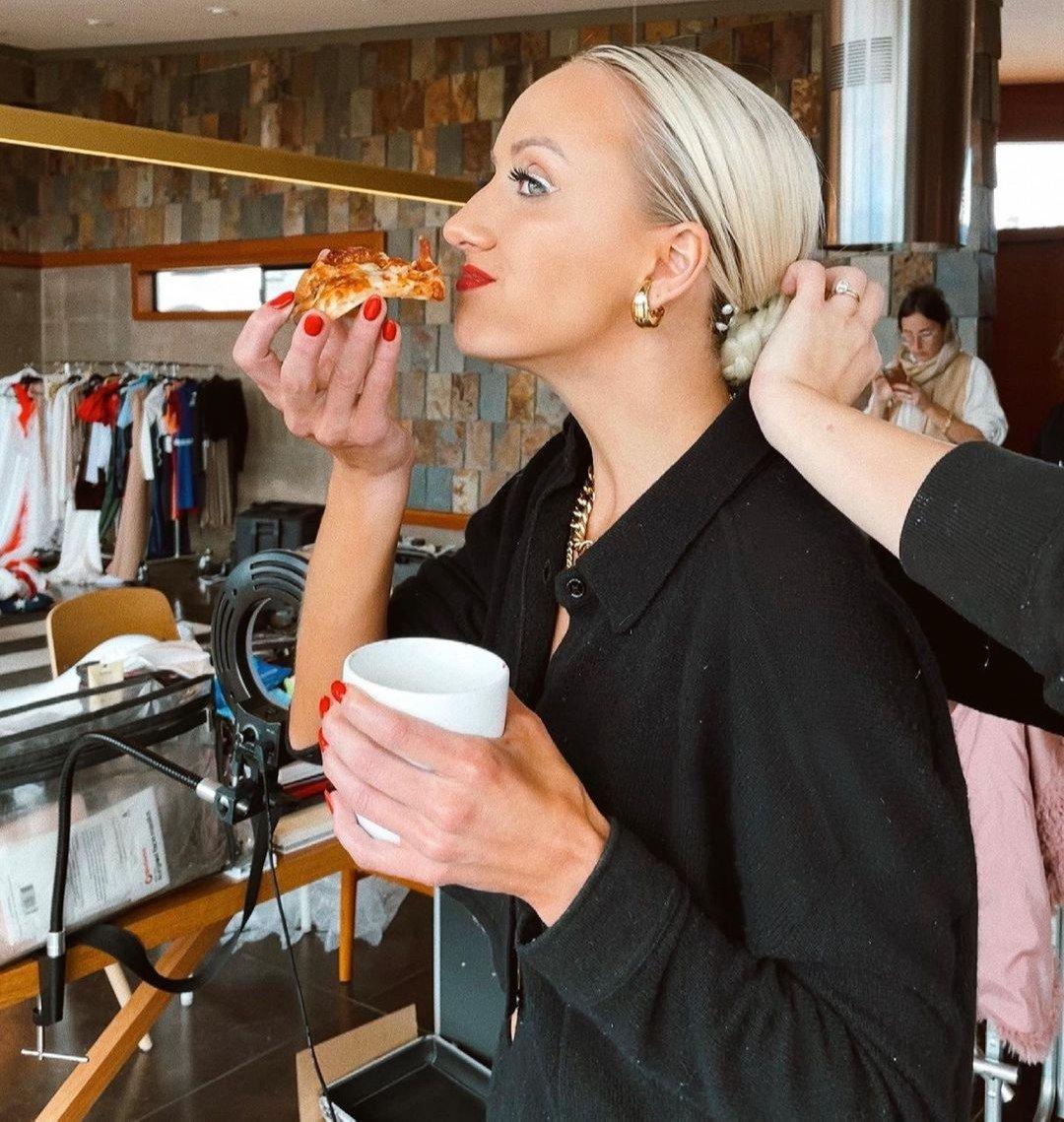 Liukin, who said she "followed a strict plan for 22 years," is now allowing herself a more relaxed approach to fitness since hanging up the leotard: "Some days that's just getting in 20 minutes of some kind of workout, maybe it's in my hotel room or my apartment or going for a quick jog."
The former athlete also dished on her eating habits, saying she loads up on protein and vegetables while keeping her diet "well-balanced" with healthy carbs, such as brown rice and sweet potatoes.
"I wouldn't necessarily eat a whole bowl of pasta at night," she said. "If I would have that, it would probably be earlier in the day."
Her Unique Cookie Philosophy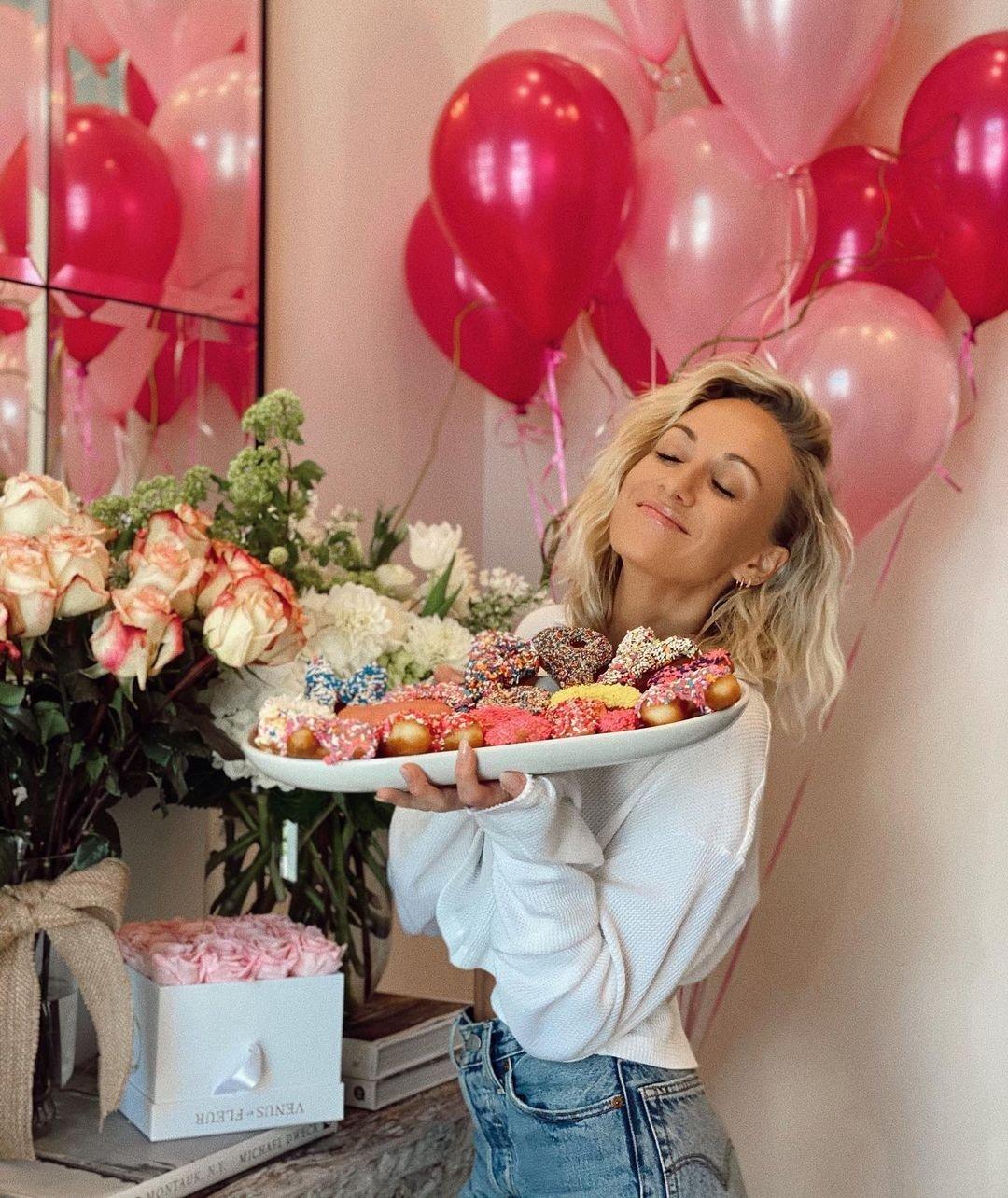 The Olympian believes in rewarding herself with a little treat now and then. Sharing her take on desserts, Liukin told The Cut: "If you want a cookie, have a cookie."
A piece of advice passed down from her Olympic gymnast mother, her cookie philosophy is one of not depriving yourself of the things you enjoy in order to avoid getting hung up on them later.
"Because then you're going to get to a point where just, like, you want 10 cookies and you're going to eat 10. So allow yourself to have that," Liukin explained. "Yeah, maybe don't have a cookie every single day, but if you want one, then have one. It's all about having that balance and not getting too crazy about it because that's definitely not good for anybody."