'1000-Lb. Sisters' Tammy Slaton Is Still 'Too Large' to Fly in a Plane Despite All the Weight Loss Tammy Slaton is well known for the reality television series 1000-Lb. Sisters, which is filming the fifth season. Tammy and her sister, Amy Slaton, both signed up with the show to begin their journey of losing weight. Tammy's journey thus far has been quite inspiring, given the tumultuous time she had while battling a food addiction, undergoing weight-loss surgery, and losing her husband earlier this year. Tammy started off with 717 pounds when the show began and is presently 269 pounds respectively. Unfortunately, despite such impressive efforts to curb her weight, she still isn't able to 'comfortably' fly on an aircraft.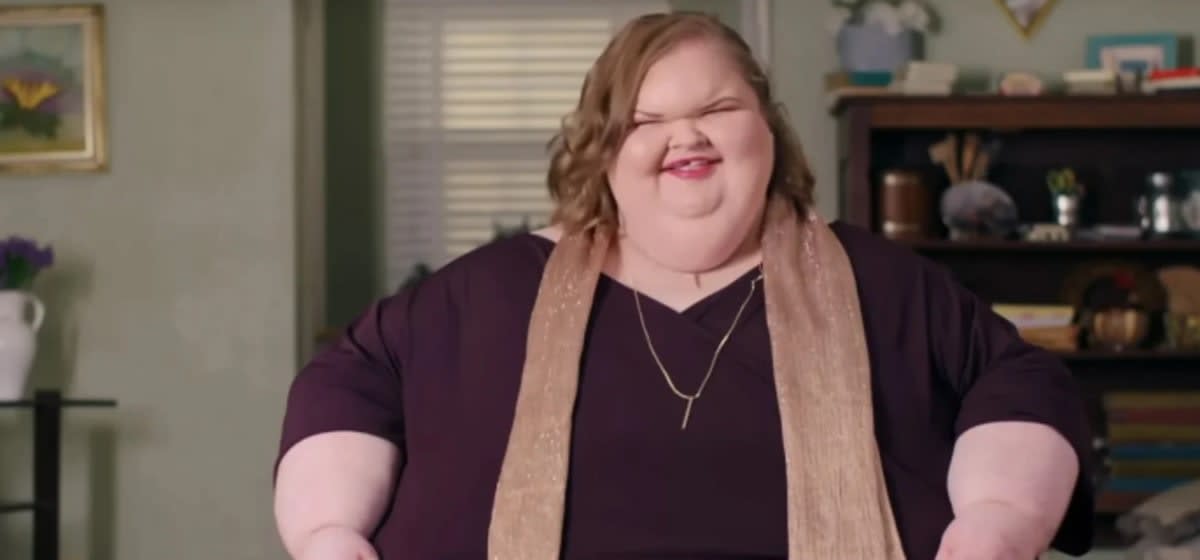 Also Read: Tammy Slaton From '1000-Lb Sisters' Experiences Heightened Self-Esteem After Incredible Weight Loss
An insider told The US Sun that Tammy 'could fly in an airplane' but 'would most likely not be comfortable' as she'd like to be. The Kentucky resident recently made a trip to Atlanta, Georgia, via car from Sturgis, her hometown. In comparison to an airplane, which would've taken way less time, she reached her destination in six hours. Tammy was spotted in an all-black ensemble with a monochrome-themed pullover. She completed her outfit with a simple yet dainty necklace.
But Tammy was not alone on this trip and was accompanied by her sister Amy in the same car as her. The sisters were off to the aforementioned destination on the 9th of October, shortly after filming a campaign for the upcoming fifth season of their reality show. The two spent a whole week for the shoot and returned gleefully after a very full schedule.
---
View this post on Instagram
---
Also Read: '1000-Lb. Sisters' Star Tammy Slaton Looks Incredibly Slim and Happy in Her Latest Filter Free Picture
Circling back to her weight loss, the reality star recently flaunted her slimmed-down physique via a reel on her Instagram. Tammy glowed with pride and happiness as she vibed with the music and showed off her shelled pounds. The reality star kept things basic yet chic with her outfit. She sported a very outdoorsy aesthetic with a cameo top and what appear to be skin-tight jeans. She looked incredible! The reality star appeared to be recording said reel in a quaint apartment with white hues throughout. The furniture of the aforementioned location was neatly arranged in an orderly fashion.
---
@Tammy_Slaton Tammy! Look at you, did you ever think you could look hot? You are beautiful and deserve all your success!💙

— Darla Rutherford (@Dodymitch) October 19, 2023
---
Also Read: Fans Accuse Producers of '1000-Lb. Sisters' for Being Insensitive Towards Tammy Slaton's Tragedy
Tammy boasts of a magnanimous 649K followers on Instagram, with possibly more that are being added regularly, which is why it didn't take long for fans of hers to flood the comment section with love and appreciation for her. One person gushed, "I've never been more proud of a stranger xxx." A second one chimed in agreement, "So incredibly proud of you!!!"
---
View this post on Instagram
---
A third added in utter elation of the progress Tammy has made in the last two years, "This is so WONDERFUL Tammy! Congratulations on all of your success!!! KEEP GOING!!! At present, there are no details or comments concerning further steps involving Tammy's weight loss journey delivered either by her or her representatives. One thing is for certain, though: like Tammy, her fans too are ecstatic at the progress made.
More from Inquisitr
When Tammy Slaton of '1000-Lb. Sisters' Was Slammed For Doctoring Her Selfies Post Weight Loss
When '1000-Lb Sisters' Star Tammy Slaton's Easy-Going Skincare Routine Surprised Her Fans