Two of the longest-running NFL rivals, the New York Giants and the Dallas Cowboys, square off for the 109th time in their histories — a series going back 56 years — in a Week 1 game that will stream live Sunday as the NFC East foes are both looking to bounce back from disappointing seasons in 2015.
The Cowboys have historically had the better of the matchup, winning 62 games to 44 for the Giants — with two games ending in ties, including their first-ever matchup on December 4, 1960.
New York has faced Dallas only one time in the postseason, with the Giants winning that January 13, 2008, divisional playoff game 21-17.
The Giants quarterback in that victory is still the team's signal caller today, as 35-year-old Eli Manning opens his 13th season under center for the team since the San Diego Chargers selected Manning out of Ole Miss with the first overall draft pick in 2004. The Chargers then promptly traded him to the Giants for quarterback Philip Rivers and three draft picks, after the younger brother of future Hall of Famer Peyton Manning refused to sign with San Diego.
But while the Giants will be going with one if the NFL's elite, veteran quarterbacks in two-time Super Bowl winner Manning, Dallas lost their own veteran starter, Tony Romo, to a preseason injury.
As a result, the Cowboys will send 23-year-old rookie Dak Prescott — their fourth-round 2016 draft pick out of Mississippi State — into battle as they attempt to launch their drive to get back to the playoffs after a disheartening 4-12 campaign in 2015.
Watch a preview of the Giants vs. Cowboys showdown with predictions from ESPN First Take duo Stephen A. Smith and Max Kellerman in the video below.
To find out how to watch a live stream of the New York Giants vs. Dallas Cowboys NFL Week 1 rivalry game, see the streaming links in the final paragraph of this article.
Kickoff is scheduled for 3:25 Central Time at AT&T Stadium in Arlington, Texas, on Sunday, September 11. That start time will be 4:25 p.m. Eastern, 1:25 p.m. Pacific.
The NFC East game will be televised by the Fox Network and will be available to stream live throughout most of the country. Areas shaded in purple on the map provided below by 506 Sports will receive a live stream of the Detroit Lions vs. Indianapolis Colts inter-conference game instead, while both games will be blacked out in the regions shaded in gray.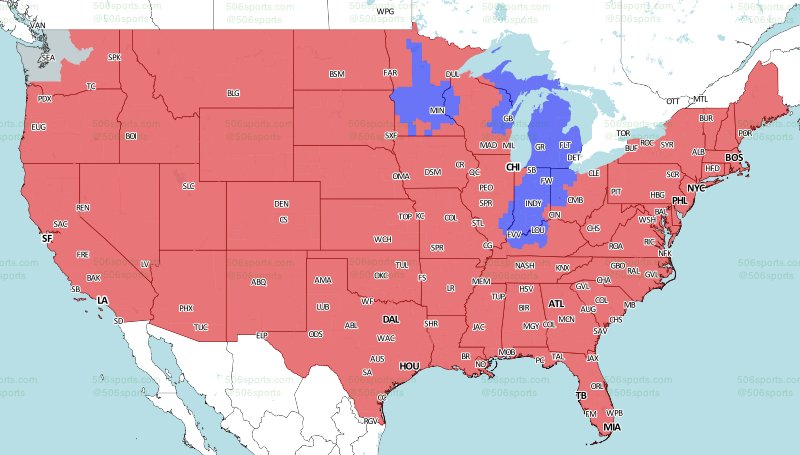 The Cowboys will rely heavily on another rookie, their first-round pick out of Ohio State, 21-year-old running back Ezekiel Elliot. The rookie will have the benefit of running behind an offensive line featuring three Pro Bowlers — but if the Giants can find a way to contain Elliot, they may be able to get their 2016 season off on a winning note under new coach Ben McAdoo after a third-place, 6-10 performance last year.
---
MORE NFL COVERAGE FROM THE INQUISITR:
Dallas Cowboys Vs. New York Giants: 5 Bold Predictions For NFL Week 1
2016 NFL Draft Hangover: Cowboys Pick Up Elliott, While Giants Lose Out On Key Player
NFL Rumors: New York Giants, Will Beatty Decide To Reunite
Dallas Cowboys Schedule: 5 Takeaways From Loss To Houston Texans In Week 4 Of 2016 NFL Preseason
5 Quarterbacks The Dallas Cowboys Could Trade For To Backup Dak Prescott Until Tony Romo Returns
---
Can the New York Giants start with a win for new coach Ben McAdoo as they begin their drive to return to the NFL playoffs for the first time since 2011? Or will the team that won the NFC East just two years ago, the Dallas Cowboys, catch lightning in a bottle with untested rookie quarterback Dak Prescott? To find out, watch the New York Giants Vs. Dallas Cowboys NFC East rivalry Week 1 game live online from 80,000-seat AT&T Stadium in Arlington, Texas, with streaming video provided by Fox Sports Go at this link, or by downloading the Fox Sports Go app to watch on tablet computers. NFL games on Fox Sports Go are not available to be watched on smartphones, due to contractual agreements. Fox Sports Go also streams live on the Amazon Fire TV and Roku set-top streaming devices, allowing fans to watch the Giants vs. Cowboys NFL opener stream live to their TV sets.
[Photo By Tom Pennington/Getty Images]